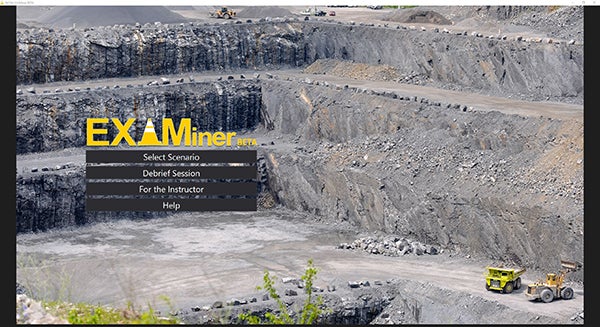 The National Institute for Occupational Safety and Health (NIOSH) has released a beta version of its new software, designed to help miners identify hazards in mines. The EXAMiner software is a training application that allows both new and experienced miners to practice identifying hazards.
"EXAMiner serves as a standalone training tool to help mineworkers recognise the safety and health hazards at job sites and find ways to mitigate these hazards," said NIOSH associate director for mining, Jessica Kogel. "Miners and trainers can make this tool work in the way that's best for each situation."
It has been designed specifically for use by trainers, to form part of their Part 46 annual refresher training programmes, quarterly training meetings, or pre-shift toolbox talks.
The software tests miners' examination skills by creating an interactive environment using more than 30 preloaded images of scenes. These show four different locations at a stone surface mine, the pit, at the plant, in the shop, and along mine roadways. The application also gives mining trainers the ability to upload their own panoramic images, allowing them to tailor the experience.
NIOSH has spent several years researching how mineworkers visually search for hazards using images from stone, sand, and gravel mines. Their findings have been incorporated in the design of the EXAMiner software.
The platform will be particularly beneficial due to increases in regulation proposed by the Mine Safety and Health Administration, which would require workplace hazard examinations to be implemented more broadly.