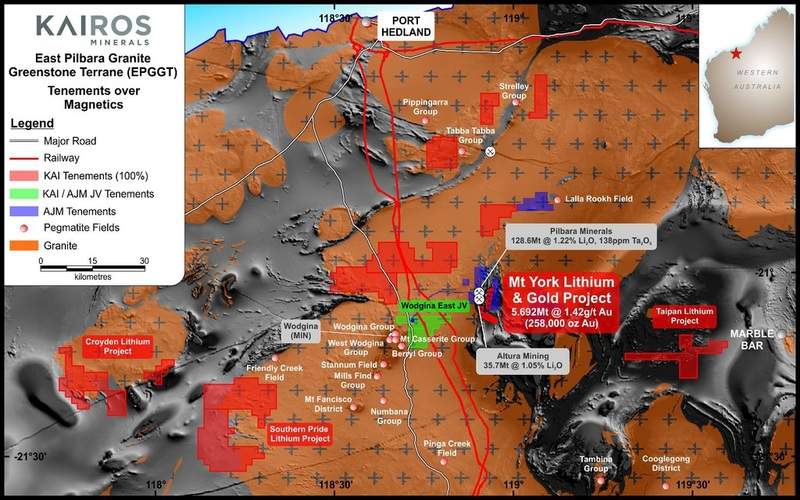 Kairos Minerals Ltd has entered a lithium joint venture with Altura Mining Limited for operations at the Wodgina East Project, located nearly 15km from the main Pilgangoora Lithium Mining Centre in the Pilbara region of Western Australia.
The farm-out deal with one of the major lithium developers region will enable Kairos to achieve value from one of its key East Pilbara lithium projects, while focusing on developing the gold resources at its 100%-owned Mount York Gold-Lithium Project.
Under the agreement, Altura can earn a 75% interest in the lithium rights over the Wodgina East tenements (E45/4780 and E45/4715) by funding $1.25m over five years with an upfront cash payment of $100,000 upon execution.
After Altura receives its interest, Kairos will retain a free-carried 25% ownership in the project.
Earlier this year, Kairos acquired the Wodgina East Lithium Project as part of its expanding lithium portfolio, which it established in the East Pilbara lithium-tantalum province after gaining the Mt York Project.
Located 90km south-east of Port Hedland, Wodgina East Lithium Project is located adjacent to Mineral Resources' Wodgina Tantalum-Lithium Project.
It includes an extensive pegmatite field with well-documented lithium (spodumene) mineralisation and grades of up to 1.6% Li2O reported from historical reconnaissance rock chip sampling.
The regional geological and structural setting is similar to that of the Pilgangoora Syncline, which hosts the major lithium-tantalum deposits at Pilgangoora.
"We believe they offer some of the best lithium exploration potential in the East Pilbara district."
Despite the mine having high-potential, it has remained largely unexplored.
Kairos managing director Joshua Wellisch said: "We were able to assemble a significant strategic lithium exploration package in the East Pilbara region earlier this year, including the Wodgina East package which we secured in May. These tenements were acquired following a state-of-the-art regional targeting exercise, and we believe they offer some of the best lithium exploration potential in the East Pilbara district.
"We are pleased to have developed a strong working relationship with Altura, and we look forward to working with them as they take the project forward, with our 25% free-carried interest giving us exposure to any future exploration success.
"This deal is also consistent with our strategic focus on the exploration and development of the significant gold potential at Mt York, where our maiden drilling programme is continuing to expand the existing gold resource inventory."
---
Image: The location of Wodgina East Project in East Pilbara Province, also showing the Mt York Lithium-Gold Project. Photo: courtesy of Kairosminerals.com.au.