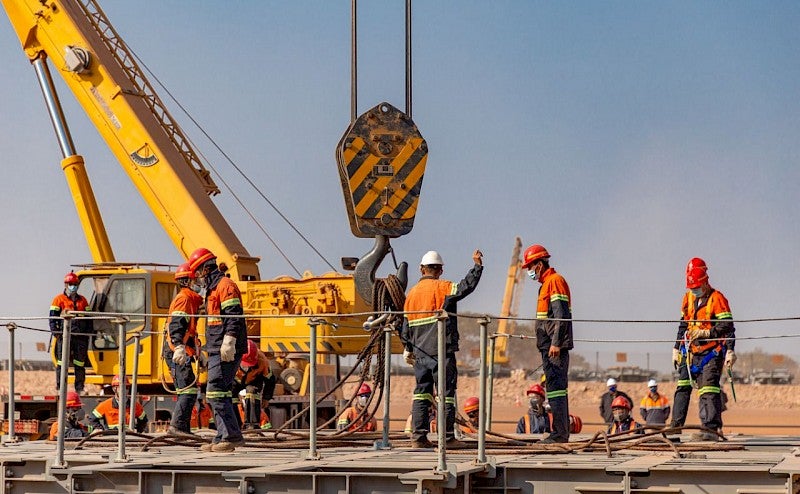 Canadian miner Ivanhoe Mines reported yesterday that its Kamoa copper mine in the Democratic Republic of Congo (DRC) achieved a new production record in its first quarter of 2022, recording production of 55,602 tonnes in the period.Kamoa Copper milled 1.08 million ore tonnes during the quarter, at an average feed grade of 5.91% copper.
The Kamoa-Kakula copper project is a joint venture between Ivanhoe Mines (39.6%), Zijin Mining Group (39.6%), Crystal River Global Limited (0.8%), and the Government of the Democratic Republic of Congo (20%). It has been independently ranked as the world's largest, undeveloped, high-grade copper discovery by international mining consultant Wood Mackenzie.
Production
Kamoa-Kakula began producing copper concentrates in May 2021 and commercial production on 1 July 2021. Through planned phased expansions, Kamoa-Kakula is positioned to become one of the world's largest copper producers.
The Kamoa-Kakula Phase 2, a 3.8 million tonne-per-annum concentrator plant, successfully declared commercial production on 7 April 2022. In addition, Kamoa-Kakula set a new daily production record on 8 April 2022, with 25,126 tonnes milled and 1,202 tonnes of copper produced.
Mark Farren, Kamoa Copper's CEO, commented: "The Phase 2 concentrator has been successfully commissioned in record time. We can expect to see a doubling of copper output for the remainder of this year, as well as further increases into 2023 as the de-bottlenecking program is executed. It has been wonderful to see how quickly Phase 2 reached commercial production, as our team leveraged prior learnings and experience from Phase 1."
The Vancouver-based company has also vowed to produce the industry's "greenest" copper as it works to become the first net-zero operational carbon emitter among the world's top-tier copper producers. Kamoa-Kakula is being powered by clean, renewable, hydro-generated electricity and is projected to be among the world's lowest greenhouse gas emitters per unit of metal produced.
Reflection in the market
The boom in production at the Komoa-Kakula mine has been reflected across the copper market, but especially in the US. Copper futures on the Comex have been trading at a premium to those on the London Metal Exchange in recent weeks, attracting more copper cathode, especially from South America, the world's largest producing region.
Imports of cathode to the U.S. from Chile rose 37% during the first three months of the year from the prior quarter, according to data from S&P Global.