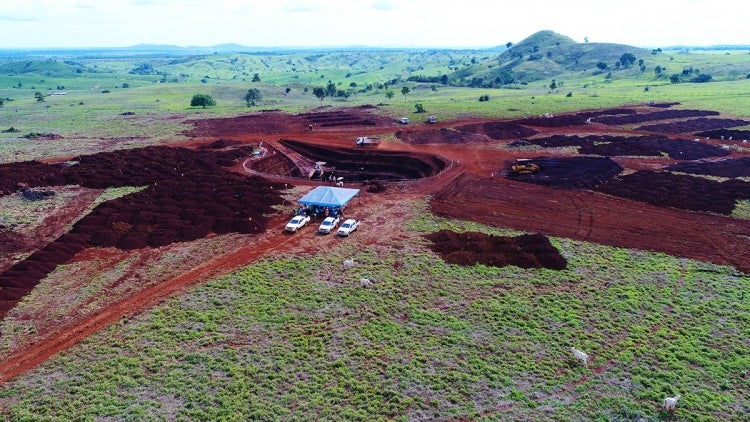 Brazil-focused nickel company Horizonte Minerals has announced that its Araguaia Nickel project is edging closer towards construction, after spending eight months this year advancing the level of engineering to become implementation ready.
Horizonte has completed a phase of value engineering to upgrade the Araguaia Nickel project's 2018 feasibility study and optimise aspects of the project to a level where it is implementation ready. Work included development of a project execution and operational readiness plan, which Horizonte said has contributed to further de-risking the project.
Araguaia is Horizonte's 100% owned, Tier 1 ferronickel mining project with a high-grade scalable resource. It is located south of the Carajás Mining District in the Pará State. In August 2019, Horizonte Minerals entered a $25m royalty agreement with Orion Mine Finance to provide the initial investment to advance the project to construction.
The feasibility study comprises an open-pit nickel laterite mine that will deliver ore from multiple pits to a central metallurgical processing facility. Once ramped up, the plant's full capacity will be approximately 900,000 tonnes of dry ore feed per year, producing 52,000 tonnes of ferronickel which in turn will contain 14,500 tonnes of nickel per year. The study also indicates a 28-year mine life, with the possibility of either an extension or an expansion of capacity.
Outcomes of the work undertaken this year include an enhanced operational performance resulting from improvements to the design philosophy and process flow sheet and the optimisation of key equipment packages. Final negotiations are underway for long-lead items ahead of construction, and both capital expenditure (capex) and operational expenditure (opex) remain in line with the initial feasibility study values.
Horizonte anticipates the project-financing process will be completed in full in the first half of 2021, following the ongoing impact of Covid-19 related lockdowns on financial markets. In August this year, the company executed a mandate to arrange a senior secured project finance facility of up to $325m, and Horizonte is in discussions with credit agencies to participate in the facility by providing equipment linked financing. The project also has financial support from Brazilian financial institutions.
Horizonte also announced that its environmental and social team has begun implementing programmes in line with Brazilian permits and the various frameworks guiding responsible ESG practices, including the Equator Principles and International Finance Corporation (IFC) Performance Standards.
Social programmes commenced or advanced in 2020 include a local supplier development programme for equipment and services, a mining and environmental education programme for stakeholders and communities, and plans for workers accommodation and the impact of the project on local services. The company also commissioned a consultancy group to conduct studies related to the IFC standards.
Horizonte also said that it has continued working with communities throughout the Covid-19 pandemic, with work retooled to a new "Covid-safe" format. The company has also provided food parcels to support vulnerable families.