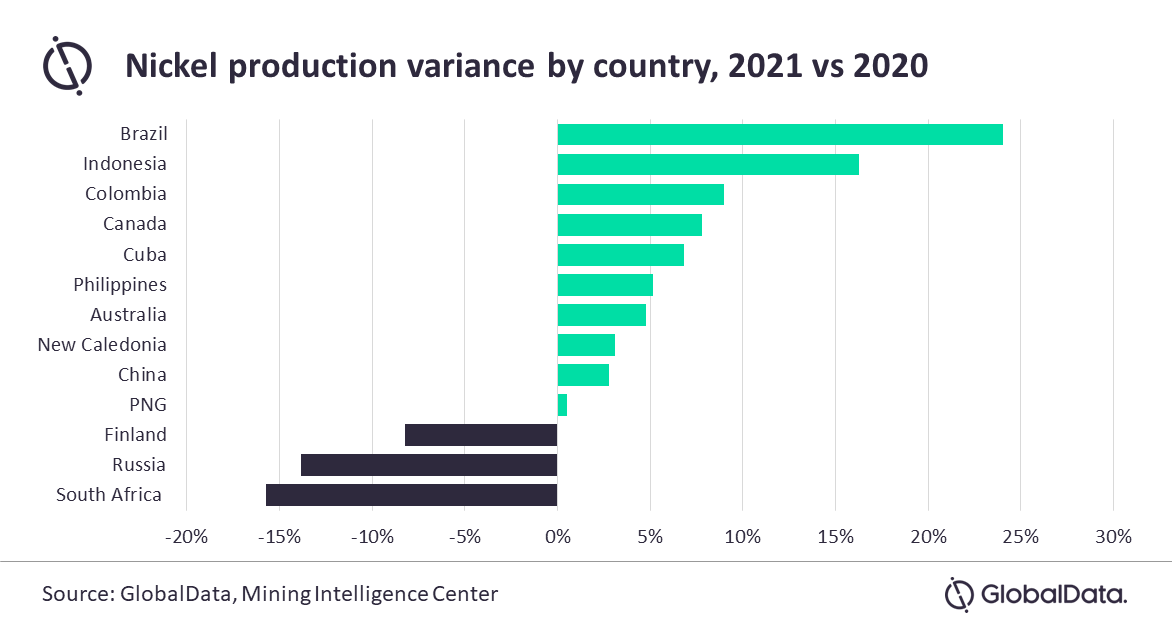 Global nickel mine production is expected to grow by 6.8% to reach 2,427.4 thousand tonnes (kt) in 2021 according to a report by Global Data. This rise is projected after nickel production fell an estimated 4.2% to 2,272kt in 2020, due to the impact of COVID-19.
Much of the increased production will come from output increases from Indonesia (+16.3%), the Philippines (+5.1%) and Brazil (+24%) In contrast, production is expected to decline in Russia (-13.8%), and South Africa (-15.8%).
Nickel ore is mined in 23 countries and smelted or refined in 25 countries, globally. With ten of the thirteen major nickel producing countries will expected to experience increased production indicating a positive bounce back for the metal after a disappointing 2020.
Looking ahead, nickel production over the forecast period is expected to grow at a compound annual growth rate (CAGR) of 3%, to reach 2,730.6kt in 2025. Currently, Australia has one of the world's largest reserves at 20 million metric tons; globally, there are some 89 million metric tons. As of 2012, nickel mining was estimated to have 15 remaining life years. Nevertheless, nickel can recycled endlessly.
Vinneth Bajaj, Associate Project Manager at GlobalData, comments:
"Combined production from Indonesia, the Philippines and Brazil is expected to increase from a collective 1,160kt in 2020 to 1,316.8kt in 2021 – an increase of 13.5%. The increase in production will be supported by the expansion of Indonesia's nickel industry, the resumption of production at various mines in the Philippines and the ramp up at the Santa Rita mine in Brazil, which was previously halted in 2015.