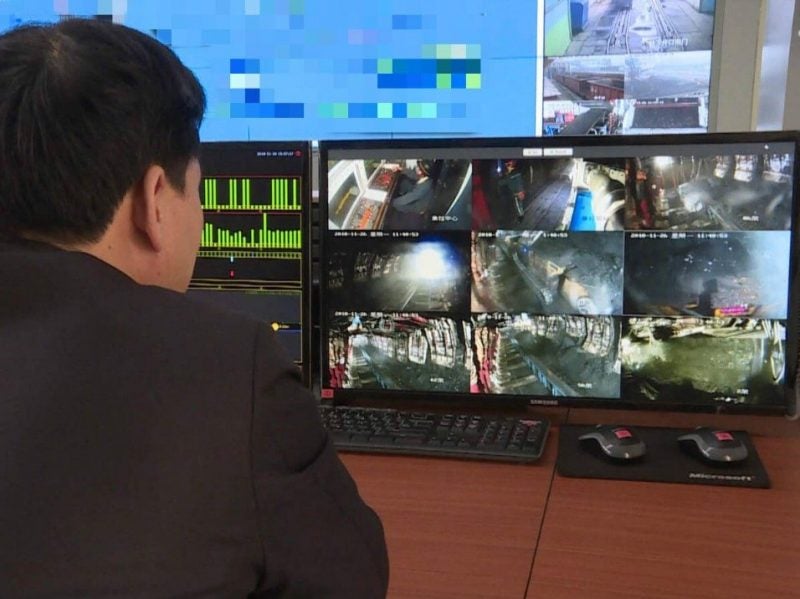 Partially state-owned Chinese surveillance technology company Hikvision has implemented an intelligent video surveillance and control system in the Jiangzhuang coal mine. Operated by Chinese state-owned coal mining company Shandong Energy, Hikvision says it will help create a "zero-accident" working environment.
Jiangzhuang mine dispatch office director Kong Qingwei said: "We need to respond immediately to unsafe situations in the mine, whether they are caused by environmental factors, poorly performing machines, or employees not following authorised work procedures."
The mine's previous surveillance system made health and safety monitoring difficult in some key areas of the underground mine.
"Our previous surveillance system required us to monitor around 30 screens, 24 hours a day, often with suboptimal image quality caused by low-light conditions or light pollution," Qingwei said.
"This made our jobs extremely difficult and tiring, as well as impacting our ability to respond to safety issues quickly enough."
Hikvision's system provides clear video imaging even in low light, or in areas where light pollution is created by lighting or reflective strips. The high-quality video feed means that risks can be identified quickly, allowing the mine's safety team to respond sooner.
Hikvision says the camera system is configured to support specific mining safety applications such as monitoring surface water levels in the mine.
The system also uses machine learning to identify and respond to health and safety risks automatically in real time. In the first three months of the system's operation, more than 30 deviations from safe operating procedures were identified.
Jiangzhuang mine deputy chief engineer Zhang Liu said: "In the past, many of these safety risks could have gone unnoticed. However, the Hikvision system has allowed us to identify every incident in real time and to take immediate action to protect our workers, which is a hugely satisfying outcome for us."
Hikvision says the artificial intelligence technology means cameras in the mine can "identify when employees deviate from approved work procedures" and alert senior staff to these deviations.
Hikvision did not respond to Mining Technology enquiries as to whether the machine learning solely identified workers breaching health and safety practices, or whether the technology could also monitor and report worker behaviour to senior staff.
Hikvision has come under fire recently for alleged ties to Chinese government surveillance operations. In August 2019, the US government included Hikvision in its trade blacklist of Chinese technology companies. At the time, the US Department of Commerce said Hikvision and other companies "have been implicated in human rights violations and abuses in the implementation of China's campaign of repression, mass arbitrary detention, and high technology surveillance" against Muslim minority groups.