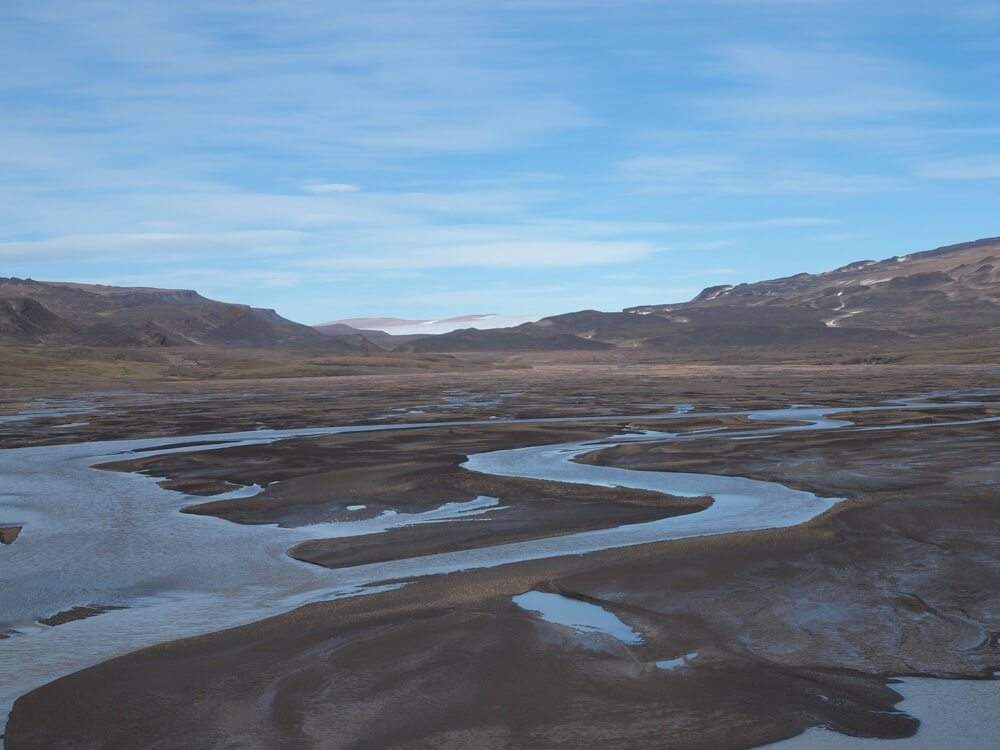 Nestled between Iceland, Canada and Norway, Greenland is the world's largest island, around 80% of which is covered in an ice cap up to 4km thick, in places.
Greenland is also at the epicentre of global warming. As the ice melts away new potential revenue streams present themselves, mining being one.
BlueJay managing director Roderick McIllree says the rapid effects of climate change on the country are profound. Each year, land-based ice retreats by 250m-600m, "but in some instances, up to 1km," he says. "The rocks coming up and out of the ice have never been examined before; this is the leading edge of the whole exploration game in Greenland."
Nearly thirteen years ago, McIllree founded Greenland Energy and Minerals, an exploration company focused on developing the somewhat controversial Kvanefjeld project, located at the southern tip of the country. The site contains the second-largest occurrence of uranium and the biggest occurrence of rare earths in the world.
McIllree and his team's work ultimately led to Denmark and Greenland overturning a more than 40 year ban on radioactive element exploitation.
How well do you
really

know your competitors?

Access the most comprehensive Company Profiles on the market, powered by GlobalData. Save hours of research. Gain competitive edge.
Company Profile – free sample
Thank you!
Your download email will arrive shortly
Not ready to buy yet? Download a free sample
We are confident about the unique quality of our Company Profiles. However, we want you to make the most beneficial decision for your business, so we offer a free sample that you can download by submitting the below form
By GlobalData
Then, after selling Greenland Energy to a Chinese company in 2013, McIllree and his team turned their attention to Dundas (previously known as the Pituffik Titanium Project) .
Discovering
Dundas
Dundas was first identified in 1916 by the Danish and Greenland geological survey after a multi-decade work programme by the Danish State. With available data and established relationships with local regulators, BluJay Mining hit the ground running.
The project, which the company says has been proven as having the highest-grade mineral sand ilmenite project globally, with an initial inferred JORC resource of 23.6 million tonnes (Mt) at 8.8% ilmenite (in situ), including a high-grade zone equal to 7.9Mt at 14.2% ilmenite, represents the best Greenland has to offer, according to McIllree.
"The three key things are: It is un-oxidised, homogenous and very low in impurity ilmenite," adds McIllree, "Potential end users – refiners, off-take customers – are very interested in the product because of those three characteristics, as it will fit into almost all refineries globally."
The resource forms part of a larger exploration target for the tested area of between 90Mt to 130Mt at an in situ grade of between 6.3% and 8.4% ilmenite. Furthermore, this area covers just 17% of the raised beach area.
Crucially, continued exploration work suggests the offshore environment has the potential to host much larger volumes of ilmenite-bearing sediments.
Offshore sampling completed by Bluejay during 2015 returned visual percentages of heavy minerals in almost all samples taken. Furthermore, the shallow marine environment extends approximately 1,000m from the shore, all in less than 20m of water, so drowned beach sediment accumulations, if ultimately proven, could be amenable to exploitation via simple and cost-effective offshore dredging. As such, the company is the first to be granted a marine exploration licence for minerals by the government.
"There are areas where we are getting up to 60%, 70%, 80% and, even some instances, 90% ilmenite in situ. The opportunity to develop a very low-cost high-quality product and high-margin mine is very real and that is what we are racing to do because the macro-backdrop for ilmenite prices are very supportive now," says McIllree.
"The key deliverables from this year's programme will be an upgraded resource, that will include all of the raised beach and the active beach environments."
Mining in extreme environments
Working in Greenland, however, is a challenge, but one that is worth grappling.
The country has bare bones infrastructure, is a high-cost environment in which to operate and offers little in terms of skilled labour, although the government has built a mine school to train people in English – the international mining language – as well as other skills.
"The locals operate very efficiently in Greenland because it is their home, but as a foreigner you can find it very daunting and expensive," McIllree says. "Over the last 12 years, we have overcome logistics issues because we have become part of the society. Greenland is a set of scales: you have to decide what works for you and what doesn't."
The project cycle at Dundas will consist of the production of ilmenite concentration for 12 months, mining for nine months and shipping, most likely to North America and Asia, which will be seasonal, for six months. The expectation is that with the continual effects of global warming, the company will be able to get in earlier and leave later every year.
For sovereign risk and legalities, the country has a Danish system, which McIllree says is "comparatively, one of the best in the world for what is right or wrong".  Greenland itself is an ECC member.
"The country is very stable, not like some Sub-Saharan or African countries where, retrospectively and quite painfully, mining acts are being changed," he says. "There is no such thing as zero sovereign risk but Greenland probably comes as close to that as you are likely to find globally."
Standard corporate tax is set at 30% fast-track depreciation. However, controversially, there is a gross royalty system for unimproved products, so if the value of the product is unimproved within the country, a royalty of 2.5% of the value of the material is paid upon its export.
Social impacts of uranium exploration
Deep-seated anxiety about uranium in both Denmark and Greenland resulted in the population having an almost 50-50 split for and against the Kvanefjeld project.
But McIllree says much of this anxiety was due to a misunderstanding that uranium was only a by-product of the Kvanefjeld complex.
"Once that information was distributed throughout the society by us, anxiety levels diminished significantly: what it really comes down to is keeping the locals informed," he says. "We learned a lot through that process; getting Denmark to overturn its 40-year ban on uranium mining is no small feat."
Dundas does not use any chemicals and has no tailings, he adds, but is a very simple gravity separation at the beach, after which mineral concentrate is sent for processing.
Many Greenlandic people hope mining will lead to independence and jobs.
"The population is behind the development of a minerals industry – minus uranium, "McIllree continues. "I think they have realised their country is very well-endowed and, along with tourism and fishing, an additional revenue stream will ultimately support their desire of independence."
Figures projected in the as-not-yet not public Impact Benefit Agreement, state that, at its peak, the project, which has a projected 100-year lifespan, will provide 120 jobs – half Greenlandic and half highly specialised fly-in-fly-out positions. When processing is active year-round, the plant will provide 40 regular jobs, expanding to 120 when mining and shipping is in full force for six months, then back to 40. Most of these roles are expected to be filled by Greenland residents.
Industry and independence for Greenland
Eventually, BluJay mining wants to accrue sufficient funds for continued exploration in the broader Greenland region, but Dundas is the priority because it will provide a strong position within the country. Subject to several parameters, McIllree says BluJay is modelling for around $30m net per year in a median production model. Production is slated for 2018.
Despite the broader environmental issues, the future for mining in Greenland is entwined with its rapidly vanishing ice, as the quicker the ice disappears, the more dazzling its industrial prospects.
"Analysis shows that world-class ore bodies are still statistically likely to be discovered in Greenland. Everywhere else the ores sticking out the ground have been exploited," says McIllree.
"My feeling is, we will see much more out of Greenland."