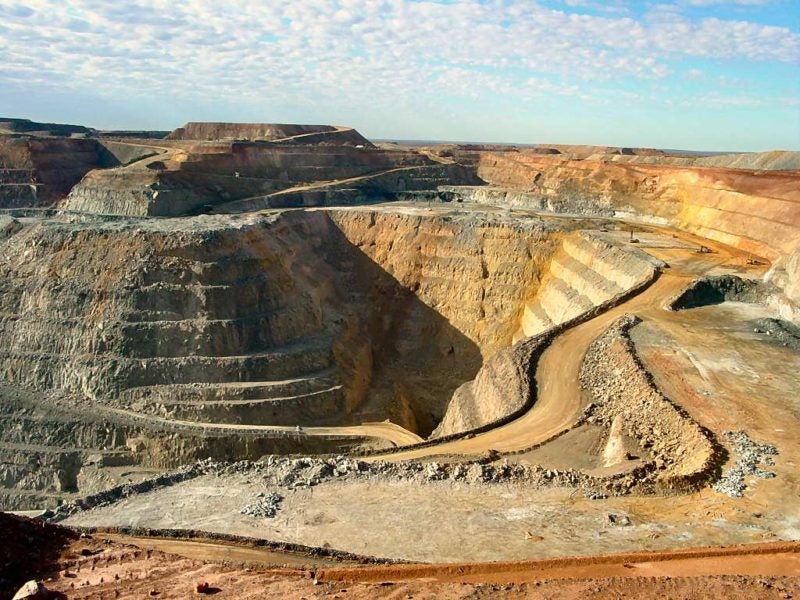 With the country's top two mines, Boddington and the Fimiston 'Super Pit' operation, both investing heavily in expansion projects, Australia could see its record production figures continue to grow. Here are the six biggest gold mines in Australia.
Boddington
Newmont purchased a controlling stake in the Boddington mine in Western Australia in 2009 and has ramped up production to 787,000 ounces of gold per year, with the mine pouring its two millionth ounce of gold in 2012.
The company is also optimistic that the mine will continue to be a profitable project in the long term. It has invested A$500m into an expansion project at the mine's south pit, which aims to increase annual production to 850,000 ounces and extend the mine's lifespan to 2025. The Australian Government also approved an expansion to the mine's operational area in 2012, adding 29 hectares to the complex to create space for water collection facilities and storage dams, as part of Newmont's long-term plan to further extend the life of the mine until 2040.
With proven and probable reserves of over 11.2 million ounces, Newmont is optimistic that the mine will continue its strong production figures for a number of years.
Fimiston
Known colloquially as the 'Super Pit' mine, the Fimiston project has an annual production of 700,000 ounces, and is joint-owned by Newmont and Barrick Australia through their joint venture Kalgoorlie Consolidated Gold Mines (KCGM). The mine has been in production since 1989, with a lifetime production of over 16 million ounces of gold. It is Australia's largest mine in terms of scale, with its pits covering more than five square kilometres and descending to a maximum depth of 700m.
The mine's owners have also invested considerably in community projects in the Kalgoorlie-Boulder community, contributing over A$1m each to a number of initiatives, such as the Goldfields Arts Centre, Goldfields Oasis Sports Centre and Ray Finlayson Sporting Complex. The mine is also the only one of its kind to offer guided tours to customers, and KCGM is eager to emphasise the sense of community built up between the mine and its 1,100 resident workers and contractors.
Jundee
The Jundee project is also located in Western Australia, and was purchased from Newmont by Northern Star in 2014 for A$82.5m. The project is notable for its exclusive use of underground mining, as opposed to open pit mining, and produces around 1.8 million tonnes of ore per year, which yield 499,000 ounces of gold. Northern Star has enthused about the scale and efficiency of the project, which features a hard rock processing facility and a recovery system that recovers 92% of processed minerals.
The mine has recently yielded significant profits for Northern Star, with revenues of A$4533.3m in the half-year to February 2018. The owners also plan to expand project following the discovery of high-grade gold ore, measured to 765 grams per tonne to a depth of 0.5m at the mine's Zodiac region. With a strong resource base of 1.4 million ounces of gold, Northern Star estimates the mine will continue production for a further decade.
Telfer
Newcrest's Telfer mine in the eastern Pilbara is one of the oldest in Australia, producing around 6 million ounces of gold between 1975 and 2000, when operations were suspended due to high operating costs. Work resumed in 2004 and the mine has since produced over 5 million ounces, producing 425,536 ounces in the 2018 financial year alone. The mine also produces copper, generating 16,212 tonnes of the metal in 2018.
With two open pit mines and a separate underground operation, the Telfer mine is an expansive site, but Newcrest has taken steps to minimise its intrusive aspect. In 2015, the company signed a land use agreement with the Martu people, the traditional inhabitants of the land surrounding the mine. The agreement enabled work at the mine to continue in exchange for the Martu receiving A$18m over five years, alongside a further revenue-sharing agreement. The contract tasks Newcrest with providing a range of services to the group, including logistical support, as well as assistance in training and employment.
Cowal
The largest gold mine outside of Western Australia, Evolution's Cowal mine is located 350km west of Sydney, in New South Wales. Production has fluctuated over the last decade, from a low of 191,000 ounces in 2008 to a high of 314,000 in 2013, and down again to the 2018 total of 258,000. The project, however, boasts a considerable gold reserve of 6.08 million ounces of measured, indicated and inferred gold, alongside ore reserves of over 116 million tonnes.
Last year, Evolution received permission to begin work on a secondary crushing circuit at the mine, which would increase the project's annual processing capacity to 9.8 million tonnes per year, up from the previous capacity of 7.5 million tonnes. The company completed an extensive environmental assessment and has plans in place to rehabilitate the land after the mine closes for agricultural production and livestock grazing.
Sunrise Dam
While the Sunrise Dam mine was opened as an open pit mine in 1997, underground operations were added in 2003 and both elements combined to reach production of 238,000 ounces of gold in 2017. The mine sits atop an estimated ore reserve of 1.73 million ounces. Owner AngloGold Ashanti has consistently invested in updating the mine's equipment, beginning with the conversion of the project's diesel power station to run on liquefied natural gas in 2007, and most recently concluding with work on an underground mine management system to provide real-time data on a number of mine operations.
However, while the mine's production has improved in recent years, up from 216,000 ounces of gold in 2015, the operation has struggled over the last decade. Production in 2008 reached 433,000 ounces, close to double the current figures, and as the number of contractors employed at the mine has increased, from 336 to 393 from 2016 to 2017, the injury frequency rate has risen from 8.24 incidents per million hours worked to 12.1 over the same period.