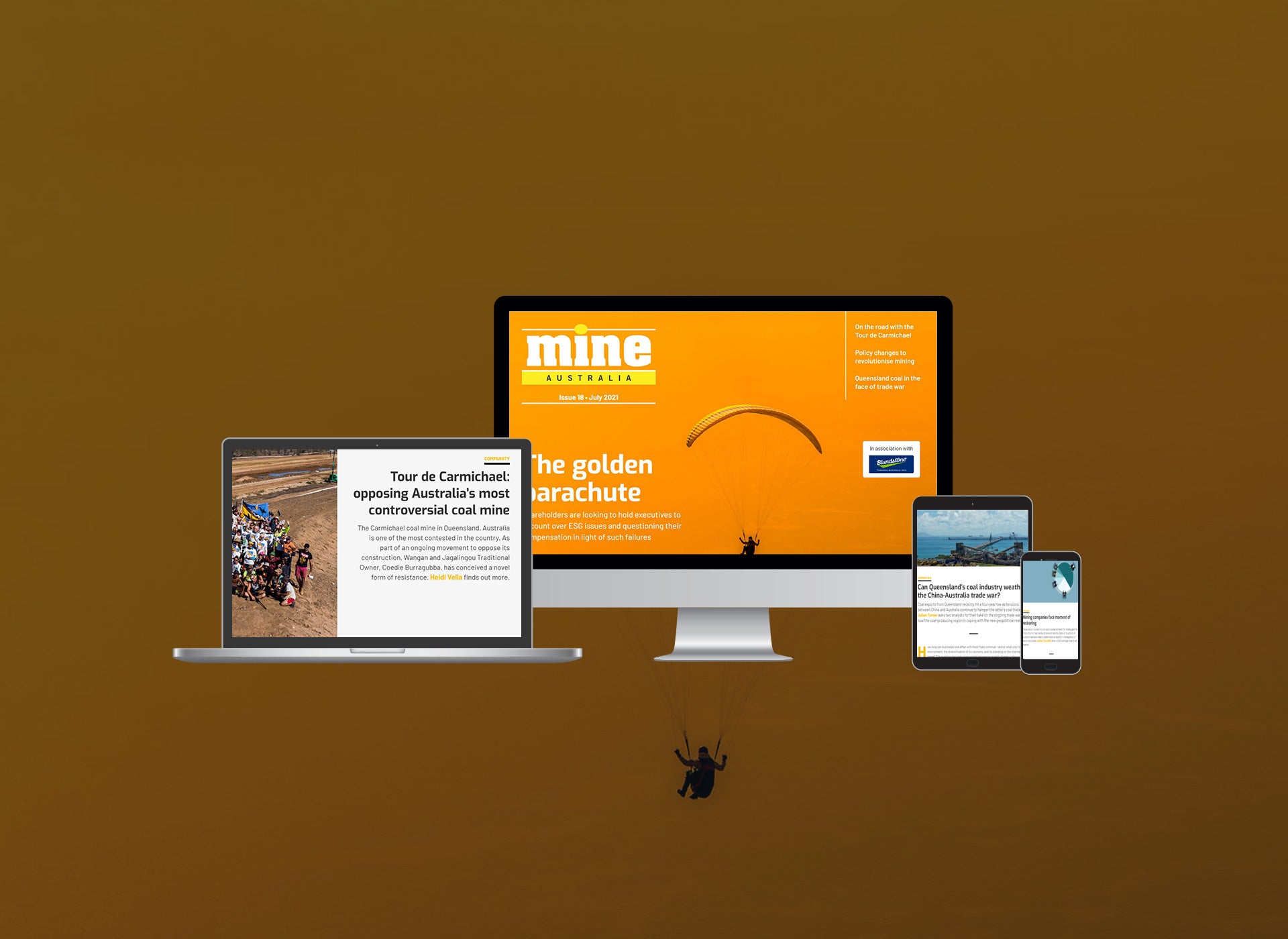 In this issue, high-profile shareholders have voted against Rio Tinto's remuneration report that would hand now-departed chief executive Jean-Sébastien Jacques a pay rise despite the destruction of Juukan Gorge. The desecration of the Aboriginal heritage site brought a fresh wave of attention to ESG issues in the mining industry, and the lack of accountability for executives, which are now causing uproar among shareholders.
Also, in protest against Adani's Carmichael coal mine in Queensland, the land's traditional owners are organising a cultural tour of the lands in the form of a 105km bike ride, stopping at areas of interest to learn more about the Indigenous community's heritage and "Adani's environmental damages and shady business". We speak to the organisers of the trip and profile this unique form of resistance to a mine project.
Elsewhere, with Australia reportedly mulling a net-zero emissions target that could have a major effect on the country's mining industry, our writers imagine a world where they get to be Prime Minister of Australia for a day – each identifying one policy they would enact to revolutionise Australia's mining sector.
Whether you are on a desktop, tablet or smartphone, you can read the magazine for free online, and join the conversation on Twitter.
In this issue
Could rare earths peak in Tanzania?
As miners seek to expand the rare earths sector, projects are popping up across the globe – now including Tanzania. Scarlett Evans examines Australian miner Peak Resources' project in the country, how it aims to become one of the world's lowest-cost, fully integrated rare earth producers, and the challenges it may face.
Mining companies face moment of reckoning
"Desecration" is a word no one wants levelled at them. For mining giant Rio Tinto, it's one it has heard a lot in recent months. Some of its actions in Australia have been widely condemned and resulted in the departure of senior executives. Andrew Tunnicliffe dives into the damage done by the scandal.
Tour de Carmichael: opposing Australia's most controversial coal mine
The Carmichael coal mine in Queensland, Australia is one of the most contested in the country. As part of an ongoing movement to oppose its construction, Wangan and Jagalingou Traditional Owner, Coedie Burragubba, has conceived a novel form of resistance. Heidi Vella finds out more.
Covid-19 in a golden age for mining
The onslaught of the pandemic continues in many parts of the world, impacting lives and livelihoods. The mining sector is by and large remaining resilient, but it isn't just Covid that is proving challenging. Andrew Tunnicliffe takes a look at how mining giant Gold Fields is coping.
Policy changes to revolutionise Australia's mining sector
With Australia reportedly mulling a net-zero emissions target that could bring its climate goals in line with other countries while also having a major effect on the country's mining industry, our staff writers each identify one policy they would enact to equip Australia's mining sector for the challenges ahead.
Can Queensland's coal industry weather the China-Australia trade war?
Coal exports from Queensland recently hit a four-year low as tensions between China and Australia continue to hamper the latter's coal trade. Julian Turner asks two analysts for their take on the ongoing trade war and how the coal-producing region is coping with the new geopolitical reality.
Preview – MINE Australia September 2021
Environmental, social, and governance issues are increasingly at the forefront of investors' minds, yet the mining industry has a long way to go to satisfyingly address concerns.
In the next issue, we look at the gap between shareholder demand and company action, assessing where miners are succeeding and where the most work still needs to be done.