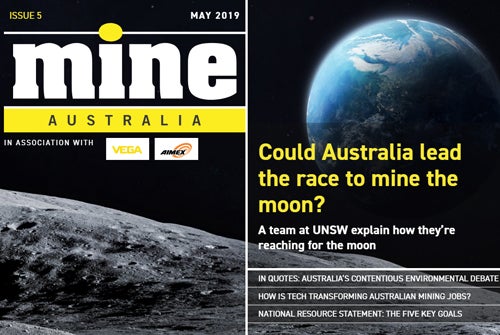 The new issue of MINE Australia is out now. Click here to read on any device.
For years, mining has been a big boon for Western Australia; together with the petroleum industry, the sector accounted for 92% of the state's income from total merchandise exports in 2015/16. We take a look at the projects and policies fuelling the state's mining sector.
We also explore the most innovative renewable energy projects at mines around Australia, profile the five key goals outlined in the country's National Resources Statement, the first long-term plan and reform agenda released by the government in more than two decades, and speak to a team at the University of New South Wales that's working on developing mining techniques for the moon.
Finally, we list the mining work areas that are expected to be most affected by the industry's ongoing digital transformation, and examine the debate over Australian resources and mining environmental sustainability through quotes from both sides of the argument.
In this issue
West is best: profiling Western Australia's mining boom
European law firm Fieldfisher has published its second overview of alternative financing solutions and their growing adoption by cash-strapped junior miners. Heidi Vella speaks to the firm to discuss the emerging and unconventional funding sources gaining traction in the market
Mapping renewable energy projects at Australian mines
From geothermal projects being used to reopen closed mines, to mining towns powered entirely by wind farms and solar panels, Australian mining is investing increasingly heavily in renewable power for both economic and environmental reasons. JP Casey highlights eight renewable projects leading the way.
The National Resources Statement: growth, cooperation and delegation
The National Resources Statement (NRS) is the Australian government's first attempt to reform the country's resources sector in over 20 years, and aims to bring together a number of organisations and individuals to ensure the sector continues its years of unprecedented growth. JP Casey takes a look at the important document.
Beyond Earth: Could Australia lead the race to mine the Moon?
With enough mineral wealth among the stars to theoretically give everyone on Earth $100bn each, outer space mining is an attractive prospect for the world's most opportunistic miners. However, the technology first needs to be proven to be effective, with basic issues such as funding missions and securing fuel sources key early challenges. JP Casey speaks to Professor Andrew Dempster of the University of New South Wales who is leading a team that is aiming to extract water from the Moon, to demonstrate the feasibility of some of these ambitious plans.
How technology is changing Australian mining jobs 
A new report from accounting firm EY says that over the next five years, more than three quarters of jobs in Australia's mining industry will be enhanced or redesigned by technology. So which roles set to change, and how? Scarlett Evans reports.
In quotes: Australia's contentious environmental debate 
There's been no shortage of mud-slinging between Australian environmental campaigners and the mining sector and government in the last few years. As the debate over Australian resources and mining sustainability continues to rage, Molly Lempriere tell the story using quotes from both sides.
Preview – MINE Australia August 2019
As the Australian elections loom, we take a look at how it will influence the mining sector, and how the mining sector itself has become a divisive election issue. We also ask the new administration five questions that are pressing for the continued success of the industry.
BHP has become the world's most valuable mining brand, we talk to them about what that means and how they've achieved it. We profile Queensland, one of the best mining regions in the world, but one where the government there has just approved a controversial A$1bn coal mine. India offers a huge opportunity for Australian miners, but one that is yet to be really taken advantage of, we ask why?
Finally, we profile Sir Arvi Parbo, a titan of the mining industry who sadly passed away in May.