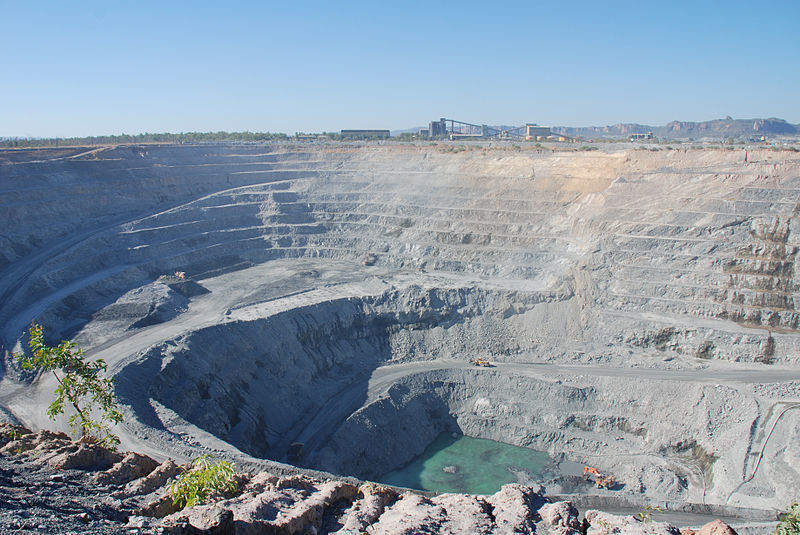 According to the WNA, global electricity generation from nuclear sources reached 2,488TWh in 2017, following years of consistent improvement since 2012, when global production reached 2,346TWh. With the 54 nuclear reactors currently under construction, expected to push the total number of operational reactors worldwide above 500, nuclear power has never been more popular, or as integral to the world's energy production.
Uranium
This grey metal is used as fuel in nuclear reactors, making it one of the most-mined radioactive minerals in the world.
The WNA reported in 2017 that 59,531 tonnes were produced in 2016, a significant increase from the 41,282 tonnes produced a decade earlier. This total is enough to cover 92% of the world's uranium demand, and follows a year in which global production reached 98% of demand, the closest the world has come to meeting its uranium needs since demand first outstripped supply in the early 1990s.
Most of the world's production of uranium is centred in Kazakhstan, which was responsible for 39% of the world's production in 2017, with the country's Tortkuduk and Myunkum operations in the south responsible for 6% of global production.
Canada is the world's second-biggest producer, accounting for 22% of global production; its Cigar Lake underground operation produced almost 7,000 tonnes of uranium in 2017, 12% of the world's total production.
However, uranium mining continues to pose a legal problem for many countries; the US Supreme Court is currently considering reversing a long-standing ban on uranium mining in the state of Virginia due to uncertainties of definitions of federal-owned and state-owned land.
The uranium extraction process also poses a significant health risk to local people and environments due to the radioactive nature of the mineral. Organisations such as the European Bank for Reconstruction and Development are spearheading initiatives to undo some of the damage caused by unchecked uranium mining.
Thorium
While not itself fissile, and therefore not a direct source of fuel in nuclear reactors, the faintly radioactive metal thorium is nonetheless important to the global nuclear nuclear industry, as it can be easily transmuted into uranium-233.
This process, which involves absorbing a neutron, combined with the fact that the Earth has larger reserves of thorium than uranium, makes the metal an important supporting radioactive mineral that has been increasingly brought to the attention of international miners.
South Africa-based Steenkampskraal Thorium Limited (STL) aims to mine thorium from its rare earths operation in the Western Cape province of South Africa, and develop an international supply chain for the mineral. The company's mine originally produced a monazite concentrate in the mid-19th century, but has been repurposed and now boasts the highest grade of rare earth elements in the world, with reserves of 86,900 tonnes.
STL claims that its ores are worth around $3,000 per tonne, which would make the mine's products the most valuable rare earth ores in the world.
Thorium-derived uranium can be effectively used as a fuel source in five types of nuclear reactor currently in commercial operation, according to the WNA, and a further two types of reactor that are still in development. Heavy water reactors, such as the CANDU machines that power the 4,700MW Bruce Power Station in Canada, are some of the facilities that can benefit from thorium-based uranium.
Beryllium
A strong, brittle metal with a single radioactive isotope, both beryllium and beryllium oxides are strong thermal conductors, which are useful in heat transfers. While year-on-year production of the metal fell 12.3% between 2011 and 2012, according to Investor Intel, the global beryllium trade is dominated by the US (which produces 87% of the world's beryllium), so there is optimism that a US economy geared towards increasing its mining output under President Trump could underpin growth in the global beryllium trade.
Beryllium could also see an increase in attention due to its role in the ITER energy project, an ambitious magnetic fusion device worked on by teams from 35 countries that aims to demonstrate the feasibility of fusion as a sustainable and clean source of energy.
Currently, the most efficient fusion reactor in the world is the JET, which produced 16MW of power from 24MW of heat input. In comparison, ITER aims to produce 500MV of power from just 50MV of heat input, with beryllium-9 acting as an important isotope in the reactor's operations.
Investor Intel reports that the influence of ITER could push global beryllium demand to 450 tonnes per annum by 2030, a total that is nearly double the total 2012 production of 228 tonnes.
The Spor Mountain mine in the US state of Utah was responsible for 85% of global beryllium mining in 2011, and will be a significant operation if global demand for beryllium continues to increase.
Zirconium
Zirconium contains five radioactive isotopes, and with over 67 million tonnes of reserves reported by the US Geological Survey in 2013, this grey-white metal has significant potential for future usage.
Zirconium alloys are often used in nuclear fuel production as the basis of the tubes through which pellets of uranium oxide are sealed.
Metalpedia reports that global zirconium production reached 1.44 million tonnes in 2013. Of this, Australia and South Africa accounted for more than two-thirds of worldwide production, with 600,000 and 360,000 tonnes mined, respectively. While year-on-year production decreased 1.4% from 2012's production of 1.46 million tonnes, the presence of large-scale zirconium operations means production is unlikely to falter.
Rio Tinto's Richards Bay Minerals operation in South Africa accounts for half of the total output of the mining sector in KwaZulu Natal Province and 3.3% of the total national output. The operation is also responsible for 95% of the Thungulu district's economic output, providing a stable base for zirconium production in the world's second-largest producing nation.