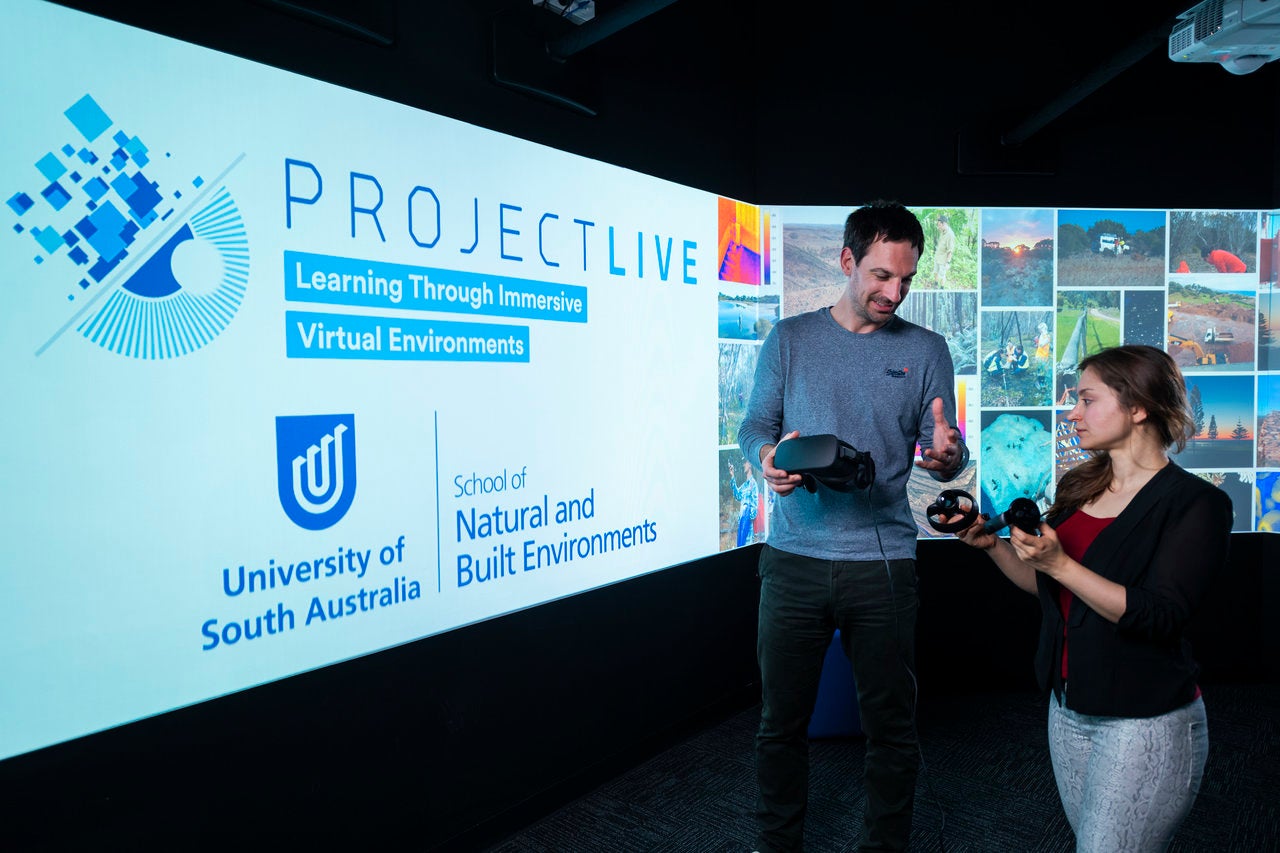 The skills gap in the mining industry is growing, with a recent report saying 82% of companies globally were finding it hard to find skilled people for vacancies. There are a number of reasons for this, including the shift in the required skillset needed for positions and a reduction in the industry's attractiveness among young workers.
In an effort to attract young Australians to the minerals industry, the University of South Australia has launched a new virtual reality programme supported by the Australasian Institute of Mining and Metallurgy's (AusIMM) Education Endowment Fund. Project Live-MM (Learning through Immersive Virtual Environments for Minerals and Mining) aims to attract students to the minerals industry through exposure to the sector's possibilities.
"Project Live-MM will expose secondary and tertiary students to the importance of the mining and minerals industry to Australia, the nature of the work undertaken in the sector and the variety of career opportunities that are available," says a spokesperson for AusIMM. "This creates an accessible environment for students of all persuasions to consider a future career in the resources industry."
The programme gives young Australians a chance to be a geologist for the day, giving them a sense of the positions and opportunities available in the industry. But will this be enough to inspire a new generation of geologists?
Making mining attractive
Interest in working in the mining industry in Australia, as well as around the world, has declined in recent years. Mining booms in the 1970s, and more recently in the 2000s, attracted hundreds of thousands to work in Australia's huge mining industry.
But that doesn't seem to be the case any more. There are a number of theories to explain this shift, with some arguing that too many young people have seen the volatility of the industry, while others claim that it has simply become unattractive in the age of climate change.
Project Live-MM's programme director and Associate Professor at the University of South Australia Tom Raimondo believes young Australians are not considering positions within the mining and minerals sector due to a lack of awareness. In part, he suggests, the remoteness of the industry by its very nature decreases awareness; miners are not commonly encountered outside of mining towns in the way other professionals may be. But beyond that, there is a lack of education, especially at an early stage.
"In Australia, earth science education has really fallen off the radar for a lot of secondary science teaching," Raimondo says. "Students do a lot of physics, chemistry and maths and so on, all of those fundamentals, but they don't really get a lot of earth science content at secondary school level."
This seems to be confirmed by a recent report by YouthSight, which also suggests that the lure of technology will not be enough for millennials, who see advanced technology as a given for most industries. Therefore making them aware of the possibilities the industry can offer could be a better tactic.
For Raimondo, while technology may not be the main draw of the industry, it is an intrinsic part. "In some ways the two go hand in hand," he says. "I think what geoscience needs is people who are very tech-savvy, very focused, and capable, with not only technology but also things like geospatial science and geographic information systems."
Project Live-MM: becoming a geologist for the day
The programme is part of a larger initiative taking place throughout Australia that includes a number of organisations and projects. These include the MinEx Cooperative Research Centre (CRC), which the University of South Australia is taking part in, along with others such as AusIMM's engagement fund.
"We put in an application [to AusIMM's fund] around the use of virtual reality (VR) and augmented reality in the minerals industry," says Raimondo. "It's a space that we've been working in a bit at the University of South Australia for a while, in environmental science and geoscience, and we thought it was a natural next step to apply it to the minerals industry. It's such a powerful tool for providing educational opportunities and conveying content to people about things that they have never experienced before."
The programme will bring students on a journey, allowing them to visit outcrops all over Australia and the world. It uses a combination of extremely high-quality panoramic shots, detailed outcrop images and 360° video. These visits will be tied together by an overarching narrative, constructed from interviews with industry professionals.
"The images themselves are great but they only really work when they're brought together and they tell a story, so part of this project is using some of those existing images and weaving them together into an educational narrative," says Raimondo. "We want to get out to sites and hear from the experts themselves; I don't want to be the person telling the story in each case, I want the people who are part of this industry doing this stuff on a daily basis to share their stories."
Weaving the data into a narrative
A huge amount of images and information were required to build the platform. Some of these images were already accessible, such as those available through the University of Tasmania's directory.
But more was needed, and further images are being gathered by Raimondo and his team, requiring upskilling. Raimondo and his team had been part of VR projects previously, but Project Live-MM required them to step into the drone space.
"Two of the people involved in the project had to train to become drone pilots so that we could capture these images ourselves; we don't have to rely on outsourcing all of this stuff," explains Raimondo. "We had to become familiar with the technology that is used to collect panoramic images and 360° videos.
"All of that stuff was really self-taught, we basically just went out there, thought this is what we want to capture, how do we do it, what's the technology available to do that, and how can we get access to it and train ourselves up, learn a bit about what works and what doesn't. Then I guess the other thing is that you've got to integrate all of that stuff together, you've got to weave that narrative."
It was this interweaving that Raimondo cites as the biggest challenge in putting together the programme, ensuring that the narrative was coherent and engaging while providing industry players with a platform to present their positions accurately.
Whether programmes such as Project Live-MM will have a lasting effect on the job market in Australia mining will take years to fully ascertain. Raimondo is confident that VR as a technology can bring benefits to the educational space though, and is something we will be seeing a lot more of in the mining industry and beyond.
"VR is probably the next big thing in terms of education, but what's missing is content," he says. "While there is content for various other fields in the VR space, as an educational tool, I haven't really seen a lot for geosciences or for the minerals industry in particular. That's the new content that we really want to create, opening up, making accessible that industry and all the skills that it uses and need to be developed forward through VR, I think that's what we're trying to do that's different from what a lot of these other projects are doing where they're using VR."