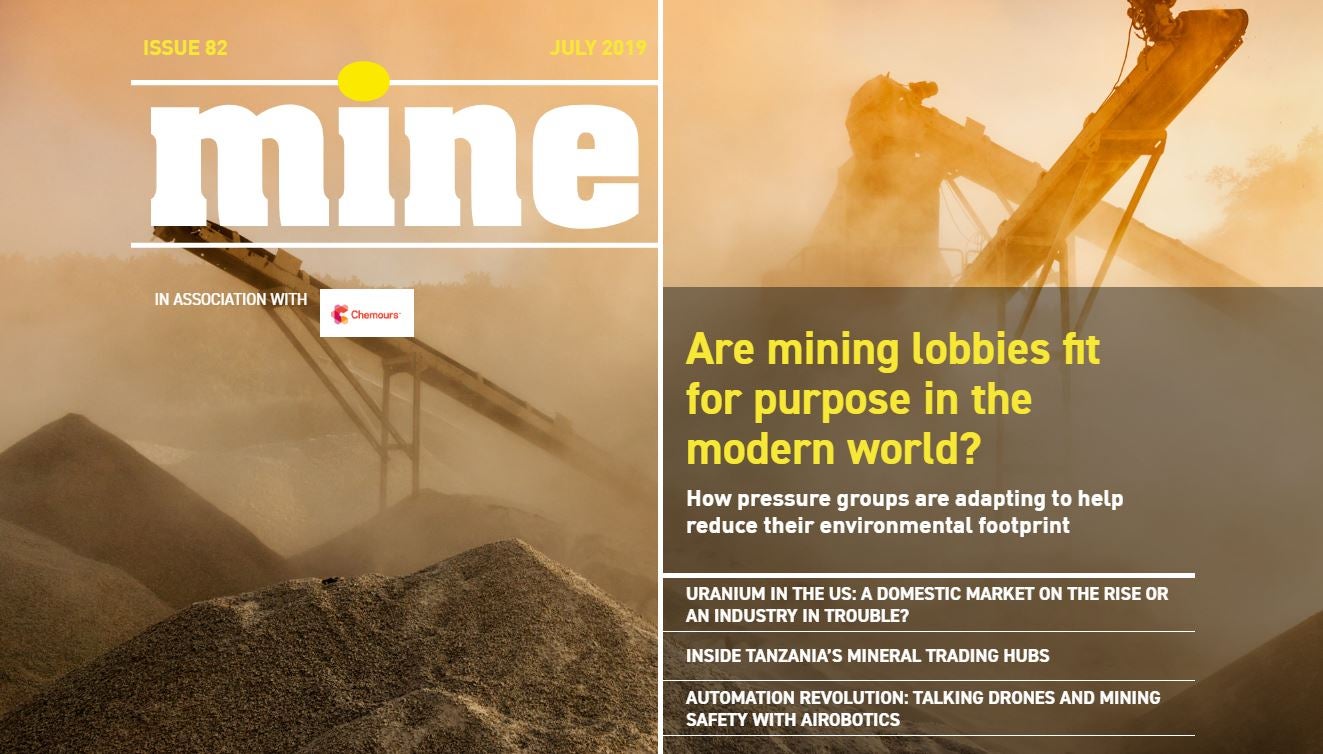 MINE is back for another issue packed with industry news and analysis. In this issue, we look at how mining lobbies are adapting for the modern world, Airobotics drones, a look at the best electric mining vehicles, and more.
Whether you are on a desktop, tablet or smartphone, you can read the magazine for free online.
In Tanzania, the government is establishing mineral trading hubs in an effort to cut down on illegal exportation and tax evasion. We take a look at mining in the country, and how this scheme will be rolled out.
In technology, we speak to Airobotics about their drones and how they can improve mine safety, explore whether batteries really are best for mining vehicles, and take a look at Russia's first metallurgical accelerator, Severstal's SteelTech Accelerator.
We also investigate how mining lobbies are changing and adapting as the mining industry itself does to become more environmentally aware, and catch up with Anglo American to see how they are implementing sustainability initiatives.
In this issue
Are mining lobbies fit for purpose in the modern world?
In April, Rio Tinto released a statement voicing the need for mining lobby groups to adapt their policies in the face of a world increasingly rocked by the ill-effects of climate change. So how should lobby groups adapt to help reduce their environmental footprint, and what more needs to be done to make the mining industry a force for good? Scarlett Evans investigates.
Inside Tanzania's mineral trading hubs
The Tanzanian Government has announced plans to establish mineral trading hubs across the country in a bid to eliminate illegal exporting and crack down on tax evasion. Scarlett Evans looks at the state of mining in Tanzania, and how the new hubs will take effect.
Creativity and collaboration: inside Russia's first full-scale steel accelerator programme
Russia's fourth-largest steel producer Severstal is committing up to $25m a year to programmes to support startups promising innovation in the steel sector. JP Casey spoke to Severstal director Andrey Leptev about the SteelTech Accelerator programme spearheading the initiative.
The race for copper: investments and discoveries
As supplies dwindle and technological advances raise demand for copper, the market is predicted to go into deficit by 2020. Mining majors are responding to this dilemma by investing heavily in expanding existing copper operations, as well as exploration efforts to discover new copper deposits. Umar Ali profiles the biggest copper discoveries and investments of the last few years.
Uranium in the US: a domestic market on the rise or an industry in trouble?
A petition to limit imports of uranium in the US as a matter of national security has left the industry divided. While it may benefit local miners, nuclear companies have warned it will drive up prices and cause more problems for an energy source already under threat from renewable competition. Scarlett Evans finds out whether the proposal is viable.
Automation revolution: talking drones and mining safety with Airobotics
How do remotely operated drones benefit the most important aspect of any mining operation: safety? Dan Ward, director of technical engagement at Airobotics, sat down with Umar Ali to shed some light on this exciting new technology.
In charge: the battery technologies leading the way in mining
As electric vehicle technology becomes more widely adopted for mining vehicles, Jack Unwin explores the leading battery-powered mining vehicles on the market.
No compromise: Anglo American's 2018 sustainability performance
In its 2018 results, Anglo American reported improvements in production and profitability and its 2018 Sustainability Report demonstrates that it has achieved its goals without compromising safety and environmental performance. JP Casey looks at how the company has managed to balance production and compliance, and where it goes from here.
Next issue preview
As a former mine union leader takes over as president of South Africa, we take a look at whether Cyril Ramaphosa will be good for the mining industry.
Elsewhere, political uncertainty in Mexico has led investment to drop by a staggering 37.4% between 2017 and 2018. We ask how the country can become an attractive investment opportunity again.
The World Bank has launched a 'Climate Smart' mining fund, the first ever to be dedicated to sustainable extraction. Countries have been increasingly turning to unusual exploration incentives to encourage activity, with copper exploration being encouraged in particular We profile the companies leading the big discoveries.
We also take a look at a deepsea nodule collector named after the world's fastest caterpillar, ask whether more should be being done to protect space from mining, and review how times are changing as the London Metal Exchange appoints its first ever female chair of the board.
Visit our archive to read back issues of Mine for free.
Subscribe to our email alerts to be notified when a new issue is published.