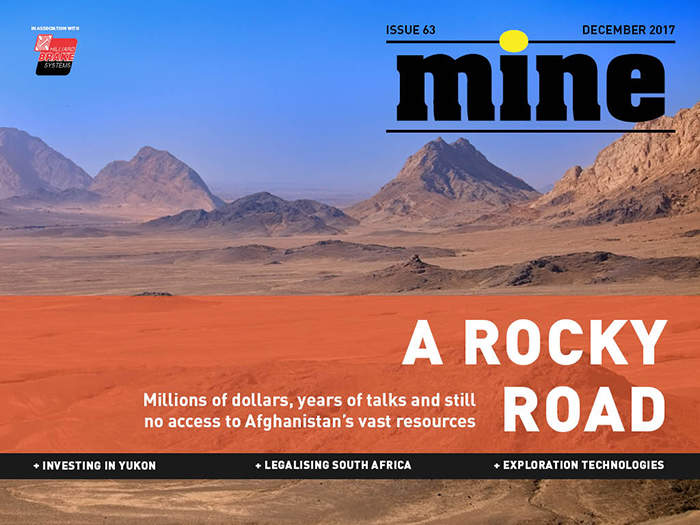 In this issue: The race to mine Afghanistan, Yukon infrastructure, streamlining Australia's legislation, artisanal mining in South Africa, AI for exploration, using natural formations to locate hidden deposits, and more.
Afghanistan has a modest mining industry but the US has reportedly spent $500m on mining in the country, as part of its commitment to create a workable economy and also, some suspect, to counter growing Chinese and Russian influence. But it seems that all of this interest has led nowhere. Here, we profile Afghanistan's mining industry and the race to claim its mineral riches.
Regionally, we assess the huge differences in mining legislation across Australian states and explore the potential for The Association of Mining and Exploration Companies' plan for a unified framework, find out why Canada and Yukon have committed $360m to improving remote territories, and examine the arguments for legalising small-scale mining in South Africa.
On the tech side, we look into mineral exploration to assess both a machine-learning-powered software and a more traditional method that uses snow, soil and trees to point to the next big ore discovery.
Read MINE magazine free on iPad through our app and on desktop, and you can join the conversation on Twitter.
In this issue
Altered States: Mining Regulations Across Australia
Association of Mining and Exploration Companies (AMEC) CEO Simon Bennison has called for sweeping reforms of mining sector legislation in Queensland Australia, which AMEC describes as "rigid and needlessly complex". With this in mind, we compare and contrast legislative frameworks across Australia to find the major differences between states, and which regions are considered the most efficient and attractive to investors.
Click to read the article
Breaking in to the Great White North
The Canadian and Yukon Governments have committed $360m in combined funding for new infrastructure in Yukon, focusing on improving road access to the Dawson Range and Nahanni Range mineral-rich areas of the remote territory. This move has been praised by the Mining Association of Canada and mining company Triumph Gold Corp, as infrastructure weaknesses have reportedly meant that Yukon is six times more expensive to explore and where mine construction is twice as expensive as the southern provinces. We find out more about the project and its potential impacts on the region.
Click to read the article
Standing Up for South Africans
In August, miners marched on the department of mineral resources (DMR) in Pretoria to demand the legalisation of small-scale operations. The protestors claim that legalising artisanal mining could make the sector safer and help boost the economy, a suggestion also made last year by the ICMM, citing the success of legalisation in countries such as Ghana and Peru. Could it work in South Africa?
Click to read the article
The Race to Mine Afghanistan
The US is reported to have spent some $500m on mining in Afghanistan, both as part of commitments to create a workable economy in the country and also, some suspect, to counter increasingly growing Chinese and Russian influence. We take a look at mining and Afghanistan and the race to claim its mineral riches.
Click to read the article
Giving Prospectors a Platform
Earth AI is a new online mineral exploration platform powered by machine-learning software to help mining companies make new mineral discoveries. The system increases its knowledge every time a user uploads data, thereby improving its ability to predict where deposits may be found. Airtree and Blackbird Ventures have shown confidence in the project, contributing significant funding to help build the platform. Could predictive technology be the future of mineral exploration?
Click to read the article
Can Nature Lead the Way?
Researchers from GeoScience have developed new analytical methods that enable miners to use snow, soil and trees to locate buried mineral deposits. The lab-based technique measured concentrations of the halogen elements fluorine, bromine, chlorine and iodine in samples collected from Vancouver Island at the Mount Washington gold-copper-silver prospect and the Lara zinc-copper-lead-silver-gold. We speak to the researchers to learn what the samples revealed.
Click to read the article
Next issue
Exploration budgets were up 14% in 2017 for non-ferrous minerals, the first rise five years. We look through the reasons to discover why this sudden leap of confidence and if this degree of investment is sustainable for the year ahead.
America has its eyes on the moon again with a range of projects aimed at not only walking on the surface again, but also building a base and mining the lunar crust. We take a look at the aspirations to see just how far we are from working on the moon.
Also, we ask why Canada is setting up its own mining supercluster, hear about AI improving ore analysis, the use of drones to map areas without any GPS or even light, and find out how battery development is impacting the extraction of vanadium.
Digital Magazine FAQs
You can read MINE for free on iPad when you download our app from the App Store – from here you can read the latest issue and browse the back issues in our archive.
You can also continue to read the desktop version for free on our web viewer. (Browser compatibility: The web viewer works in the latest two version of Chrome, Firefox and Safari, as well as in Internet Explorer 9 and 10. Some features may not be compatible with older browser versions). Don't forget to subscribe for the latest mining news.