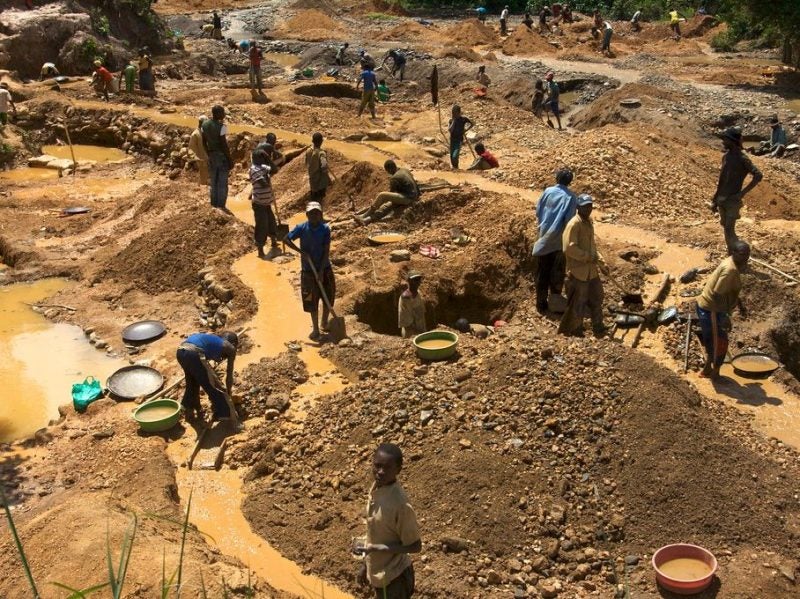 A series of reforms are changing the Tanzanian mining sector, launched as part of President John Magufuli's drive to optimise mineral trading. Most recently the country's government announced its plans to establish mineral trading hubs, with trial centres in the gold-rich region of northern Geita. It is hoped the hubs – controlled by the national government – will provide greater transparency to the country's mining sector and help to curb mineral smuggling.
What will the mineral hubs do?
Last month the Tanzanian government amended its Mining Act to push for the introduction of mineral buying and trading centres, stating that "if mineral and gem houses have not yet been established within a particular area, the Mining Commission will establish buying stations." The move follows like-minded programmes in South Africa and Botswana, which operate a gold exchange and diamond bullion market respectively.
The centres are intended to provide a means of formalising the currently flawed trading system, giving small-scale miners access to a government-regulated market where they can directly and legally trade gold without the necessity of traveling to major cities. In addition, the mineral-buying centres will allow the government to collect more levies from both miners and businesses, and achieve better overall regulation of the industry.
Matthew Salomon, senior economist for the Institute on Taxation and Economic Policy says he believes the new hubs are "well designed to curb smuggling". This is due in part to a law passed in February that reduces miner's tax obligation to just 7% – down from the previous 5% withholding tax and 18% added tax.
"The lower tax rate should provide incentives for small-scale miners to transact through the hub," he says. "It would also help to have Tanzanian hub operations coordinated in some way with those set up in South Africa and Botswana, allowing regulators in all those countries to share information on possibly unusual flows…this kind of information and control might induce other African nations to follow suit with reforms of their own."
Prime Minister Kassim Majaliwa told The East African "[The hubs will] ensure all constraints in the mineral trade chain are removed and promote the industry to benefit Tanzanians individually and nationally."
Majaliwa added that the hubs will be jointly supervised by officials from a state-run mining commission and the state revenue service, with financial assistance available to both dealers and miners from bank officials.
All mineral-producing regions in the East African nation are required to have hubs set up by the end of June, taking precedent from the trial centres in northern Geita – an area that contributes 40% of the country's overall gold exports. This programme was launched in mid-March, with Geita's Regional Commissioner Robert Gabriel saying each of the area's five districts will have one gold collection centre for small-scale miners, and two banks where gold trading can take place. Permanent Secretary of the Ministry of Minerals Simon Msanjila has said plans for widespread adoption are already in place, with regions beginning to allocate sites and buildings for trading purposes.
Why are the mineral hubs needed?
Smuggling is a mounting problem that plagues a number of African nations, and due to the current market-price high of gold – trading for over $40,000 per kilo – illicit trading of the metal is particularly pressing.
A Reuters report published earlier this year found billions of dollars' worth of gold are smuggled out of Africa each year, winding its way through the United Arab Emirates to markets in Europe and the US. Data collected from Comtrade and the UAE showed that in 2016, the Middle Eastern state imported gold worth $3.9bn more than African countries said they sent out.
Tanzania is Africa's fourth-biggest gold producer, with central bank data showing it exported gold worth $1.549bn in 2018, up from $1.541bn the previous year. In the country, artisanal miners currently produce around 20 tonnes of gold each year, though a parliamentary report estimated that 90% of the output is illegally exported. In previous attempts to curb smuggling, President Magufuli ordered the central bank to start buying Tanzania's gold to build reserves and help stabilise the local currency, while in 2017 a 24km wall was built around the tanzanite mining area in Mererani.
While small-scale mining can provide a steady livelihood to millions of people, governments in Ghana, Zambia and Tanzania are warning of the dangers that the vast scale of illicit mining activities are posing. Both the environmental and social landscape of a country is impacted, while governments are unable to establish an efficient and lucrative trading environment.
"The basic problem with smuggling – and other illicit financial activity – is that resources are diverted from more productive uses," Salomon says, adding that this is "a kind of social cost that is especially difficult for already-strained developing economies to bear; fewer social resources are thereby available to allow significant progress on such social goals as achieving sustained and inclusive growth and poverty reduction."
Environmentally, below-board metal production can be incredibly damaging. The use of mercury to extract gold from ore means the toxic material ends up in the surrounding ecosystem and poses potential harm to the people who use the surrounding water and land, causing damage to internal organs and, in some cases, neurological disorders such as tremors and muscle weakness.
While the hubs will hopefully add more transparency to the current system, Salomon says it will not entirely solve the problem of smuggling.
"The smuggling operations will adjust, of course, finding new paths of least resistance," he says, "so I wouldn't expected smuggling to be eliminated entirely, at least not anytime soon."
However, it is still a step in the right direction. "For Tanzania, this seems like a very good start," Salomon says. "The new information they'll be getting independently from hub and central bank activities – and, presumably sharing to some degree across agencies – will allow them to better monitor customs collections and flexibly adapt the reforms as things unfold. Time will tell, but this certainly seems like an improvement for mining and citizens of Tanzania."