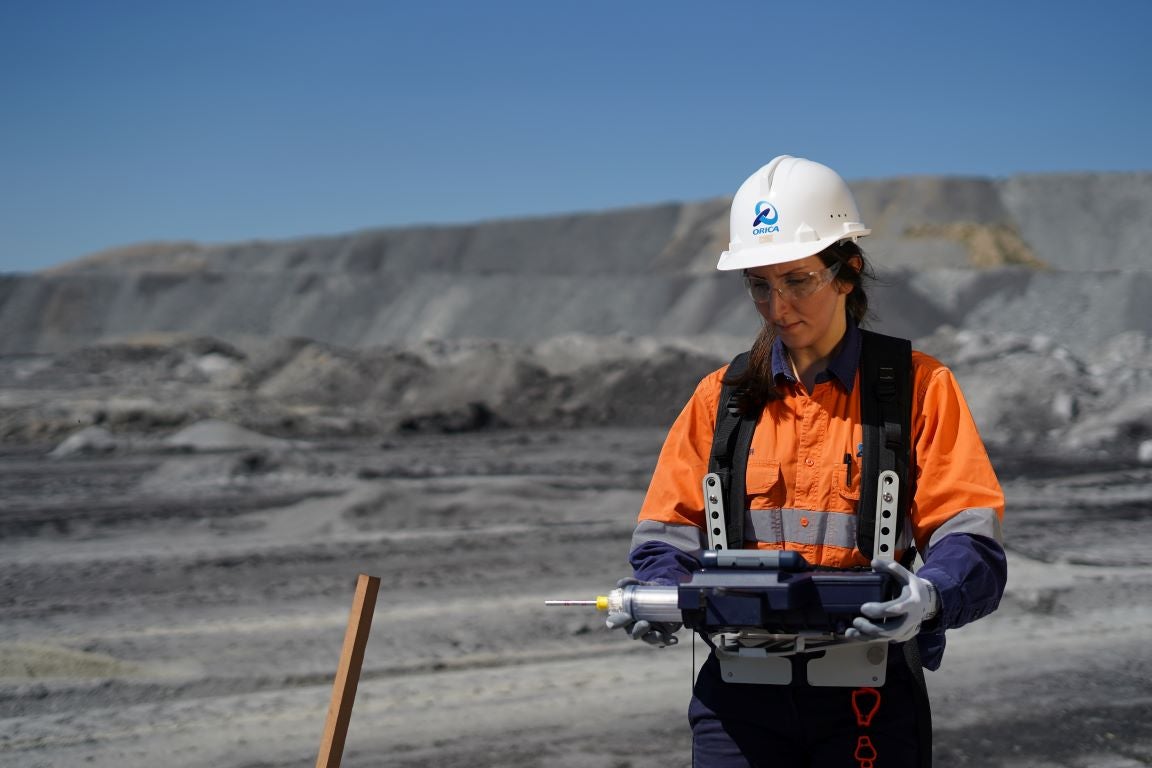 A four-year technology collaboration between the Swedish miner LKAB and Orica has yielded wireless explosives. The results, the WebGen wireless platform, has been commercially available since 2022, and has helped spur the more widespread development and rollout of wireless blasting within the global mining industry, which is always eager to innovate in its core processes.
This is a relatively new innovation, whereby encrypted firing signals are sent directly to an in-hole receiver that is attached to each individual detonator. The process, based on Orica's WebGen wireless technology, enables explosives to be detonated remotely.
Orica's wireless blasting system is designed to improve not only mine safety, by removing people from harm's way. It also aims to improve productivity by removing the constraints imposed by wired connections, two benefits that will be of interest to the mining industry more broadly. With companies across the sector interested in reaping these benefits, blasting and drilling could be just one of the facets of mining set for innovation.
A new blasting process
Wireless blasting differs from conventional underground blasting in that there is no wire network and no detonator cord. Instead, the technology is based on wireless primers that consist of three components, a battery/receiver, a booster and a detonator, which are integrated into a single unit.
For detonation to occur, each of the primers needs to be inserted into a series of holes drilled into the orebody. The system's communication uses an antenna, which is placed about 250 metres from the blasting area, through which a transmitter sends a signal to the primer, whose receiver picks up the signal.
Orica blasting technician Luke Carlon said that: "By removing the leads, you're removing the main failure mechanism of an electronic detonator. This significantly improves underground safety, as it removes the need for a person to enter an area before and after it has been fired."
Extensive testing
Despite the relative novelty of the process, it has been tested around the world. One of the first mines in the world to trial Orica's WebGen was the Ernest Henry Mining (EHM) copper-gold mine in Queensland, Australia. It introduced the system in 2021, when it was part of Glencore, and aimed to improve both safety and productivity at the mine.
In the mine trials, blasting work done with WebGen was able to recover approximately 95% of available tonnes, compared with roughly 80% previously. The technology also provided EHM with the opportunity to create independent drives and eliminate slot drives, which reduced the requirement for ground support and complex equipment interactions.
In November 2021, Glencore agreed to sell EMH to Evolution Mining, which had acquired a 30% stake in the mine in 2016. The deal was concluded in January 2022, and this acquisition has allowed Evolution Mining to continue to expand on the mine safety systems first introduced by Glencore.
Glencore's lead resource engineer, Michael Hawtin, oversaw the WebGen trial at EHM, and said:, "Continuous improvement is very important for us, particularly with a focus on safety but also for efficiency and production improvements."
Last December, Orica and Epiroc, in partnership with Agnico Eagle Mines, announced it had successfully commenced live blasting with another new blasting system, Avatel, at Agnico Eagle's Kittilä mine in Finland. Orica describes this process as "the most advanced underground development charging system ever designed," and uses the WebGen platform to remotely prime and detonate explosives.
Orica chief technology officer Angus Melbourne said: "The combination of digital, automation and wireless blasting technologies and by partnering with customers and peers, we can continue to solve the industry's biggest challenges across safety, productivity and sustainability, together."
Towards WebGen 200
According to Orica, more than 5,000 'WebGen100' blasts have successfully taken place around the world since the technology was made available, a strong showing for a new technological process. Now, Orica has rolled out an upgrade, its 'WebGen200' process.
First announced in March this year, the upgrade is primarily tailored to surface mining applications. The first surface blast with WebGen 200 was at TerraCom's Blair Athol coal mine in Queensland at the end of 2022, and these blasts were part of its alpha trial programme to verify and validate product testing in the field. Since then, another trial at a partner customer mine in northern Chile has followed.
And while WebGen200 is targeted mainly at surface miners, an "Underground Pro", as Orica calls it, option exists. This is one of the four variants of the new WebGen200 platform that include Surface, Surface Pro and Dev, refinements of the initial platform that can be used for different mines and projects. In late 2022, Newmont's electrified Borden gold mine in Ontario, Canada became the first underground customer to adopt the WebGen200 Underground Pro technology.
Innovation across mining
But Orica is not the only wireless mining solution provider that is targeting the mining industry. A number of Information and Communication Technology (ICT) companies are also making their wireless technology available. In January, ICT firm announced that Nutrien, a fertiliser supplier and potash mines operator, had deployed an Ericsson private long term evolution (LTE) network 1km below the surface of the earth at its potash mines in Saskatchewan, Canada.
The 4G network was designed and deployed by Ambra Solutions, Ericsson's consulting firm and partner, leveraging advanced radio technology from Ericsson. It enables connectivity through hundreds of kilometres of underground tunnels at the Nutrien mines.
Chad Skiba, IT manager for potash at Nutrien, said in a statement: "We knew Ericsson provided carrier-grade equipment in our public LTE sector. Ericsson equipment has the ability to build redundancy into the infrastructure, so we have resiliency to maintain communication even if there is a component failure somewhere in the network."
The LTE network was preferable to Wi-Fi, Skiba added, as: "Most of the data transmitted to the control room required travelling underground to the nearest Wi-Fi access point, which could take hours." Expanding Wi-Fi availability through the tunnels would have been a more costly option.
Wireless technology is just one of several innovations that are currently being adopted by the mining industry, with automation and the internet of things popular fields for innovation. But wireless communications technology lies at the heart of nearly all of these innovations. Eventually, all of these developments, including wireless blasting, could combine to achieve the promise of intelligent uncrewed mining, sho