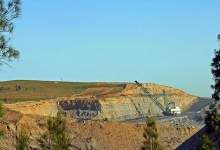 GE and Komatsu's latest collaboration, announced in April, will use the Internet of Things (IoT) – or what Komatsu call the "industrial internet" – to improve efficiency and service by enabling physical objects, embedded with electronics, software and sensors, to exchange data with manufacturers and other machines and connected devices.
The partnership expands on GE's other IoT technologies that it already offers to constantly monitor critical equipment for things such as aircraft engines and gas turbines.
The collaboration also follows on from a joint venture between Komatsu and GE Transportation announced in February 2014, which saw the formation of Komatsu GE Mining Systems. The company will focus on developing a new generation of underground mining equipment.
Once developed the IoT technology will be primarily aimed at the Australian and New Zealand mining markets, where the companies believe it will have significant benefits, but will also be available worldwide. Komatsu has a strong history of success in Australia; it was the first market in the world to commercialise Komatsu's Autonomous Haulage System for driverless trucks and also the first country to market its 35-tonne Hybrid Excavator.
Heidi Vella-Starr: How did the partnership between GE and Komatsu come about?
Gagan Sood: Komatsu and GE have a longstanding partnership developing and supplying mining equipment, as well as optimising mining operations. Together they create high performance electric powered haul truck fleets for open-pit mining applications that move material safely and efficiently. In April 2014, the strong relationship between Komatsu and GE further developed into a joint venture partnership, Komatsu and GE Mining Systems, LLC.
The new company is located at the GE Transportation facility in Erie, Pennsylvania, US, and the partnership has been focused on developing the next generation of mining solutions that impact customer productivity and safety for underground mining applications.
HVS: Can you tell me more about the IoT technology Komatsu and GE will be using to boost efficiency in mining operations?
---
---
A sustained commodity price slump has prompted a wave of mine closures as the industry contracts to weather the storm.
---
GS: GE is connecting machines, data and people so that they can perform better, faster, safer, and more reliably. We call this the Industrial Internet. GE's remote monitoring and diagnosis (RM&D) expertise, which is supported by its Industrial Internet, has evolved through extensive experience of over ten years in railroad operations on more than 15,000 machines, to reduce life cycle costs and improve availability of assets. GE and Komatsu are piloting GE's RM&D technology on Komatsu trucks to improve diagnostics on the GE drive system. The data analytics is based on GE Transportation's RM&D technology currently.
HVS: How will the technology improve efficiency?
GS: The RM&D technology that we are utilising will help boost the efficiency of the mine by improving truck availability or reducing truck downtime. The technology will help improve the diagnostics and troubleshooting capabilities of the mine operations and maintenance teams. The GE RM&D technology will provide data analytics of the truck performance data to prevent unnecessary maintenance events and to reduce the time to repair the truck during unplanned maintenance events. The utilisation of the technology should also reduce the use of unneeded component replacements.
HVS: What applications can the technology be used for, for example surface or underground trucks?
GS: Currently we are only focused on surface mining vehicles. As we move forward with the pilot and the development of prognostics and diagnostics capabilities, it could expand to additional segments.
HVS: What do GE and Komatsu individually bring to the partnership?
GS: GE and Komatsu have been accelerating the global mining industry for years by leveraging the breadth and depth of the GE-Komatsu portfolio to provide solutions across the mining value chain. The two companies have added value for customers by supporting their operations through machine to machine applications on their respective high-quality products. Today, GE and Komatsu are optimising their respective technologies, know-how and extensive experience to develop new ways of utilising big data for enhanced productivity and safety performance.
HVS: At what stage of development is the technology?
GS: GE has been utilising the RM&D technology for decades on thousands of different assets in a variety of industries. This pilot is still in its early stages; however, there are numerous studies or reports publicly available that demonstrate the value and benefits of the technology or approach.