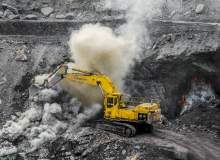 For decades, the story of India's mining industry has been one of vast potential that has yet to be truly unlocked. The country shares a geological history with resource-rich regions such as South America, Australia and South Africa, which along with South Asia, formed a single supercontinent called Gondwana before it broke up in the Jurassic period around 180 million years ago.
This geological heritage means that India is steeped in resource potential, with world-class reserves of commodities such as gold, silver, iron ore, thermal coal and chromite, the latter of which is a strong indicator for the presence of platinum.
Despite the abundance of promising prospects within India's borders – particularly in prime mining states such as Jharkand, Odisha and Rajasthan – its domestic mining industry has struggled to achieve momentum. In fact, the last decade has seen mining's contribution to India's GDP fall from 1.2% to 1%, according to a December 2014 report by McKinsey & Company.
A host of significant challenges has restrained a domestic mining industry that by rights should have already sprung from the starting gates. A central part of the problem has been India's rather chaotic regulatory and policy landscape when it comes to mineral exploration, which has led to a severe lack of participation from the private sector and a drought of investment, with a large majority of exploration work carried out by public companies like the Mineral Exploration Corporation.
"India figures nowhere in the global exploration budget," said Federation of Indian Mineral Industries (FIMI) president H Noor Ahmed at a three-day exploration convention hosted by the trade association in September. While Canada makes up 14% of the global exploration spend and Australia sits just behind at 12%, India is languishing at just 0.4%. The country's exploration expenditure works out at just $17 per square kilometre, comparing unfavourably with China's $67 and Brazil's $51, not to mention the much higher figures in Chile, Australia and North America.
Amending the MMDR Act
Since Narendra Modi assumed the office of Prime Minister in May 2014, his Bharatiya Janata Party has made a concerted effort to unblock India's mineral exploration landscape and tackle the underlying issues that have been holding it back.
"Our goal is to complete 100% regional exploration at the earliest possible [opportunity] to assess the mineral wealth of the country," said India's Minister of Steel, Mines, Labour and Employment Narendra Singh Tomar in August. "The contribution of mining to GDP must rise."
"Our goal is to complete 100% regional exploration at the earliest possible [opportunity] to assess the mineral wealth of the country."
These efforts reached a milestone in March 2015 when both houses of the Indian Parliament – the Lok Sabha (lower house) and Rajya Sabha (upper house) – passed a bill to amend the country's Mines and Minerals Development and Regulation (MMDR) Act 1957. The new amendments to the act, which provides the framework for mining regulation, are intended to provide the industry a shot in the arm by implementing a more transparent mining auction and development process.
At its heart, the MMDR Amendment Act is intended to bring clarity and predictability to a mine development sector that has put off potential investors and caused countless delays and cancellations in the past. According to mines secretary Balvinder Kumar, between 2001 and 2015 just 15 out of more than 400 reconnaissance licences issued were converted to prospecting leases or mining leases, the Economic Times reported in December.
The act replaces India's discretionary licensing and approvals system, which was highly vulnerable to local and central corruption, with a competitive bidding system. Mining lease periods have been standardised to 50 years in an effort to ensure security for investors, while also implementing various provisions to expedite the decision-making process, which could potentially allow the reopening of mines that had closed while waiting for lease renewal decisions from government.
The act also makes provisions for the creation of the National Mineral Exploration Trust (NMET) to encourage exploration, and the establishment of District Mineral Foundations (DMFs), regional bodies which will take a third of local mining royalties to spread benefits to people and environments in mining-affected areas.
Further measures to boost exploration
The MMDR Amendment Act has laid the foundation for a more transparent and attractive exploration environment for miners, but it only represents the starting point of the work that needs to be done. With the basic framework for mine development set, the government is now moving forward with a new national mineral exploration policy, which is currently expected to be unveiled in detail in January 2016.
Although the Ministry of Mines intends to spend around $74m a year on exploration activities, the major thrust of the exploration policy is expected to be opening the door to domestic and foreign private sector companies that have thus far been struggling to operate in the country. "We are finalising the new mineral exploration policy and will announce it within the next two months," Kumar told the Financial Express in October. "We have received representation from the mining industry about allowing the private sector in new exploration of mining assets. The policy will address their concerns."
State-run companies will be encouraged to form joint ventures with private partners to allow exploration projects to tap more money and technical expertise. FIMI secretary general RK Sharma has emphasised the importance of private sector involvement to unlock new opportunities.
"The early stage exploration activity is usually funded by the private mining companies in many developed countries," he said. "Ability to fund the exploration and latest technology is available with the private miners."
Public institutions like the NMET and the Geological Survey of India (GSI) will also need help from the private sector when it comes to improving geological survey coverage in India. At the last count, airborne surveys have been carried out over just 18% of the country's surface area, compared to 90% coverage in Australia. If the government wants to meet its ambitious target of full coverage by airborne geophysical surveys within the next three years, it will need all the help it can get. And the rewards are potentially great – the GSI recently discovered a large greenfield mining site containing around 26 billion tonnes of copper and 1.3 million tonnes of gold in the district of Alwar in Rajasthan, according to Niti Central.
Tackling corruption and environmental concerns
While auctions are currently ongoing for dozens of mines across the country and prospects appear to be looking up, there are other entrenched issues which the industry and government must deal with before it can become a true player on the global mining scene.
"The new auction format will help address many concerns around bribery by local officials."
The largest of these problems is corruption, which has been allowed to flourish under the old discretionary permitting system. The new auction format will help address many concerns around bribery by local officials, but Modi's government is looking to go further, taking a root-and-branch approach to stamping out corrupt practices that have held back exploration projects for years.
Nowhere is this anti-corruption push than in the prime mining state of Rajasthan, where more than 600 of the 653 mineral licences issued by the state were revoked in October, a month after Ashok Singhvi, a senior official in Rajasthan's mining agency, was arrested by the Anti-Corruption Bureau on charges of accepting bribes in return for preferential treatment on mining applications. Significant moves like this seem to signal an intent from Modi's government to make a meaningful impact on industrial corruption, which will likely be highly encouraging for prospective explorers.
But in the wake of the world's promising agreement on global emissions reduction and environmental protection at the UN climate change summit in Paris in December, some critics are sounding alarms that the new regime may be accelerating the mineral exploration process at the expense of India's precious environmental assets.
The Ministry of Environment and Forests is considering a new proposal to relax regulations for forest clearing for exploration, allowing automatic approval if the tree canopy covers less than 40% of the affected area. Canopy coverage of 40%-70% will require a permit, and areas with more than 70% coverage would automatically be disqualified from consideration. The hard limits will once again be helpful for companies that need better understanding of their regulatory obligations, but with more than 250,000ha of forest already threatened by coal mining operations alone according to a recent report by Dutch environmental group Fern, a more relaxed stance to forest conservation could have an unforeseen knock-on effect for jungle habitats.
However, in spite of some ongoing concerns, India's new raft of legislation looks set to rejuvenate the country's flagging exploration sector, bringing with it the chance to truly capitalise on its enviable mineral reserves. Can industry and government work in harmony to grasp that opportunity with both hands? Only time will tell.