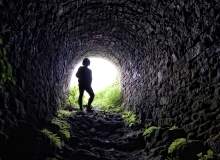 Mining, by its nature, is a somewhat transitory operation. Completely dependent on the whims of the market and the extent of the reserves being tapped, mining projects generally begin producing with clear expectations as to the total volume of material extracted and the time it will take to mine it out.
"Cornwall's diminished mining industry could receive a boost by joining the select few regions producing indium."
This essentially leads to an industry vulnerable to sudden shifts in price and demand, as well as to overseas competition that can produce the same raw resources with lower labour costs and better efficiency. Certainly, this has been a recurring story throughout many regions of the developed world.
The UK's coal mining industry, for example, such a dominant force in both the country's industrial revolution and its 20th century development, has now virtually disappeared thanks to the competition of a global market, dwindling deposits and bitter labour disputes.
The decline and fall of the mining industry often leaves a legacy of unemployment and economic depression in the local areas that have come to depend on it.
But just as economic conditions can work against regional or national industry, so too can they swing back into their favour.
The spiking prices of many raw materials, especially when it comes to maintaining the supply of high-tech consumer gadgets like laptops, smartphones and other touch-screen devices, are encouraging investors to reassess the viability of mining operations that, in many cases, might have lain dormant for decades.
We check out some of the most promising mining revivals across the world, as well as the challenges involved in bringing a dead industry back to life.
Indium discovery in Cornwall, UK
Cornish mining, a once thriving UK industry based on the production of tin and copper, has been disappearing as the price of tin crashed in the 1990s. But at South Crofty, a mine that closed in 1998 but was bought by speculative investors in 2006, a new discovery has the potential to kickstart a new period for the historic Cornish mining industry.
The investors were originally looking for deposits of zinc, copper and gold after a rise in global commodity prices improved the region's prospects.
Although commercially viable gold deposits were found, the discovery, announced in February 2011, of large quantities of indium, a malleable metal used in the production of modern liquid crystal displays and touch-screens, have proved the rarer and more lucrative find.
Indeed, the majority of today's indium is sourced from China, leaving the Western world concerned about over-reliance on Chinese exports, a fear that has been exacerbated by the country's policy of restricting indium exports to stimulate its own domestic high-tech industries.
With the discovery at South Crofty, Cornwall's diminished mining industry could receive a welcome boost by joining the select few regions producing indium. According to reports, the deposit could be worth £200 million over a period of ten years, with some assays revealing as much as 1,000g of indium per ton.
Mine owner Western United Mines estimates the mine will produce 250,000 – 400,000 tons of indium a year in the first phase, and it hopes to add 400 staff to its current workforce of around 60 over the next two years. "This is an exciting time," said local MP George Eustice.
"It may be too early to call it a modern day gold rush, but let's hope it's an indium rush. The demand for this element keeps growing. This would be a state-of-the-art facility and help resurrect mining in Cornwall."
The Salave mine project: Spanish gold rush?
The steady rise in the value of gold, with gold futures doubling over the last three years, has seen renewed investor interest in long-ignored prospects, perhaps none quite so ancient as the Salave deposit in the autonomous community of Asturias in Spain, which was first developed by the Roman Empire around 2,000 years ago.
"The Ore Mountains on Germany's border with the Czech Republic have a significant mining history."
The Salave deposit is now being developed by Canadian company Astur Gold and with estimates that it contains more than 60 tons of gold, the company believes it is one of Europe's largest untapped gold fields, capable of creating $230 million in annual revenue once operations reach full swing.
Astur is currently applying for a mining licence with the regional government, with a decision due in 2012.
However, the 2005 demise of a prior plan for the Salave deposit by Rio Narcea highlights one of the key issues involved in reviving local mining industries: local objections, usually due to environmental concerns. Rio Narcea's open-pit proposal for the mine was abruptly rejected by the previous Asturias Government after concerted protests from local communities.
But there are some key differences to both Astur Gold's proposal and the region's circumstances that seem to make the Canadian company's bid for the Salave mining licence more likely to succeed.
The company is planning to proceed with a less environmentally damaging shaft mine and provide employment to 850 Asturias workers during its construction.
Also, the economic boom that helped the region feel comfortable rejecting major investment in 2005 is now a thing of the past, so a major new source of tax revenue and employment will undoubtedly be a more enticing prospect at the moment, especially as the surrounding community currently has an unemployment rate of more than 20%.
As such, Astur Gold CEO Cary Pinkowski is still confident that the licence will be granted. "We're optimistic we can get the licence with a new government in power," he told Bloomberg in August.
"What was a nice and interesting project has become something really big, a complete monster, because of skyrocketing gold prices."
Germany to revive mining in Ore Mountains
Like Cornwall, the Ore Mountains on Germany's border with the Czech Republic have a significant mining history, reaching a peak in the post-war period when 6,000 workers were employed by East German mining company Wismut to mine iron ore, silver and uranium for exportation to the Soviet Union.
Despite the mountain range's rich resources and the additional discovery of fluorite in the 1970s, mining in the region went into steady decline along with much of the rest of Europe. Markets like Germany, which began to implement stringent environmental, safety and labour standards, could no longer compete with other mining operations that weren't maintaining the same standards.
"Spiking prices for many raw materials are encouraging investors to reassess the viability of mining operations."
In June 2011, with fluorite prices soaring and modern drilling and extraction methods improving the economy of mining, AFP reported that the Oberwiensenthal mine in the region is being developed for full commercial fluorite production, backed with €18 million of private investment so far.
Extraction is reportedly set to start in the middle of 2012, with an anticipated 180,000 tons of annual production expected to fetch around €70 million in yearly turnover.
It will be fascinating to see if, in the coming years, a genuine mining revival is possible in the areas of the developed world where it has fallen into decline for so long. With potential environmental concerns and ever-formidable overseas competition it does seem that the odds are stacked against a spectacular resurrection.
But as new projects in long-abandoned regions continue to take their first steps back on to the world stage, there's a definite sense of momentum behind this trend. With countries all over the world desperately looking for the green shoots to kick-start their economic comebacks, a renewed mining industry might just fit the bill.