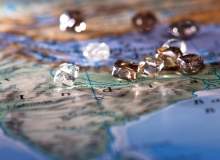 Under reformist Prime Minister Narendra Modi, India is moving forward with its efforts to modernise the economy and build robust, homegrown industries that can survive and thrive in a global marketplace. Boosting domestic manufacturing is a major priority, and spending on infrastructure projects like roads, housing, airports and urban transport systems is rising as the country looks to follow China's model of strategic mega-projects. Tata Group expects the government and private sector to spend $668bn on infrastructure in India between 2012 and the end of 2017.
India's domestic mining resources will need to play a prominent role in this economic surge, with the country's large iron ore deposits particularly important for crucial steelmaking operations. But making the most of these resources has become a difficult knot to untie.
On top of the prolonged moratorium on iron ore mining in Goa, which was only recently lifted, there is the thorny issue of accessing massive high-grade iron ore deposits in central and eastern India, the vast majority of which are located in regions currently embroiled in a long-running conflict between government security forces and violent Maoist insurgents, who have made it a priority to wreak as much havoc as possible on local mining and manufacturing operations. Over the last two decades the struggle has claimed thousands of lives – of police and government soldiers, of rebels, and of innocent civilians caught in the middle.
This conflict, which centres around regions such as Chhattisgarh, Jharkhand, Bihar and Odisha – collectively known as the 'Red Corridor' due to the persistent presence of the Naxalite-Maoist rebels – is compromising the security of existing mining operations and holding back an estimated $80bn of new investment in the regions, mainly due to the lack of access to deposits. Although local government forces have been gradually eroding the Maoists' territory and support through various means, the insurgency has proven resilient and attacks are still a regular danger for civilians and mining projects alike.
Bhavin Vyas, political and security analyst at leading global risk consultancy the Risk Advisory Group, discusses the threat still posed by the conflict to mining operations, the 'carrot and stick' strategies adopted by the government to stamp out the attacks, and the long path towards a meaningful reconciliation that could see strategically vital resources become accessible to help secure sustainable growth for a modern India.
Chris Lo: Could you summarise the current security situation for the iron ore mining industry in regions affected by the Naxalite-Maoist insurgency? It seems like many large deposits are still proving impossible to access safely…
Bhavin Vyas: Iron ore mining operations face several security risks in the Red Corridor, albeit variously challenging depending on the area. As you said, the access of mined goods is still proving difficult. And even when they can be accessed, there is a risk to the transportation. Just last month, on 13 April, Maoists set alight up to 18 trucks carrying iron ore through the Kanker district of Chhattisgarh.
---
---
Against a backdrop of oversupply and under-demand, certain outliers have given investors a glimmer of hope.
---
This region of Chhattisgarh is particularly prone to insecurity and attacks from Maoist factions, where the Maoists have effectively imposed a ban on any mining activity. Maoists not only target transportation, but also company employees and machine operators, of mining companies and also construction companies, often through extortion or kidnap for ransom. This myriad of security challenges has on rare occasions led to reported collusion between Maoist factions, the local police and mining companies to allow production and transportation to continue.
CL: What other mining commodities are difficult to access in these regions as a result of the conflict?
BV: Apart from iron ore, the central region of India is rich in various other minerals. Just last year Rio Tinto discovered a large reserve of diamond reserves in the Bastar region of Chhattisgarh. But the company has been told by the Chhattisgarh state government that it cannot begin operations there because the state government cannot guarantee the safety of Rio Tinto's employees. Bastar appears to have become central to the Maoist insurgency in the last few years.
CL: How successful has the government's campaign to push Naxalite-Maoist insurgents out of these mining regions been in recent years?
BV: As I mentioned, companies still face several risks to their operations in the Maoist strongholds of southern Chhattisgarh, Jharkhand, southern Bihar and western Odisha. The security operations have had significant success in some areas, but much needs to be achieved in others to consolidate gains made elsewhere.
Official government figures and our own research indicate that the number of fatalities from the insurgency has significantly dropped in Odisha and Bihar. These areas are rich in iron ore, coal and copper. In Odisha, particularly, the focus for the security forces is that Maoists do not cross over from across the state border from Chhattisgarh. In Jharkhand and Chhattisgarh there remains high risk for mining and construction operations.
CL: What are the main challenges – both physical and political – that the government is experiencing when trying to protect mining operations in Maoist territory?
"For India to maintain its level of economic growth, modernisation programme and to match China's infrastructure, it may well have to achieve this through mining."
BV: [I've mentioned] possible collusion at the most local level. Add to this the sometimes inefficient security operations and the terrain in these Maoist strongholds. At the central level, the Modi government reduced the amount allocated in the budget towards modernisation of the police. State governments will now be given 10% more of the share of central taxes, but have often ignored the necessity for reforms in the police, which are beginning to suffer the most from encounters with Maoist factions.
CL: Despite the iron ore price crash, would you say that improving access to these large deposits is of strategic significance to India's ongoing modernisation programme?
BV: It is crucial, I would say. Modi recently launched his 'Made in India' strategy for the manufacturing industry. For India to maintain its level of economic growth, modernisation programme and to match China's infrastructure, it may well have to achieve this through mining too. It is currently a net importer of materials used for steelmaking, having been a net exporter of iron ore just three years ago. It will need to reverse or at least slow down this trend.
CL: Could you tell me more about the government's 'carrot and stick' approach to dealing with the rebels by offering amnesty to those who surrender but aggressively pursuing those who don't? Has that had a tangible effect on the stability of the region?
BV: The approach seems to be having some success. The carrot approach is offering not only amnesty but also the promise of jobs and rehabilitation support. Official figures suggest that in many areas previously under Maoist control, the insurgents are either accepting the amnesty or are suffering from a significant drop in recruitment.
I think the stick approach can successfully marry with the carrots being offered if there continues to be greater cooperation between federal and state security forces and governments.
---
---
Tensions over mining operations in Peru have once again flared up over the government's decision to green-light Southern Copper's plans for the Tia Maria mine.
---
But recent developments in Chhattisgarh suggest that there is still some way [to go]. The Modi government has announced massive development plans for the state. But this has led to resistance from Maoists, with factions reportedly forming committees especially to counter any development projects. This could result in a flare up of violence in the state.
CL: Grievances over the lack of local access to the benefits of mining appears to have played a part in the escalation of the conflict. Do you think encouraging more local participation in mining and using mining funds to benefit local communities – such as Modi's move to give proceeds from mining auctions directly to affected states – could also play a part in a reconciliation?
BV: Modi's idea appears to have good intentions. But the problem, I think, could lie in the affected state governments themselves. They must ensure that they responsibly [channel] those proceeds back into the community as part of wider social programmes. To make this happen, the central government has to tackle high levels of corruption and make local participation more efficient.
In terms of reconciliation, I think this strategy will still probably fall short to deter loyal Maoists from their goals. The presence of foreign companies, displacement of funds from the operations, exploitation of natural resources and presence of Indian security forces will remain major reasons for Maoists to fight on. Where it could make a difference is if greater social responsibility on the part of the state government and companies benefits local communities and leads to diminishing support for the Maoists.
CL: Over the next decade or so, how optimistic are you that Indian security forces can resolve this long-running conflict and restore relative peace to the affected regions?
BV: The insurgency has been remarkably resilient and I expect it to continue being so for the time being. The core leadership remains as ideologically steadfast in their goals as ever, despite the loss of personnel and territory. The influence of Maoists on local communities has depleted however, and that trajectory is likely to continue as further development projects and security operations take place in the region.
While I think a complete resolution to the conflict looks unlikely, from a security point of view, the government will probably continue to shrink the areas of Maoist influence to a core few regions in the central belt. But for a comprehensive and lasting end to the conflict, the various state and central governments need to overcome the social and environmental reasons for the conflict, namely the concerns of those local populations.