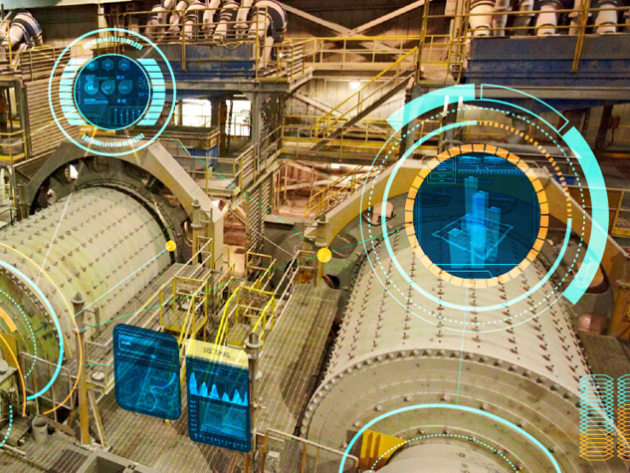 GE has already helped to automate a range of industries. From transport to wind farms, the company has been applying its Predix platform to increase efficiency and minimise malfunctions across various fields.
The cloud-based platform is now being applied to the mining industry, explains GE's global strategic marketing leader Kevin Shikoluk. "Predix offers our customers complete situational awareness to monitor and continually improve equipment performance within the Mining Facility. Everything we are doing in data and analytics comes together in this operating system," he says.
It is a proactive program, which according to GE provides "intelligent, real-time monitoring across the mine, allows operators to make data-driven decisions that improve equipment reliability and optimise mine operations".
So what exactly is a digital mine?
"Digital Mine it really taking the equipment and machines that are at the mine site, and connecting those machines with sensors, then taking the information that's being generated from haul trucks and from smelters, from leachers and crushing units," Shikoluk explains. "We take the information that is being generated on the equipment, and we store it onto the cloud."
Advanced sensors are capable of picking up on anything which is not running as it should be. By monitoring aspects such as vibration, temperature and the pressure within a machine, the system can assess current problems and potential future problems. Machines can then either self-correct or repairs and replacements can be planned to avoid costly shutdowns. "The automation of the mine to a digital mine essentially captures all of the data instantaneously from the equipment that's at the mine site and then helps to indicate to the operators and to the metallurgists at the mine site how to self-correct and run the equipment more effectively to overall bring a true profit from it," says Shikoluk.
"By monitoring aspects such as vibration, temperature and the pressure within a machine, the system can assess current problems and potential future problems."
Working alongside Predix to create the Digital Mine is GE's Expert on Alert programme, which provides the reactive element. "So let's say that the smelter or the crusher is already down, the expert on alert is already self-correcting for an incident that has already occurred," Shikoluk explains. Together the two programs work to avoid shutdowns, and to get a mine up and running as quickly as possible after one.
"Expert on Alert is reacting to something that's already occurred, and Predix is proactively gauging the mine site for incidents that could occur," Shikoluk says, so that every aspect of the mine is constantly being inspected and fixed.
Benefits and challenges
The key draw of the Digital Mine is increased profit. "Profitability is the biggest benefit, it can come in the form of reducing conversion costs, it can come in the form of reducing energy costs of the plant, it can come in the form of improving the coverage," Shikoluk explains. "If you can improve your recovery of gold, or platinum, or silver by 1% that could be worth $1m plus".
But a more unexpected benefit comes in the form of employee retention, says Shikoluk. Despite the automation of the mine site leading to less manual labour, it does increase the need for a different skill set. "There'll be a specialised workforce on the equipment side, specialised workforce on the mining side, specialised workforce on the IT side," he says.
"You really need experts on the data side. When Predix analyses the data, part of where we really differentiate ourselves versus the competition is that we just don't necessarily spit the data back out at the operators and the general managers, we actually have a set of experts sat behind the data that's proactively perusing and scanning the data."
"Software-based cyber crime accounts for 16.7% of all attacks."
Shikoluk adds that "if anything Digital Mine will entice people to stay within the mining industry. We see more and more millennials that are entering the industry now a day, the ways that the mining industry does things now is in terms of antiquated ways of analysing data, and antiquated ways of fixing things. That isn't going to be enough to keep the miner onsite."
There are security drawbacks, however, in particular when it comes to cyber crime. Software-based cyber crime accounts for 16.7% of all attacks. But this is something GE is prepared for. "There are always threats of cyber attacks, there are always issues around data integrity and how you protect that data," Shikoluk says. "But we feel that we have a good system and a mechanism in place to prevent that."
GE has recently bought Wurldtech, a cyber security company that specialises in protecting data and assets. Together they have put in blocks and security measures on the Predix platform.
Pushing it to the edge
Mining is yet another chapter in GE's Predix story, following on from a range of other industries in which the company has established automated systems. "Traditionally the mine sites are behind other industries, if you look at transportation and power, or if you look at healthcare and oil and gas, those industries have been on a digital journey for some time now," Shikoluk explains. "
The mining industry, because of [its] conservative nature, is behind that journey, so if we introduce the Predix platform onto a mine site it will completely transform the day-to-day operations. "Digital Mine is currently in use in Australia, Africa and South America, with plans in place expand the technology further. GE hopes that this is just the start and Shikoluk confidently says: "As we continue to spread the success stories we will continue to build success." The company will continue to focus its efforts in countries where it has seen the fastest uptake of the technology and the greatest success.
GE also plans to build on the technology within its ventures department using the EDGE programme. GE says EDGE is made of "our pillars of equity investing, new business creation, licensing and technology transfer [which] offer a holistic approach and platform that drive growth for our partners and for GE." Shikoluk explains that for mining this will mean "being able to create a digital twin instantaneously and self-correct instantaneously for something that is about to occur".
As GE continues to develop and perfect the Digital Mine, it also tries to"utilise our digital mines operation optimisation to synthesise and work on long-term corrections to the mine site."
GE's Digital Mine could help the industry become more efficient, more profitable and less vulnerable to maintenance issues. Whilst the cloud-based technology can leave the mine open to cyber crime, with the right security measures the benefits of the automation seem to outweigh the risks.