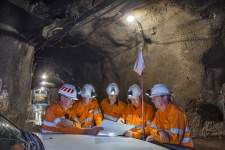 The Australian mining industry is going through a transitional phase as it comes out of a construction boom and companies strives for greater efficiency and cost reduction amid softening commodity prices. But while some companies are scaling back, others have huge projects in the pipeline. What does all this mean for the skills and recruitment pool? What skills will be in demand and what upcoming recruitment challenges face both miners and employers?
In a roundtable interview, six industry insiders who either represent the industry or work directly in HR or recruitment, provide their insights. The contributors include Resources and Engineering Skills Alliance (RESA) CEO Phillip de Courcey; Australian Mines and Metals Association (AMMA) executive director of Industry Services, Tara Diamond; Maddison Collins PTY LTD director Elizabeth Thair; Hays regional director Adam Shapley and Jobs4Mining.com marketing director Diana Stewart.
Heidi Vella: What is the skills and recruitment outlook for the Australian mining industry at present?
Chief executive officer for the Resources and Engineering Skills Alliance (RESA), Phillip de Courcey: There have been layoffs in a number of mining projects over the last 18 months as mining investment and a resultant construction phase has peaked. This has led to an increase in supply of mining operators and this has eased shortages. Demand for experienced professionals and tradespeople remains strong.
Executive director of Industry Services at Australian Mines and Metals Association (AMMA), Tara Diamond: In an Australian resource industry context, much of the conversation over the past few years has centred on a skills shortage brought about by the 'mining boom'. But what Australia actually experienced over the past decade was a 'construction boom', driven by unprecedented investment in new resource projects and expansions. Many of these major projects are now completing construction and so the industry is transitioning into a long-term production phase. While this phase is typically less labour-intensive, the subsequent shift in demand for highly skilled and technically trained operational labour creates a new set of skills challenges.
Director of MADDISON COLLINS PTY LTD, Fremantle, Western Australia, Elizabeth Thair: Mining companies have been hit hard with the softening commodity prices and uncertainties in demand from China. With the move to retain global competitiveness, mining companies have gone through restructure, laying off workers. Others have gone out of business through poor management. There are a significant number of qualified mining professionals currently out of work. Several of our clients have been out of work for twelve months and we are looking at transferable skill sets across other industries.
Regional director of Hays, Adam Shapley: The answer to this question depends on the commodity and how much demand there is for it at a particular time. For example, in Western Australia iron ore production in the Pilbara remains the biggest earner and the largest area for recruitment. Despite current price fluctuations and a desire for miners to closely manage costs throughout the supply chain, we anticipate a steady medium term outlook for iron ore and associated employment. As a result, skills shortages are likely to persist in this area, especially when experienced professionals reach retirement age.
However, the outlook for coal mining is not as certain due to the fall in the price for thermal and coking coal. The low price may be unprofitable for the miners, but the coal is finding buyers, and there's been investment in infrastructure to get the coal to port. There have been some very large proposed mines recently approved in the Galilee Basin in Central Queensland and this is likely to create more jobs in the sector and increase demand for specialist skills.
Marketing director at Jobs4Mining.com, Diana Stewart: There are still skills shortages because of the cyclical nature of the industry. Candidates with experience in key areas – for instance, metallurgical and process engineer skills – are in short supply at the moment. In the downturns, universities were not offering degrees in specialist courses, and when the working specialists were laid off, they quickly gained employment in other lucrative industries, such as oil and gas. Those with the experience have retired or are coming up to retirement.
HV: Do you predict these trends to continue?
ET: Job losses may continue as mining companies continue to re-evaluate their businesses in line with various economic factors.
TD: It is important to acknowledge that although many of Australia's major resource projects are entering production, new projects continue to come on line.
Earlier this year, Hancock Prospecting's $10bn Roy Hill iron ore project in Western Australia received full financial backing, securing construction jobs for 3,600 people. Only last month the Australian government granted environmental approval to Adani's $10bn Carmichael coal mine in Central Queensland.
This project will create about 2,500 jobs during construction and over 10,000 total employment opportunities. Australia currently has about $290bn worth of major resource projects yet to be approved. If more of these investments come to life, construction skills will be kept in steady demand and could even increase again.
The Australian Government is demonstrating a commitment to creating a regulatory environment that will see more job-creating projects come on line.
PD: In the long run the industry will continue to grow based on growing global demand for commodities. The recent upswing in the investment cycle has been in response to global demand and resulted in a significant growth in the mining construction workforce. This demand has moderated, however some of that construction workforce is capable of transitioning to the mining production workforce, which is now expected to grow as new projects built during the previous investment cycle come into production.
HV: What skills are most in demand and which are currently at a surplus?
AS: In Western Australia, reliability engineers, shutdown planners, mine site trainers, process engineers, crusher operators, mobile crushing professionals and mining engineers are in demand. In regards to iron ore, to meet employment needs, employers are enticing candidates with similar skill sets away from the gold and base metals sector.
In Queensland A&I engineers, A&I safety professionals, health advisors, trainers and assessors, prestrip and production mining engineers, underground mine surveyors, drill and blast engineers, plant metallurgists and electricians are in demand.
In North Queensland, the metalliferous market has been steadily recovering after a difficult 2013. We have seen increased demand for temporary technical white collar candidates, such as mining and maintenance engineers and mine surveyors. We have also seen steady demand for blue collar workers such as HD fitters and mobile and process plant operators with coal experience in the Bowen Basin. We expect the metalliferous market to strengthen significantly in the second half of 2014.
We are seeing demand for geologists (gold) and fitters/boiler makers in Victoria. Meanwhile, in South Australia, cost control engineers, project engineers, pipe welders, reliability engineers and rubber liners are sought after.
TD: Demand is growing across many technical and managerial roles and this is set to dominate the recruitment picture in the coming years. Australia has seven of the world's ten largest coal seam gas and liquefied natural gas (LNG) projects. From mid-2015, the majority of these major projects will begin transitioning from the construction phase to the production phase. This is driving a growing demand for experienced project managers, technicians and highly skilled tradespeople such as fitters, welders and machinery operators.
PD: The most highly sought after roles are generally those that are highly skilled and experienced, professionals and senior trades people such as: boilermakers/welders, diesel fitters, electricians/instrumentation technicians, engineers, mine engineers
HV: What are job prospects currently like for graduates?
AS: Graduates are now finding it tougher to find jobs than in years gone by. However, for those candidates that are successful, their programs have been fuller as senior engineers have more time to strongly mentor and develop their knowledge within a live workplace environment.
DS: Many people jumped on the 'mining bandwagon' on the back of the last boom and salaries matched the demand. Many mine sites have been put on care and maintenance while commodity prices are low and there are no plans to reopen them any time soon. This limits job prospects, especially for those with less than five years' experience.
Graduate recruitment programmes are fewer and the industry has lagged behind others with training and development programmes for new graduates – pressure to do this falls on the major mining companies. Due to the high salaries offered in Australia, many overseas companies are reluctant to consider Australian candidates as their salary expectations remain high.
HV: What advice would you give to a graduate looking to find a job in Australia's mining industry?
ET: Get your qualification, and then be open to any opportunity. Be open to starting at the bottom and just getting a foot in the door. Be prepared to learn new skills that may be outside your current goals. Being flexible is a valuable asset.
TD: Graduates are encouraged to gain a thorough understanding of the resource companies and projects in Australia to discover where opportunities lie. Employers are very proactive in providing information on their projects and recruitment activities.
Industry careers website www.miningoilandgasjobs.com is also a great place to find information on employment in the resource industry.
AS: Many companies have scaled back their graduate intake programs over the past year so competition for places has intensified. Those graduates able to secure one of these roles can gain broader insight across the business.
It's advisable to develop your soft skills as they are important for success. Companies are looking for employees with not only good technical skills, but also strong communication skills, good commercial acumen and strong aptitude towards sales.
DS: Research any and every mining company in the areas in which you are looking for work. Find out about the projects and the stage of development. Think about what you can add to their company. Take any work experience opportunities going – it's experience that will get you the job. Look at job descriptions to see what critical skills are consistently in demand. Can you add anything to your skill set? Another course perhaps? Skills and experience are essential for securing a job in the mining industry.
HV: What advice would you give to a skilled miner who has been made redundant?
ET: Don't panic. Help is at hand. Most important is to take action and engage with a career coach consultant. Dealing with emotions early on is absolutely crucial. Next is taking action through a review of skills, abilities and core area of excellence and what a person has liked or disliked in previous employment.
My best advice to anyone unemployed is to look with a wide view rather than a narrow focus. Opportunities are out there, you have to be open to find them.
TD: Firstly, jobseekers should consider opportunities to transfer to another sector or industry experiencing greater demands for their skills. Another option for jobseekers is to upskill to meet demand in other areas. The industry recognises it has a role to play in this and many employers will facilitate training opportunities for workers to transition into more technical or specialist roles as their projects enter production.
Some jobseekers may also wish to consider relocating to areas where there is a greater demand for their particular skills.
AS: Our advice is to stay flexible about working arrangements and to keep developing your skills.
Generally speaking, employers are looking for highly skilled candidates with local experience as fly-in fly-out roles will decrease as part of productivity drives by major miners. This will result in more opportunities for residential and drive-in drive-out employees in proximity to the major mining areas.
DS: Look carefully at your CV and make sure you showcase your key skills and experience. Keep it focused and re-write it to make it relevant to the jobs you are applying for. Candidates with business as well as technical experience may be in demand by investment houses/consulting firms. Do your homework on projects that are likely to need your skillset, be proactive, and use your contacts and networks. It's also important to be realistic about salary expectations.
HV: Are more women now working in the mining industry?
AS: Women make up only 15.5% of the mining workforce in Australia, according to the Australian Mines and Metals Association, however the association is hoping to see women's participation in mining, energy and related construction exceed 25% by 2020.
In recent years we have seen an increase in female candidates with qualifications in electrical, mechanical, mining and civil engineering. There has also been a notable increase in those with geoscience/geology, environmental and occupational health and safety backgrounds. This extends to operational roles and trades including electricians and mechanical fitters.
TD: During past years of heavy skills shortages, resource employers really ramped up their efforts to recruit from different pools of labour and, as part of this, set their own goals for female participation. Some employers have already exceeded their own targets and continue to develop innovative recruitment and leadership development strategies to build a pipeline of women across all job levels.
The resources industry is one of the oldest industries in Australia's history and has been male-dominated for many decades, so changing perceptions about career opportunities for women will take time.
DS: Figures remain lower than we would like, but there are some excellent examples of women working at a senior level in the industry. There are also strong networking groups in Australia.
HV: What are the main challenges the industry currently faces in terms of skills availability and future recruitment?
ET: The future is not looking too bright for mining vacancy rates with mining companies focusing their attention on retention and engagement strategies rather than recruiting.
TD: Over the next few years, Australia will have a handful of the world's largest LNG projects all competing for specialist operations-based workers. Therefore, focus for both industry and government must be on providing training and upskilling opportunities to allow more workers to transition with the industry.
AS: There are a lot of people who have worked in the mining industry for a long time and in coming years will be nearing retirement. Add the recent downturn, during which employers hired fewer graduates or trained inexperienced talent, and the sector may see a shortage of experienced professionals to replace retiring workers.
A focus will need to be made on training and apprenticeships to cover the impending skills gap in the mining and resources industry. As Australia's resources sector is expected to shift from a construction phase into operations by 2018, employment is forecast to increase by 7.4% in resources and mining, according to the Australian Workforce and Productivity Agency.
PD: Australia is entering a new era of skills shortages, where competition from other industries and sectors will intensify. Traditionally, mining has a high turnover; according to the Australian Bureau of Statistics, currently 20% of staff leave within the first year. This destroys productivity and needs to be addressed up-front, by finding people with the right skills who are the right 'fit' with the industry.
The workforce is mostly men. To meet the skills shortages, we need to include more women.
DS: The cyclical nature of the industry makes workforce planning a challenge, but it needs to be embraced. Until the industry manages to recruit, train and develop people in the downturns, the skills and experience will simply not be there in the good times.
Everyone then competes for similar skill-sets and 10+ years of experience. In turn, salaries spiral and the problems deepen each time around.
The Mineral Council of Australia says mining labour shortages have become a permanent feature of the Australian mining sector. The council has predicted the need for an additional 86,000 mining professionals and skilled mine workers by 2020.