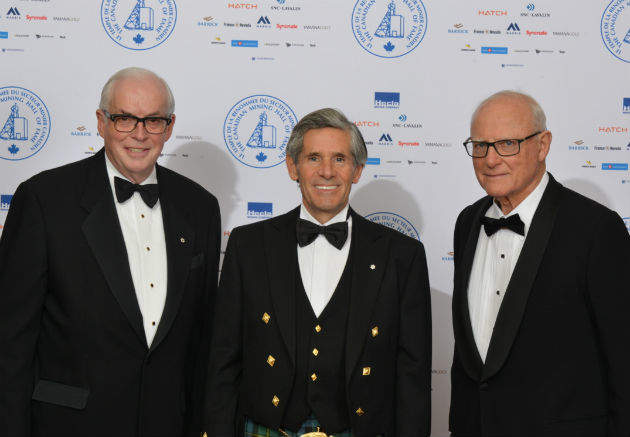 In January, the 29th annual Canadian Mining Hall of Fame's (CMHF) awards dinner took place in Toronto, welcoming five new inductees to the hall. Conceived in 1988 by the late mining publisher Maurice R Brown, the hall honours those who have made an extraordinary contribution to the mining industry and has already inducted more than 170 members of the mining community.
The ceremony, known as the 'Academy Awards of the mining industry' according to CMHF treasurer Ed Thompson, was held at Metro Toronto Convention Centre, sponsored by the Canadian Institute of Mining, Metallurgy and Petroleum (CIM), the Mining Association of Canada, the Northern Miner and the Prospectors and Developers Association. The event was held here for the first time, as attendance has risen to around 1,000 people and the previous venue, the Royal York's main hall, holds only 800.
"It's always a super night. It's nice to celebrate something positive, I guess, and to come to Toronto in the middle of January, you have to come for a good reason," jokes Thompson. "It's not for the beaches or the nice weather."
This year saw five inductees welcomed from a range of mining professions, as the CMHF continued to recognise achievement and promote the role of miners in Canadian society.
CMHF: the categories
The CMHF awards has five categories for nominations. "One is exploration, two is building the corporation, three is for technical contribution, so new technologies, four is supporting contribution; that's someone who has maybe made a contribution in education or public service, government geologists and so on," says Thompson.
The final category is an amalgamation of diverse works, acknowledging the variety of unusual roles in the mining industry. "The fifth category is mining in society, which is a sort of rag bag for a whole bunch of categories with indigenous people, and environmental improvements and worthy causes," says Thompson. But despite being the broadest category it is one of the least used; the majority of nominees are chosen from within the first two sections.
Anyone can nominate a miner for induction to the CMHF, and every year around a dozen people are put forward for the award. A panel of 12 scores all nominees and the top ranking miners are welcomed into the Hall of Fame. However, due to particularly high scores this year, a larger number of inductees were honoured. "There is usually a break in the voting at three or four; this year there was a break at five. So we put five in," says Thompson.
CMHF inductees for 2017
Several of this year's inductees crossed categories in their contributions. "We had quite a diversity of inductees: James Carter, who was an oil man and ran Syncrude for 28 years," says Thompson. "Rob McEwan, a gentleman who had developed Goldcorp. Rob is quite a mining entrepreneur and finances many mining companies."
All of the inductees are veterans of the mining industry, dedicating decades of their lives to the Canadian industry. "Don McCloud, who was from Vancouver and had been in the mining business for about 85 years [has been inducted]; he formed the NorthAir group of companies," continues Thompson. "He had done everything from being a mining man, an underground miner, through to financing a company."
This year also sees the very first mining lawyer added in recognition of their work. "Steve Vaughan is probably the world's best mining lawyer, and the first lawyer we've inducted into the hall of fame as a straight lawyer," says Thompson. "There have been a few others who have legal backgrounds, but were presidents of companies, but Steve is the first one who is being inducted as a lawyer."
"The last one is John Zigarlick, who managed and brought into production the Echo Bay mines in the far north of Canada," Thompson says. As Zigarlick's contributions to the mining industry meet the criteria of several CMHF categories, he was an easy choice. "He's famous for building many of the ice roads, roads over the lakes and rivers and things like that which they use to transport materials to the north in the winter time," Thompson explains. "He also was well known for forming Nuna Logistics which is a company with Inuits that works in the mining industry."
Repairing mining's bad reputation
Thompson and the CMHF believe their work in recognising contributions to mining is becoming increasingly important, as the world becomes more detached from the industry. "These days most people live in cities and they have no idea what mining is all about or how important it is," says Thompson. "Miners fill very key roles in our society and provide the minerals that make our civilisation run. When we use a cell phone or a computer, these are made of 15 or 20 minerals."
The disconnect is thought to be due to the decrease in mining jobs and increased migration to cities. "In Canada, we were a rural society," says Thompson. "But nowadays we've all congested into the cities like Toronto where there are about three million people, and most of them don't know a thing about mining."
Today, fewer people understand the importance of mining, which has allowed scepticism to grow, fuelled by concerns over companies with poor ethical records. The environmental and ethical concerns surrounding the industry have been compounded by a series of high-profile scandals, particularly in developing countries. Thompson says in his many decades in the mining industry he has found miners to be as moral as anyone else, adding: "I think it's usually one situation like Bre-X that casts a pall over the whole industry."
Recognition brought by the CMHF is key to promoting miners, in particular those who act responsibly. The CMHF is aware of mining's tainted reputation in the public view, and all inductees are thoroughly checked. "As part of the process of vetting people we have a 12-person board that reviews all the nominees each year, and if there are any questions at all, then they don't get nominated in the first place," says Thompson. "Fortunately we've never had to remove anybody."
The benefits of mining goes on tour
CMHF is developing strategies to promote the mining industry beyond the awards, and is already working to educate children on the importance of mining. "We've started some educational programmes here in Canada called Mining Matters, where we go into the schools and try to teach the kids in grade four and grade seven some idea of where the minerals they use in their everyday life come from, and it's amazing how little they know," says Thompson.
The organisation is also building and funding digital exhibits in museums around the country to introduce visitors to minerals and their uses. These include electronic interactive displays where different minerals can be chosen and explored. Already this includes a display at the $10m Teck mineral exhibit at the Royal Ontario Museum, as well as smaller units in Blind River and Britannia Beach. Thompson explains that "our objective is to get one of these exhibits in mining museums or mineral museums across the country to tell the story of mining".