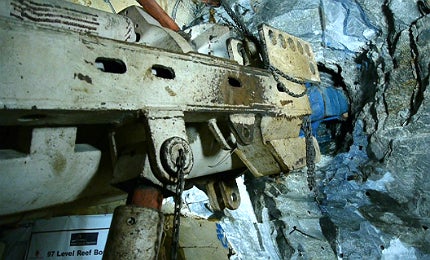 Raise bore drilling
A raise borer is a machine used in underground mining operations to bore a circular hole between one level and another, lower level, effectively removing the need to conduct risky and wasteful blast excavations using explosives. Following the drilling of a pilot hole between the two levels, a reaming head is attached to the drill string to drill the specific circumference of tunnel needed.
""As there is no need to vacate the mine, productive operation can go on continuously for as long as the shift schedules allow.""
Tests conducted for AngloGold by local drilling contractor Atlantis have proven that conventional RBD equipment can drill 26m between sublevels, although Mike MacFarlane, the company's executive vice president, noted that this was extremely conservative.
"There were two factors behind our decision to focus on raise bore drilling," he expanded.
"The first centred on the technology – how far existing RBD machines could drill a straight, relatively flat hole. We found that concerns only began to arise at about 40 to 50m.
"The second related to the ore body itself: whether there were any folds, pinching or swelling in the reef. Managing these permutations and tailoring each stope according to the make-up of the reef body will allow us to extract the maximum amount of ore and minimise dilution."
Continuous production and benefits of RBD
Removing the need for underground blasting is integral to this new approach. As MacFarlane points out, there is a vast, untapped gold resource lying in AngloGold's deep mines – as much as 100 million ounces. "With existing methods we are only able to extract a fraction of this," he explained.
"The major problem is that current blast methods are highly wasteful, especially in deeper mines; for every ounce of gold extracted as much as 0.4 to 0.5 ounces are left behind, while the ore body is also diluted by an average of about 200%," he continued.
"Greater depth adds to travel time, which means that mineworkers in many deep South African gold mines end up spending fewer hours at the face. Miners also have to leave the mine prior to blasting and only return after the dust has settled. All of these factors are standing in the way of the effective utilisation of these resources."
Through RBD technology, the company aims to be able to mine the previously unavailable gold in its entirety, as well as drastically reduce dilution to between 15 – 20%. "The new thinking is to mine all the gold, only the gold, all the time, and avoid leaving 40% of the gold behind in pillars," MacFarlane went on.
"As there is no need to vacate the mine, productive operation can go on continuously for as long as the shift schedules allow."
MacFarlane also cited the importance of safety considerations, saying: "We are removing workers from high-risk activities deep underground." He was keen to stress that miners need not fear being put out of work by machines either, partly because the transition process will be a lengthy one.
"We also envisage that new projects, including automation through RBD will, be better focused. Current mines at or near the end of their life will be mined out, miners will be put on retirement plans and a new, differently skilled workforce will enter the sector during the next ten to 15 years. Because we will be able to mine more of the resource, there will be more mines, better and more highly skilled jobs, improved safety conditions and higher wages."
Utilising existing technology
RBD is not a new technology; in fact, it could have been introduced into mining operations as far back as the 1970s, if alternative strategies had not been preferred by management at the time.
""The new thinking is to mine all the gold, only the gold, all the time, and avoid leaving 40% of the gold behind in pillars.""
The use of existing technology such as raise bore drilling (RBD) is beneficial for a number of reasons, with AngloGold Ashanti's MacFarlane explaining that tried and tested equipment reduces implementation time, costs and, importantly, technological risks associated with untried technology.
So why does Anglogold's use of RBD represent such a shift in thinking in a South African context? "The key difference in our approach when compared to other companies is that, while we are using existing technology, we are also dedicated to implementing it in new, creative ways," he says.
"This is where our open innovation approach comes into its own: we have some of the most creative people in and around the mining industry working on this and other projects. It is clear to us that this approach has worked and will continue to do so."
MacFarlane elaborates that AngloGold has been working on the RBD and other projects for a couple of years, focusing on the development of a new mechanical approach to mining, adding: "About a year ago we came to the decision that it would be vital to incorporate existing technology to underpin this focal shift."
AngloGold's parallel projects
Another project – developing an immediate, high-strength backfill of up to 200MPa – aims to control the rate and amount of closure in stopes, which drives seismicity.
"RBD is not a new technology; in fact, it could have been introduced into mining operations as far back as the 1970s."
"High-strength is actually something of a misnomer," MacFarlane expanded, "because what we are really looking for is something immediate and incompressible; current backfill is slow and still allows a degree of closure, but by using a mix comprising classified tailings, silica and cement – which in reality is closer to concrete than backfill and boasts a density virtually equal to rock – we have achieved an extremely low void ratio of six percent."
Further down the line, the delivery of reef to the surface will be examined, with the intention being to dewater the reef and channel it into the existing ore-handling system, while a redesigned tunnel-borer has the potential to be a breakthrough technology. "Tunnel-borers for the construction industry are based on size and speed. But our belief is that in its simplest form (the cutting end alone) we have a very good chance of redesigning an effective tunnel borer for the mining industry.
"This is a fairly large project; at present we are trying to ascertain the scope of the project and looking for partners to share costs, but we are confident of its success moving forward."
Mike MacFarlane was confident that, despite the presence of several unknowns, these projects – spearheaded by RBD operations – represent a relatively risk-free economic strategy, concluding: "We used prevailing costs as our goal and we don't need a significant increase in the price of gold to make the RBD initiative viable; RBD will significantly increase the output of a mine without a major change in the capital input."
---
Related content
---
AngloGold Ashanti's Savuka gold mine is situated in Gauteng, South Africa.
An unmanned aerial vehicle developed for the Slovenian military recently completed a record-breaking 80-minute mapping mission above one of the world's highest mines, the Los Pelambres complex in the Chilean Andes.
---