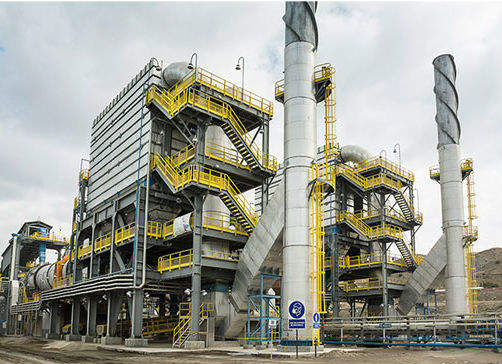 German merchant and alchemist Hennig Brand first discovered phosphorus in 1669, extracting it from urine. He heated residues from boiled-down urine on his furnace until the retort was red hot and, all of a sudden, glowing fumes filled it and liquid dripped out, bursting into flames. This liquid solidified into phosphorus.
Nowadays, phosphorus is mostly derived from phosphate rock mining. Around 170 million tons (Mt) of phosphate rock is mined every year and the majority of this goes to the agriculture industry.
Phosphorus is known to be essential for the creation of DNA, cell membranes, and for bone and teeth formation in humans. It is one of three elements – nitrogen, potassium and phosphorus – needed for commercial fertilizer and mass food production.
There has been much debate from scientists and academics over whether the world is reaching 'peak phosphorus', using up reserves quicker than they can be extracted, resulting in reserves running low.
"Some researchers do say that," says Theo Yameogo from advisory services, mining and metals at EY, "But it has been hard to validate."
Although phosphate reserves are declining, current known sources are astronomical.
"Morocco produces 30Mt a year and has reserves of 28 billion tonnes (Bt) – so enough for 1,000 years," says Yameogo.
In 2011, the US Geological Survey revised it estimates of phosphate rock reserves from the previous 17.63Bt to 71.65Bt.
Potential supply challenges for phosphorus
Despite plenty of known reserves, extraction of this essential element does face numerous, more eminent challenges, however.
"The major challenges with phosphate mining are really price and geopolitical stability," says Yameogo. "It is known that when the price of fertilisers goes up, farmers can withhold buying them."
In 2008, the price of phosphate fertiliser unexpectedly increased five-fold. This price spike was caused by a number of factors. These included an imbalance between supply and rapidly expanding demand, especially in Asia, and the growing demand for fertilizers to be used for biofuels to replace oil in the US, Brazil and Europe.
"The major challenges with phosphate mining are really price and geopolitical stability."
The subsequent economic crash helped bring prices down.
Author of 'Feeding the Corn Belt: Opportunities for Phosphorus Recycling in US Agriculture,' a report on phosphorus recycling, and fellow associate at McGill School of Environment and Department of Natural Resource Sciences, Dr Elena Bennett, says she is concerned that major phosphorus-producing countries could drive up its price if they wanted to.
"One thing that worries me is the concentration of phosphorus in just a handful of countries," says Bennett. "OPEC has many more countries [than those that currently produce the majority of phosphorus], and yet effectively controls the price of oil worldwide.
"If these suppliers decided to form an 'OPEC for phosphorus', they could significantly and suddenly increase the price of food."
Geopolitical tensions and tapping new reserves
As well as the US, which produced 27.6Mt in 2015, the majority of phosphorus comes from North Africa (Morocco and Tunisia) and the Middle East (Egypt and Jordan). North Africa and the Middle East produce around 75% of the world's phosphate.
There are well-established geopolitical concerns about the location of the majority of phosphorus reserves.
"These areas are known to be volatile countries lately," says Yameogo. "But so far, the major producing countries, Morocco, Tunisia, Jordan and Egypt, have had governments that are allies to the users – China, India, North America and Europe," he adds.
If there was a fully fledged change of regime in all four countries, however, there could be a problem. But Yameogo thinks this is unlikely to happen.
"Phosphate is so essential to those economies that we could expect the same behaviour with oil in Iran and Iraq; which is that economics would trumpet politics."
Although North Africa and the Middle East currently hold a monopoly over phosphorus, there are regions with untapped reserves, notably Quebec, Florida, Kazakhstan and Togo, as well as Brazil, where Vale and Anglo American each hold significant phosphate interests.
Other phosphate mining countries include Peru and Mozambique.
Also, last year, the Quebec Environment Minister gave the go-ahead to the $750m Arnaud phosphate mining project despite opposition on environmental grounds.
Exploration companies are currently looking for higher grades and lower costs of production, as well as more stable jurisdictions to mine phosphorus.
However, for mining companies, the real focus is on "controlling mining and processing costs – for sulphur and ammonia – so that margins are still viable," says Yameogo.
Environmental concerns of mining for fertilizer
Public resistance to phosphorus mining is also on the rise, especially in the US. Many, such as author and journalist Fred Pearce who has written numerous books on the environment, say the 'excessive use' of phosphorus in fertiliser is wreaking havoc with the environment.
In 2011 he wrote: "Phosphate strip mines are environment wreckers. They produce around 150Mt of toxic spoil a year."
He adds that globally, some 37Mt of phosphorus spill into the environment each year, mostly flowing down sewers and agricultural drains into rivers and lakes, where it feeds the growth of toxic cyanobacteria and consumes oxygen, creating eutrophication and 'dead zones'.
"Phosphate mine tailings are also known to contain uranium, which leads to radon release."
Furthermore, at the Department of Soil Science at the University of Wisconsin-Madison, professor Phillip Barak says some phosphate ores have significant amounts of cadmium, a heavy metal contaminant which can be passed through to the final phosphorus fertilizer.
"Phosphate mine tailings are also known to contain uranium, which leads to radon release," says Barak.
These kinds of environmental concerns are behind public opposition to new mines.
Phosphorus mining in Florida, where the largest deposits of phosphorus are found in the US, is being challenged by environmentalists concerned about its impact on waterways and drinking water supplies.
For example, the Florida South Fort Meade phosphorus mine is currently facing opposition to its expansion for this reason, and will have to close if it cannot develop.
The future of phosphorus supply
Opponents to phosphorus mining say the world should be recycling more and using current supplies more conservatively.
Although phosphorus from farm animals is extensively recycled on farm land through land-applied manure, recycling phosphorus post-consumption isn't a simple process.
"Post-consumer phosphorus recovery at wastewater treatment plants is an emerging technology, but the economics are hampered by the fact that it is more expensive to harvest phosphorus from large quantities of low-phosphorus sludge than to extract from smaller quantities of high-phosphorus virgin ore," Barak explains.
Phosphate mining will likely remain as the main supply of phosphorus as no synthetic version can be found and recycling is currently too costly and arduous.
Although diversifying the supply may become a priority, for now, phosphorus isn't in jeopardy due to "new discoveries, upcoming projects, and the reduction in consumption when prices are high," says Yameogo.
Neither is the price of phosphorus expected to dramatically spike, but is likely to follow the trends of potash and nitrogen and increase as demand surges.
"Given the large supply from Morocco and others," says Yameogo, "price may still be reasonable and not skyrocket as in 2008-2009."