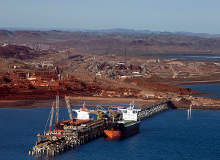 The Brazilian Federal Government and some state governments are planning to sue BHP Billiton and Vale, the owners of Samarco, claiming R$20bn ($5.2bn) in damages following the tailings dam disaster.
Brazil Attorney General Luís Inácio Adams said that the proceeds received will be set-up as a fund and used for environmental cleanup in the Rio Doce river.
On 5 November 2015, the Fundao dam ruptured at Samarco's Germano mining site near the town of Mariana in Minas Gerais and killed a reported 17 people.
Rio Tinto announced plans to invest $1.9bn to expand the Amrun bauxite project on the Cape York Peninsula in north Queensland, Australia.
As part of the expansion, the company will construct a bauxite mine and associated processing and port facilities.
Initially, Rio Tinto expects to produce 2.8 million tonnes of bauxite a year and replace the output from the depleting East Weipa mine.
US President Barack Obama signed the Commercial Space Launch Competitiveness Act (CSLCA) into law to enable American private companies to exploit space resources.
With this law in place, the US has become the first country to recognise private sector mining rights over water and minerals resources to be exploited from the Moon.
The latest development follows recent approval of legislation by US Congress to enable companies to own resources that are extracted from asteroids.
Brazil-based mining company Vale announced plans to shut its nickel smelting, as well as refining operations in Manitoba, Canada.
Vale mining and milling in Thompson director Mark Scott was quoted by Reuters as saying that the closure will take place in 2018 once the company concludes work so that it can ship nickel concentrate from its mill.
Originally Vale planned to shut these operations in 2015.
Global aluminium producer Rusal completed preparation of a testing site for the RA-550 reduction cell.
Prior to this, the Russia-based company completed engineering works and plans to commission the first cell in the third quarter of 2016.
According to Rusal, the RA-550 cell development is aimed at achieving better levels of technical and economic performance in aluminium smelting.
Silver Wheaton (Caymans) (SWC) signed an agreement to purchase silver produced at Peru's Antamina mine from Glencore's wholly owned subsidiary Anani Investments for $900m.
SWC said it will pay 20% of spot price per silver ounce delivered under the streaming agreement.
According to the agreement, SWC will gain an amount equal to 33.75% of the Antamina silver production from Glencore until the delivery of 140 million ounces, and 22.5% of output after then for the rest of mine life at a fixed 100% payable rate.
Asarco reached an agreement with the US Environmental Protection Agency (EPA) and the US Department of Justice to fund up to $150m in pollution improvements and modernise its Hayden smelter in Arizona.
According to EPA, the plant violated Clean Air Act standards by failing to control emissions of dangerous air pollutants, such as arsenic and lead from the smelter.
As part of the settlement, Asarco will install new and upgraded ventilation hoods to capture hot flue gases from its furnaces and replace an old electrostatic precipitator with a new baghouse and inject high performance lime to reduce sulfur dioxide (SO2) emissions.
US Senators introduced legislation to amend the country's 1872 mining law, requiring companies to pay fees to create a clean-up fund for inactive mines.
The Hardrock Mining and Reclamation Act of 2015, S. 2254, introduced by senators Tom Udall, Martin Heinrich, Michael Bennet, Ron Wyden and Edward Markey, will ensure mining companies pay royalties for extracting mineral resources from public lands.
Many of the abandoned mines are continuously leaking toxic chemicals into rivers and streams and the new bill helps to make sure that taxpayers are not burdened with cleaning up these sites.
Barrick Gold signed agreements to sell its non-core assets in Nevada, US, for $720m, as part of its plan to reduce debt by $3bn this year.
Under the agreement terms, Kinross Gold will purchase Barrick's 50% interest in the Round Mountain mine and 100% of the Bald Mountain mine for $610m.
An exploration joint venture formed by these two companies will own a major portion of land on the Bald Mountain property.
The Environmental Protection Authority (EPA) approved the expansion of Hope Downs iron ore mine, a joint venture (JV) between Rio Tinto and Gina Rinehart, in Western Australia's Pilbara region.
Located 75km north-west of Newman, the Hope Downs mine includes open-cut mine pits and associated infrastructure. It would be expanded to include the Baby Hope proposal.
Hope Downs is one of 12 iron ore mines operated by Rio Tinto Iron Ore in the Pilbara.