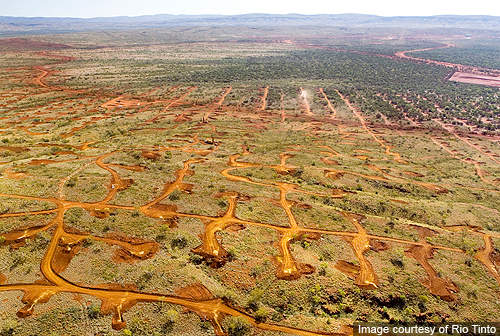 The Hope Downs iron ore mine is situated 100km north west of Newman in the province of Pilbara, Australia.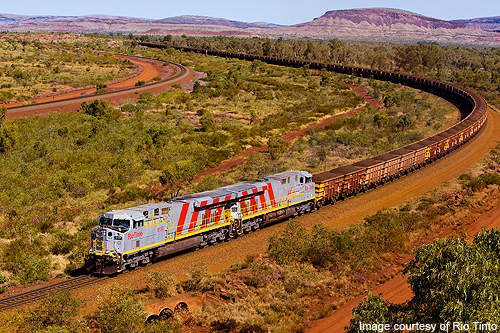 The mine is owned jointly by Hancock Prospecting (50%) and Rio Tinto (50%).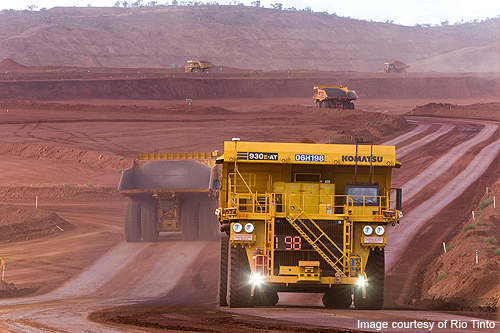 About $1.6bn was approved by Rio Tinto in August 2010 for the development of Hope Downs 4 and connecting it to the existing rail, power and port infrastructure.
The Hope Downs mine is situated 100km north-west of Newman in the Pilbara region of Australia.
Owned jointly by operator Rio Tinto (50%) and Hancock Prospecting (50%), this iron ore mine was developed for $1.34bn (A$1.3bn).
Hancock Prospecting started exploration procedures at the Hope Downs mine in 1992 and received the necessary approvals in December 2003. Rio Tinto joined Hancock as a 50% partner in July 2005.
Production was started in November 2007 and the first iron ore was transported by rail to Dampier Port for shipment in December 2007. The mine produced 33.79Mt in 2013.
In October 2018, Rio Tinto and Hancock Prospecting began developing the Baby Hope deposit, which is the fourth open-pit mine at the Hope Downs project.
"The mine is owned jointly by Hancock Prospecting (50%) and Rio Tinto (50%)."
Hope Downs mine development
Expected to have a mine life of 20 years, the Hope Downs project comprises mineralised zones Hope 1, Hope 2, Hope 3, Hope 4, Hope 5 and Hope 6. Mining is currently carried out at Hope 1 and Hope 4.
Production at Hope 1 began in November 2007 with an initial capacity of 15Mt per annum (Mtpa). The zone was developed in two stages, with the first stage increasing the mine's capacity to 25Mtpa. Completed in 2009, the second stage further increased the capacity to 31.4Mtpa.
Hope Downs 4 had a capital cost of approximately $1.2bn. Rio Tinto provided an additional $425m for connecting the mine to existing rail, power and port infrastructure.
Construction on Hope Downs 4 commenced in February 2011 and production began in the first half of 2013. The mine is estimated to produce 15Mtpa of iron ore and uses autonomous haul trucks as part of Rio Tinto's Mine of the Future programme.
The Hope Downs 4 mine produced one millionth pf a tonne of ore during Q3 2013. It processes high-grade, high-phosphorus Brockman (HPB) ore to produce lump and fines products. It plays a pivotal role in Rio Tinto's goal to achieve production output of 330Mt per year by 2015 in the Pilbara region. The two mines produced 46.9Mt of ore in 2017.
The Baby Hope deposit will further strengthen the production capacity of the Hope Downs 1 operation while creating new jobs.
The joint venture (JV) partners intend to equip 28 existing haul trucks at Hope Downs 1 with an autonomous haulage system (AHS) by 2020. The upgrade also involves the addition of an autonomous drilling system (ADS) to three production drills at the Hope Downs 4 mine.
Geology of the mine area
The Hope Downs mine is located in the Hamersley Group which forms the middle layer of Mount Bruce Group in the Marra Mamba Iron Formation.
The formation contains rocks dated to the Archaean and Palaeoproterozoic ages. It was mineralised as a result of the volcanic eruption and sedimentary sequence of the Mount Bruce Super Group.
The Marra Mamba Iron Formation is classified into Mount Newman, MacLeod Member and Nammuldi Member. The upper most Mount Newman Member is 65m thick at Hope Down and hosts major mineralisation. The lower most Nammuldi Member is 109m thick at Hope Downs and comprises fewer iron ore deposits.
Mineralisation
The BIF contains haematite and goethite with high-graded iron ore deposits and low-graded silica, phosphorus, carbonate, magneta and chert contaminants.
The mine is currently producing 31.4mtpa of iron ore from open-pit operations.
Hope Downs iron ore mine reserves
As of March 2017, the Hope Downs 1 mine is estimated to contain 238Mt of proven and probable reserves graded at 61.5% Fe. The reserves also include the values of the Hope Downs 1 South West mine.
Hope Downs 4 is estimated to contain proven and probable ore reserves of 147Mt, graded at 63.2% Fe.
Open-pit mining
The iron ore deposits are extracted using conventional open-pit excavation techniques. The drilling in identified mineralised zones was carried out by one Reedrill SKF-12, three Reedrill SKSS-15s, three Reedrill SKSS-16s and one Atlas Copco L8 Contour drill rig. Ammonium nitrate or fuel oil was tucked in the drill holes and blasted to create a decent size pit for digging.
Two Hitachi EX5500 shovels, one Hitachi EX3600 shovel, three Komatsu WA1200 wheel loaders, three Komatsu WA900s, one Komatsu WA500 wheel loader, one Hitachi EX1200 and one Hitachi EX1900 excavator were used in the digging process.
Other auxiliary equipment deployed at the mine during its production encompass four Caterpillar D10 and D11 Dozers (two each), two Caterpillar 16H and three Caterpillar 16M graders.
Ore processing
The ore extracted from the mine is transmitted to the processing plant by 22 Komatsu 830E and 930E haul trucks. The plant features a primary crusher, secondary dry screening, and crushing and gravity separation systems.
"The Hope Downs mine produced 33.79Mtpa of iron ore from open-pit operations in 2013."
The plant can produce 47% lump ore and 53% fines. It was constructed in two phases. The first was designed to produce 15mtpa. The second phase enhanced the capacity to 25mtpa. The processing capacity was further increased to 31.4mtpa in 2009.
The ore is cut into small pieces to create high-rated haematite and magnetite. The gravity separation system segregates the magnetite from haematite, which is further processed to produce high-quality iron ore pallets.
The final product is stockpiled and transported, by rail, to the Dampier port for export.
Contractors involved
Kellogg Brown & Root (KBR) was awarded a $1.3bn engineering, procurement and construction management (EPCM) contract by Rio Tinto in September 2010 to develop the Hope Downs 4. Cimeco was engaged in the construction of mine buildings and support facilities.
Rio Tinto awarded two contracts worth $184m in August 2011 to develop the Hope Downs 4. A JV between Leighton Contractors and Ngarda Civil and Mining received the first $104m contract to carry out earthworks at the mine. The second contract worth $80m was awarded to a JV between Pilbara Logistics and Cimeco for building mine support facilities.
Doric Group constructed an accommodation village and related infrastructure for the Hope Downs 4 Accommodation Village.
UON was awarded the contract for the supply of power and water infrastructure to the accommodation village at Hope Downs 4.