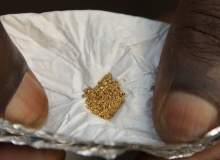 According to Global Witness, which has been campaigning to end conflict minerals for over 20 years, the minerals trade has been partly responsible for fuelling deadly conflicts that have displaced 9.4 million people and fuelled violence and rape in countries including the Central African Republic, Colombia and the Democratic Republic of Congo (DRC),
To help end the trade in conflict minerals, the US passed the Dodd-Frank law in 2010, which, in clause 1502, requires US-listed companies to carry out due diligence on minerals sourced from the DRC and neighbouring countries to ensure they are not funding conflicts.
The EU, which is responsible for almost a quarter of the global trade in tin, tungsten, tantalum (or the 'three T's' as they are often known) and gold, has been heavily criticised by NGOs for not yet passing a similar law. In May, however, EU MEPs, to the surprise of many, made history by voting in favour of what Global Witness called "a strong and binding law" to tackle the trade in conflict minerals.
The law, which still needs to be defended in legislative talks with the EU Council, will, like Dodd-Frank 1502, require EU importers of tin, tantalum, tungsten and gold for manufacturing consumer goods to be certified by the EU to ensure they are 'conflict free'.
The law will potentially affect 880,000 EU firms which, once formalised, will be obliged to provide information on the steps they take to identify and address risks in their supply chains for the minerals and metals concerned.
How well do you really know your competitors?
Access the most comprehensive Company Profiles on the market, powered by GlobalData. Save hours of research. Gain competitive edge.
Company Profile – free sample
Thank you!
Your download email will arrive shortly
Not ready to buy yet? Download a free sample
We are confident about the unique quality of our Company Profiles. However, we want you to make the most beneficial decision for your business, so we offer a free sample that you can download by submitting the below form
By GlobalData
The Dodd-Frank example
The EU's vote for mandatory reporting on conflict minerals is undoubtedly a significant moment in the fight against conflict minerals. But how successful it will be is up for debate.
For some indication, the obvious place to look is at the success of the Dodd-Frank 1502 clause. The first mandatory reporting of the law took place in 2014 and reactions to its success have been mixed.
The Enough Project, in a June 2014 report, stated: "Market changes spurred by the 2010 Dodd-Frank law on conflict minerals have helped significantly reduce the involvement of armed groups in eastern Democratic Republic of Congo in the mines of three out of the four conflict minerals."
It claims the law, in addition to conflict minerals audit programs from the electronics industry, and related reforms, begun by African governments in the region but not yet fully implemented, has made it less economically viable for armed groups, including the DRC's army, to mine tin, tantalum and tungsten.
The Project says it came to this conclusion after conducting five months of field research in eastern DRC and interviewing 220 people in 14 mines and towns in addition to 32 interviews in the US and Europe.
However, many disagree with this assessment and point out that proving such changes are a result of the law is difficult.
In an article for Foreign Policy, writer Lauren Wolfe suggests these improvements could be down to, for example, an increased number of UN and Congolese army missions fighting rebel groups.
Wolfe points out other research conducted by the AidData Center for Development Policy (ACDP) at the College of William and Mary, which found "a narrative of increasing violence and diminishing productivity in the DRC's natural resource sector" that hints at "a possible correlation between the two".
Dodd-Frank 1502 has also had unintended consequences. Tom Burgis, Financial Times journalist and author of The Looting Machine, which is about Africa's resource curse, says that although he applauds the idea of trying to hold foreign companies and consumers responsible for the minerals from which they profit and which go in to the products they use, he witnessed some of the unintended consequences on the ground, such as job and revenue losses.
"If you tell a lot of western companies it is going to be a lot more expensive for them to mine in the eastern Congo they will just go and mine somewhere else. That's initially what a lot of them did," Burgis says.
When Dodd-Frank passed, Congolese President Joseph Kabila put a ban on all mining and mineral exports in North and South Kivu and Maniema provinces and only lifted it a year later.
Wolfe reports that Laura Seay, an assistant professor of government at Colby College and signatory of an open letter signed by 70 academics, researchers, journalists, and advocates criticising the Dodd-Frank 1502 clause, estimated in 2012 that between five and twelve million Congolese had been "inadvertently and directly negatively affected" by the loss of employment created by the ban and its aftershocks.
Burgis says there were "always" going to be unintended consequences but the clause has otherwise had some positive affects and aims to deal with the bigger picture.
"It is an initiative to try and address one symptom of a much bigger disease which is the complete collapse of the formal Congolese state, and the fact those in power used that power to enrich themselves personally from the Congolese mining industry not to provide public good like security especially in the east," he says.
There's also the matter of compliance of the law. In April 2015 Global Witness and Amnesty International said research conducted by the groups showed nearly 80 % of US public companies are failing to adequately check and disclose whether their products contain conflict minerals from Central Africa.
The report, Digging for Transparency, analyses 100 conflict minerals reports filed by companies including Apple, Boeing and Tiffany & Co under the 2010 Dodd-Frank Act. Seventy-nine of the 100 companies analysed failed to meet the minimum requirements of the law.
Will the EU's law measure up?
The finer details of the EU law are yet to be defined by the 28 member states, but it is known there will be one key difference from Dodd-Frank – the EU law will apply to all conflict-affected high risk areas in the world, not just Central Africa. However, it is largely expected it will broadly follow the US model.
Certification is likely to be determined at metal smelters and gold refiners, as it is in the US, which the EU parliament says is the "last point at which the minerals' origin can be effectively traced". Therefore, smelters and refiners will need to undergo a compulsory independent, third-party audit to check their due diligence practices.
Global Witness welcomes the law but has stated that it is lacking because it mainly covers minerals imported in their raw forms, leaving out companies that bring minerals into Europe as part of products, such as mobile phones, cars and jewellery from China, for example.
"In fact, the proposal only covers a paltry 0.05% of European companies involved in the trade," the organisation says. "It only covers four minerals, excluding other important resources such as diamonds, gem-stones, chromite and jade."
An analysis of Dodd-Frank 1502 shows mandatory reporting on conflict minerals by Western companies is not the golden ticket to end conflict minerals, but perhaps a part solution to a very complex problem.
However, it does, at the very least, promote transparency and ethical business. It is also important to note that, although Dodd-Frank 1502 can be held up as a case study of the law, it is still in its infancy and only into its second year of reporting. Its longer-term benefits may prove more telling but, as with the EU law, expected to be passed in 2016/ 2017, only time will tell.