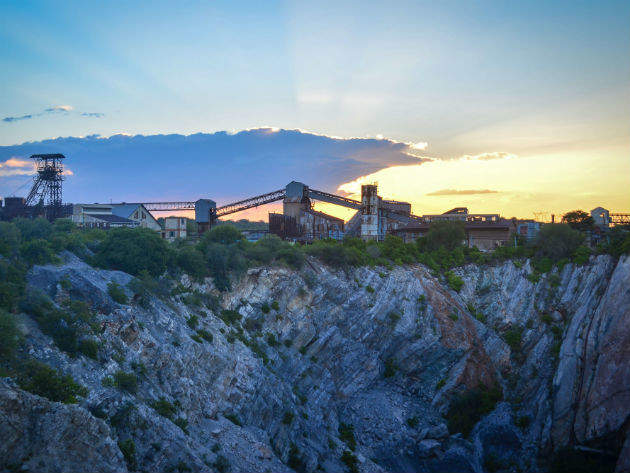 Namibia and her mines have a tumultuous recent history. The country gained independence from South Africa (SA) in 1990, after a 24-year war that cost between 20,000 and 25,000 Namibian lives. It is believed that one of the key reasons the war endured was SA's desire to hold on to the vast amounts of natural resources within Namibia. SA granting Namibia its independence allowed the country's former rulers to negotiate the terms, and therefore maintain a strong presence in the Namibian mining industry.
The country has undoubtedly come a long way since gaining independence and proudly boasts a stable financial sector. Namibia is ranked fifth in the Ibrahim Index of African Governance of the 54 countries in Africa. This prestigious index is based on safety and rule of law, factors that filter into Namibian industry. Due to its stable society, Namibia's mining industry has already seen growth and in 2014 was rated first in Africa for mining and exploration by a Fraser Institute report. But Namibia is keen to build on its impressive growth.
Diamond standards
Namibia's successes in mining come as little surprise, as the sub-Saharan country is bounteous in diamonds, base metals and precious metals. On top of being the sixth-biggest producer of diamonds in the world, Namibia is also the fifth-largest producer of uranium and is set to attain second-place next year when the Chinese-owned Husab mine opens.
Current plans to help strengthen the production industry would ensure that Namibia not only extracts minerals but also has a greater hand in processing them. This would include cultivating a single market for gemstones to international countries, and building cutting and polishing plants, such as the one proposed for Karibib. The Growth at Home strategy recently released by the Ministry of Trade and Industry is also looking to ensure that 15% of Namibian diamonds will go to Namibian companies to be processed and sold. Namibia is already moving towards a more developed and economically beneficial mining sector.
Namibia's geographical location also makes it a key choice for international investment. Situated on the south-western coast of Africa, Namibia boasts established shipping networks as well as borders with five countries. Namibia is a gateway to the South African Development Community (SADC) Common Market thus providing access to a potential market of 500 million people and a possible consumer pool of 280 million.
Mining contributes a large amount of Namibia's GDP. The mining sector accounts for 11.5% of Namibia's GDP and 50% of its foreign trade earnings. The industry employs 2% of the country's population. The Namdeb Diamond Company – a partnership company formed in 1994 between the Namibian Government and AngloAmerican company De Beers – is the country's biggest taxpayer, and contributes more than a fifth of the country's international earnings.
Over the past decade, however, a shift has begun to occur between land and marine mining. De Beers has a concession area of 3,700 square miles of seabed in which it has begun to extract diamonds using a machine nicknamed the 'butcher', which allows De Beers to carve through the Namibian seabed and extract 60t of rock an hour .This is then sifted and the diamonds extracted aboard one of their five-strong fleet of adapted ships. A relatively untapped resource, it is likely to take De Beers 50 years to exhaust its subsea plot, while competitors are expected to take advantage of other marine sites.
Securing more foreign investment
Namibia's diamonds have been particularly successful in attracting foreign investment such as continued financial commitment from De Beers. Earlier this year, the Namibian Government signed an historic ten-year contract with the world's leading diamond company, the longest ever signed by De Beers. It is expected that the partnership it enshrines will provide over N$3bn a year to Namibian state revenue making it responsible for a fifth of all foreign investment in Namibia.
Other countries are taking an interest in Namibia, including India. Earlier this year in a speech at the Namibia University of Science and Technology, India's President Pranab Mukherjee expressed his country's intent to invest in Namibia's mining industry. This came alongside pledges of partnership between the two nations and promises to bring expertise in areas, including agriculture and information technology.
Namibia is keen to build on its mining advances and it is this drive that encouraged Geingob to talk in New York before the IIC conference this November. In his speech he highlighted both the importance of investment for the Namibian people and the four key benefits for the investor, including the country's democratic governance architecture, macroeconomic architecture and social architecture, themes that will be thoroughly covered in the main event in Namibia's capital Windhoek later this year.
In recent speeches, within the Harambee Prosperity Plan and Vision 2030 plan, Geingob has emphasised Namibia's desire to push forward. It is already number four in Africa on the World Economic Forum Competitiveness Index and the World Bank's Ease of Doing Business Indicators, and is planning to become first by 2020.
Drawing foreign investment is going hand-in-hand with efforts to increase local mining, in particular small-scale miner hubs. Miners across the country are being encouraged to organise into legal entities such as associations or cooperatives, like that of the Erongo Region Small Miners Association (ERSMA). ERSMA was one of the first to be formally recognised and offered assistance in areas such as analysing samples, acquiring mineral rights and obtaining global positioning systems (GPS) coordinates to allow it to claim its land. With hopes to encourage other local communities to organise into similar groups, ERSMA was given mining tools in a recent ceremony held by the government.
Challenges to come
Despite successes, building and maintaining the mining sector will not be without challenges. Not least is how young Namibia is; existing in its current state for less than 30 years, it has little history of running and managing its own mining industry. This in particular may pose a threat to small-scale mining efforts, where artisanal miners and their land must be protected and regulated to ensure workers are not exploited.
Such a heavy reliance on one sector of industry may also leave Namibia vulnerable. Thousands of people's livelihoods come from the extraction and processing of raw minerals, thus fluctuations in prices globally leave Namibia open to economic turmoil. This is a challenge Namibia is aware of however and the government is working to nurture alternative sectors such as tourism, the country's faster growing sector.
Minerals are finite resources and already diamonds in particular are dwindling. Despite mining's continued presence in the GDP its contribution has already dropped 4.3% since 2008. Namibia's on-land diamond mines could run dry within 15 years, and while marine mining has a longer lifespan and has recently encouraged investment, many are warning of the environmental drawbacks – especially as Namibia has growing tourism and fishing industries. The mining process permanently affects the marine ecosystem, with the unused rock simply being dumped back in the ocean. The long-term extent of the damage is currently unknown.
To counteract the economic deficit of these challenges the Namibian Government is placing greater emphasis on other industries. Outlined in both its Vision 2030 plan and the Harambee Prosperity Plan, manufacturing is an alternative industry to develop. This requires a greater emphasis on education and entrepreneurship, however, and in a country with almost 30% unemployment this is an admirable but tricky task.
Namibia is a country with vast and varied resources and is striving to use these to create advantages for its people. But its continued mining projects are going to cause upheaval and environmental damage, without a long lifespan. Does Namibia need another solution?