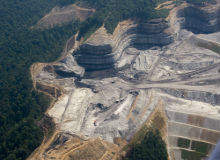 Barclays' decision to reverse its support for MTR is not one that has received wall-to-wall media coverage. However, it could lead to the gradual decline of a process that is feeling the strain of persistent campaigns from climate campaigners and local activists.
Beginning in the 1970s in Appalachia, US, MTR involves clearing mountaintops and blasting the surface to access coal seams that exist beneath. The excess rock and soil is then dumped in valleys, also known as valley fills.
The practice is highly concentrated in Kentucky, West Virginia, Virginia and Tennessee, and can be less expensive and require fewer employees than other methods. However, it has been attacked my many quarters for its effect on the landscape, such as deforestation, and its health implications for nearby communities.
Barclays leads the way as other banks join the ranks
The 2014 Coal Finance Report Card, published by Rainforest Action Network, the Sierra Club and BankTrack, shows that, in 2013, Barclays financed $550m in loan and bond transactions for mountaintop removal, acting as the lead arranger in seven transactions.
A Rainforest Action Network (RAN) background memo released in April highlights that Barclays' decision demonstrates an "emerging financial industry consensus on MTR", with the likes of PNC Financial withdrawing support in March, citing concerns regarding the effects of MTR on the environment and health.
How well do you
really

know your competitors?

Access the most comprehensive Company Profiles on the market, powered by GlobalData. Save hours of research. Gain competitive edge.
Company Profile – free sample
Thank you!
Your download email will arrive shortly
Not ready to buy yet? Download a free sample
We are confident about the unique quality of our Company Profiles. However, we want you to make the most beneficial decision for your business, so we offer a free sample that you can download by submitting the below form
By GlobalData
And they're not the only company to withdraw support.
JPMorgan Chase has also updated its policy against MTR, and RAN claims that since 2013 the bank has ended relationships involving mountaintop removal practices with Alpha Natural Resources and Arch Coal.
---
---
The US' Central Appalachia region is at serious risk as a result of mountaintop removal mining.
---
The Royal Bank of Scotland's policy, quoted in the RAN memo, says it "does not support customers and/or transactions involved in prohibited activities", which includes "project finance of projects involving the use of MTR mining methods" and "significant producers of coal using MTR mining in Appalachia, US".
Further to this, in April 2014, Friends of the Earth France urged Crédit Agricole, France's third-largest bank, to cut its ties with MTR. Consequently, in May, its chief executive Jean-Paul Chifflet stated it would not loan funds for MTR or "coal mining projects or companies specialised in this field".
In a statement, Barclays said: "Barclays has longstanding and stringent environmental risk policies and practices covering transactions with environmentally sensitive sectors such as mining, and published an additional explicit policy position on MTR coal mining in March 2015.
"Provision of financial support to companies which are significant producers of MTR-sourced coal will be now agreed by exception only, with grounds for exception including a commitment by the client to transition away from MTR within a reasonable timeframe. Barclays has never funded any MTR projects or developments directly."
But what are some of the potential reasons for this turning tide?
'A terribly destructive practice'
"Even ordinary open cast coal mining can be terribly destructive," says Alex Scrivener, policy officer for Global Justice Now – previously known as the World Development Movement – an organisation that has worked with groups in the US and met with Barclays officials last year.
"I've visited mines in Indonesia that have destroyed large swathes of rainforest and polluted huge rivers. But MTR is another level altogether.
"Over 1.2 million acres of mountain land has been destroyed by the process."
"MTR literally is removing the tops of mountains, which obviously scars the landscape and destroys the rich biodiversity of the unique Appalachian Mountains. Over 1.2 million acres of mountain land has been destroyed by the process."
However, Scrivener highlights that it is the human cost of MTR that is at the core of the argument.
"The pollution caused by the process has cost lives as a result of the contamination of water supplies, with heavy metals released as part of the process.
"Cancer rates in areas affected by MTR are double what they are in other areas in ways that cannot be explained by other factors. Birth defects are also higher in the region than elsewhere. One study concluded that MTR has caused 1,607 deaths between 1999 and 2004. MTR isn't just an environmental issue, but a human tragedy."
A bold statement, but one that is backed by research – a West Virginia University (WVU) study concluded that a "growing body of evidence links living in proximity to [mountaintop removal] activities to greater risk of serious health consequences, including significantly higher reports of cancer".
Michael Hendryx, a former WVU researcher who worked on the study, told the Charleston Gazette that it shows "evidence of environmental conditions in mining communities that promote human lung cancer", although these findings have been disputed by Kentucky Coal Association President Bill Bissett, who said Hendryx approached the research with a bias against coal.
Alongside this are the consequences on the environment, with a US Geological Survey study in September 2014 finding that fish populations are low in streams near MTR sites.
The spread of MTR in the Appalachia region has also been laid bare by the Appalachian Voices environmental organisation, which has built an interactive map from 30 years' worth of satellite images called Communities at Risk.
---
---
Concern is growing over the value of Investor-State Dispute Settlement measures.
---
With such a swathe of criticism and momentum against MTR, it is perhaps not surprising that Barclays has chosen to join the likes of PNC Bank, JP Morgan, Wells Fargo, BNP Paribas, RBS and UBS in changing its position.
According to Scrivener, however, the Barclays announcement is altogether more significant – and will send "a strong signal to others that financing MTR is too much of a reputational risk" and "a no-go area for the mainstream banking sector".
Campaigning to end MTR
There are a number of groups that work to end MTR, including the aforementioned Appalachian Voices, as well as iLoveMountains, Keepers of the Mountains and the Natural Resources Defense Council, which has a 'No More Mountaintop Removal' campaign.
Global Justice Now protested at Barclays' April 2014 AGM, joining anti-MTR campaigner Paul Corbit Brown from Keepers of the Mountains.
"We played a supporting role in this victory," says Scrivener. "It was people like him and allies like RAN and others in the Banktrack network who really won this victory.
"We put forward the moral case that MTR is costing lives. It helped that we had a member of the community with us who very passionately set out the case for why the practice is destroying his community," he continues.
"However, ultimately, banks only tend to act when they see something as a serious reputational (and therefore financial) risk. That Barclays have done so shows just how terrible MTR is."
"Ultimately, banks only tend to act when they see something as a serious reputational (and therefore financial) risk."
Scrivener believes that getting banks to meet those affected by such practices is an effective tactic in the fight against MTR, but adds "you need to put public pressure on these kinds of institutions from the outside as well".
On the other hand, he is clear that the ultimate driving force is not reaching out to bankers' consciences, but rather implementing stricter regulations.
This will help ensure "banks are not investing in industries that destroy the lives of people in the first place", he says.
"As the financial crisis showed, a deregulated banking sector is bad for our economy, but it is also terrible in terms of preventing investment in amoral activities like MTR."
An uncertain future
Barclays itself has said that it expects MTR to decline in the near to intermediate term, with its policy document attributing this to "a confluence of market forces and regulatory scrutiny in recent years".
One force, highlighted by RAN, is weak coal markets, leading to credit downgrades and bankruptcies at US coal producers, including MTR producers James River and Essar's Trinity Coal subsidiary.
A Carbon Tracker Initiative report, released earlier this year, also claims that the US coal industry lost 76% of its value over the last five years, with the industry in a "structural decline".
Water pollution has also proved costly. Last year the US Environmental Protection Agency and Department of Justice reached a settlement with Alpha regarding water contamination at 79 mine sites, which, according to RAN's Coal Report, included MTR mines. The settlement saw Alpha agree to a $27.5m penalty and $200m to improve pollution at its sites.
In 2012, Patriot Coal agreed to end its MTR operations and two years later its CEO Bennett Hatfield was quoted as saying by SNL that it was "increasingly unlikely that any producer is going to invest a lot of money in building out a large-scale surface mine in Central Appalachia".
While the evidence does suggest a move away from MTR, only time will tell how far that move is. Indeed, some producers are remaining steadfast in their support, with RAN's memo claiming permits are pending for new surface mines in West Virginia and other banks yet to follow in the footsteps of Barclays.
However, what is for certain is that the tide – from the banking sector and not just environmental organisations – is beginning to turn away.