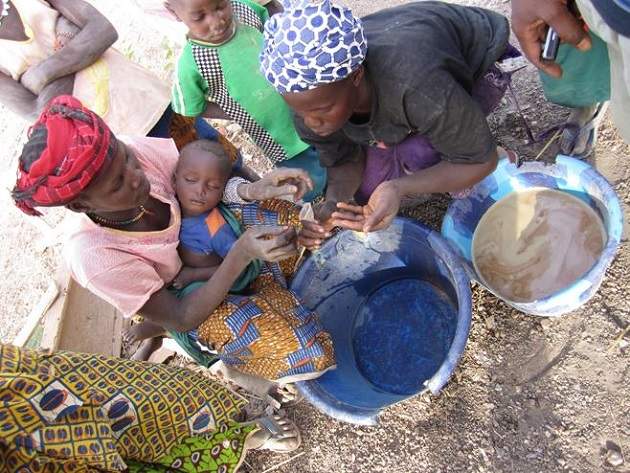 Landlocked between six other West African nations, including Burkina Faso and Guinea, Mali is a gold mining star in a resource-rich but troubled region.
The nation is the third-largest gold producer in Sub-Saharan Africa with seven projects currently in operation. UK mining firm Hummingbird Resources?is the latest company to get involved and is on course to start production at a $88m (£68.1m) open-cast gold mine this year.
Yet only about six of the country's 133 potentially gold-rich reserves have been mapped out, offering significant growth opportunities.
Furthermore, the government is keen to unlock the economic potential of its other resources, such as bauxite, manganese, lithium and uranium. In April, the Chamber of Mines announced that following several new discoveries, bauxite reserves in Mali's Falea project are now estimated at 1.63 billion tonnes (Bt), which is equivalent to 572t of refined aluminium. A spate of investment deals signed with China, totalling about $11bn, aims to unlock the potential of other minerals.
In fact, BMI Research forecasts that Mali's mining industry will experience a value growth of 10% from 2017 to 2021, putting it above top African mining markets, such as the Democratic Republic of Congo (DRC).
While an increase in mining activity in Mali seems unstoppable, like many other resource-rich African nations, mining in the conflict and poverty stricken land is complex, troublesome and often detrimental to the most vulnerable.
Widespread artisanal gold mining by poverty stricken communities in the West has fuelled child labour and uncontrolled use of harmful mercury. Militants fighting in the north has also created instability in the country.
Furthermore, on 24 June, the Extractive Industries Transparency Initiative's (EITI) independent validation board ruled that while the country had made significant progress in the face of political instability and conflict, it is not yet compliant with the expectations of the the new EITI 'gold' standard. . The board noted that government oversight was inadequate in some areas. These included problems with conducting multi-stakeholder engagement (with communities and other stakeholders), reliability of data – audits from government bodies charged with collecting revenues from the extractive sector were inadequate – and for local transfer of money and investment, as final figures for money earmarked for local communities were not disclosed.
Mali's Government now has 18 months to make significant improvements in the areas highlighted by the validation board or face being suspended from the initiative altogether, which could be negative for the country as holding the EITI standard is a sign of stability and strong and stable governance for potential investors.
Mining transparency and operations
"Everybody is impressed by Mali," says Bady Baldé, despite the validation board's findings. Baldé is the regional director of Francophone Africa at EITI.
"If you compare Mali to all the countries that have become compliant today, Mali compares favourably to these countries, despite the environment of conflict and instability," says Baldé. "From an investor perspective, I think it is an indication of a strong foundation, if you will, that Mali has and can build on."
He notes that the compliance of companies operating in Mali, such as Randgold Resources which has two projects, has been key to the process and reaching these results.
"TEXT GOES HERE."
"But we also have to recognise that not everything is perfect and it needs to improve," says Baldé, and when asked if there is still a risk of corruption and poor stakeholder engagement, Baldé says, "absolutely".
The government needs to provide more transparency during the decision process for issuing mine licences, for example. EITI recommends it moves ahead with beneficial ownership to reduce the risk of corruption.
The government does have an informal policy of publishing mining contracts online. Therefore mining revenues in the hundreds of millions can be identified. Baldé says these revenues are collected at a central level and go through the government budget. But at present there is inadequate evidence the budget is executed properly and funds are allocated as planned to local communities or into healthcare and education.
Artisanal mining in Mali
Large-scale formal mining is only half the story of mining in Mali. Local artisanal mining communities have operated in the western region of the country for centuries, and the number is growing.
According to Baldé, the artisanal mining population has now reached approximately one million and is, in large, part responsible for a significant increase in exports from around 50,000k of refined gold to nearly 70,000k. This figure has dropped slightly according to latest figures.
Artisanal mining has proved a huge challenge for Mali. In 2011, Human Rights Watch reported that at least 20,000 children worked in Malian artisanal gold mines under extremely harsh and dangerous conditions. Working in the mines means children miss school and often suffer detrimental health effects from exposure to mercury and cyanide, as well as from carrying heavy loads and exhaustion. The uncontrolled use of chemicals has also had a negative effect on the environment.
Juliane Kippenberg,?associate director of the Children's Rights Division at Human Rights Watch (HRW) and author of the report, says that not enough has been done to discourage child labour.
"In 2011 we found the government was not doing enough to monitor and support very poor children in the mining areas. The government had absolutely no handle on the situation at the time," she explains.
Her findings are backed up by a January 2017 Partnership African Canada (PAC) report, which states that the lack of government presence, institutional structure and policy coherence undermine the ability to plan, capture and reap the sector's full economic benefits and breeds child labour and environmental destruction.
Gold produced by informal miners is passed on to traders. It then passes through a series of other middlemen, to reach an export company, typically Malian, and then finds its way into international smelters. The PAC reports notes that most of this is seemingly arriving in UAE.
"This is evidenced most clearly by import trade data from the UAE that in successive years exceeds the entire gold production of Mali's industrial production which is spoken for by Swiss and South African refiners," the report states.
Formalising the sector for human rights
Groups have called on the Malian Government and international donors to formalise the sector which would produce labour laws and revenue reporting, and better environmental standards. However, despite adopting a National Action Plan for the Elimination of Child Labour in June 2011 there seems to be little progress.
The EITI has been unsure of how to approach revenue reporting from artisanal miners in Mali. Baldé says they are looking to ask traders buying this gold to contribute to EITI reporting by disclosing how much they have bought, exported and paid to the government, so it can be reconciled with the relevant government agencies who collect the revenue.
"TEXT GOES HERE."
Security is also a potential threat for miners dealing in lucrative gold, although the sector has so-far avoided becoming embroiled with armed groups that are active in the north of the country, a good distance from the mining regions in the south and west. Both PAC and HRW say they have not seen any solid evidence that armed militia is being funded by illicit mining.
Seán Smith, senior Africa analyst at global risk consultancy Verisk Maplecroft, says although there is always a possibility of violence, limited Islamist capacity in the south reduces this risk for miners.
"The threat of terrorist attacks in Mali is greater than in any other country in the Sahel; but because Mali's gold mines are in the most secure part of the country and benefit from a sizeable buffer zone, this gives a slightly misleading picture for the industry – in fact, the risk of kidnapping or a large-scale attack at a mine is significantly higher in neighbouring countries within striking range of northern Mali," he adds.
Going forward
Baldé says there have been some new developments since the EITI study, which only focused on a particular timeframe (July to October 2016). Some recommendations made have been welcomed by stakeholders and implementation seems to be moving forward.
However, he is concerned that government commitment may not remain the same due to changes at the Chamber of Mines.
Mining will continue to grow and without decisive action and strong leadership, so could Mali's problems.
Going forward, to achieve the EITI standard and to overcome some of the ongoing and paramount challenges Mali faces, government determination will be key, and leadership at the Ministry of Mines will be especially critical.
"Mining is always a double-edged sword," says Kippenberg, adding "On the one hand, it is important to provide people with a job and an income. But on the other hand, there are risks to both the natural environment and the health of people, as well as issues around resettlement and corruption. But this is not new and neither is it specific to Mali."