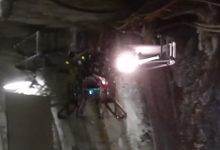 Recently, a team of award winning scientists celebrated watched as their theory was put into practice. They sat back because the development and build of the flying robot was their responsibility, but getting safely through a German coalmine was not. That was up to the robot.
Along the way to 'mission accomplished' it faced up to the air turbulence of the mines passageways, as well as swirling dust, slanting walls, unsteady terrain and a number of objects put in its way to deliberately obstruct it. It even had to overcome 'poor light'.
The multicopter, armed with an onboard computer to map and analyse the terrain and a stereo camera to chart a safe route, was not to be beaten by such things. It arrived successfully and safely at the target point within the Recklinghausen mine. Verifying the work by the team of researchers from DLR Robotics and bringing robotically driven rescues from dangerous environments one step closer to reality.
That a robot both flew and navigated a challenging route is impressive, but it is not new. The fact that it did it alone, set its own route and did so with no support from external navigation aids is. As Korbinian Schmid, from the DLR Robotics and Mechatronics Center, explains, similar conditions might be found "during a search and rescue mission following a disaster."
---
---
While technological improvements and stricter safety regulations have reduced coal mining related deaths, accidents are still too common.
---
Robotic rescues move closer to reality
The accomplishment proves that robots can fend for themselves in dangerous situations, get through them, and come back. Jump forward a few development stages and you get a powerful robotic ally in rescuing people from all sorts of catastrophic situations, fires, explosions and of course collapsed mines. Or on the geological front, an unmanned mine mapper, tracking changes over long periods of time.
Currently, the multicopter is limited in a very human fashion with a field of view that only spans 60 degrees, though a "fully panoramic" model is planned. Further improvements that Schmid and his team are working on include sharpening the route development process: "We want to be able to consider the altitude and dynamic properties of the system when planning a trajectory."
Last year, the team were awarded a Best Paper Award at the International Conference on Intelligent Robots and Systems in Japan. This month, they showed put that theory into practice and proved that it works. When it might add "helped save a life" to its trophy cabinet is uncertain, but the prospect is certainly strong.