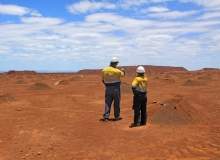 Being located close to Asia's emerging economic powerhouses has been a blessing for Australia's mining industry. As increasingly confident economies like China and India look abroad for raw materials to feed an unprecedented number of construction and infrastructure projects, Australia's immense mineral resources are exceedingly well placed to meet the demand.
"There is little that can be accomplished by government programmes if mining companies fail to give new starters chances."
The Australian mining sector's strategic position is reflected in the number of projects and the amount of investment springing up in the country.
The Australian reported in early 2010 that while no mining project valued at more than A$10 billion came online in the first decade of the 21st century, six of these mega-projects are in development today, with a total value of more than A$150 billion.
Good news? Certainly. But a latent shortage of skilled workers in the Australian resources industry is raising significant concerns about the country's capacity to see its mining commitments through. BHP Billiton stated in September 2011 that an extra 150,000 mining workers will be required by the Australian mining industry over the next five years.
Even without considering the upsurge of mining development, a lack of qualified workers is already having an effect on the day-to-day operations of mining projects even now.
In its recently released quarterly report for Q4 2011, New South Wales-based coal producer Whitehaven Coal admitted that its operation at Narrabri "continues to experience difficulty in recruiting sufficient experienced underground miners and contractors to fully utilise its four development units".
Labour crises of this kind, especially ones that occur in sectors of national economic importance, blur the lines between industry and governmental responsibility. So who is responsible for injecting some extra manpower into Australian mining, and how can it be accomplished?
Mining recruitment: what's the problem?
With the global recession still showing its fangs across the world and unemployment rates remaining high in many regions, the labour shortage in the mining sector cannot simply be a matter of a lack of warm bodies.
The mining industry does not lack for prospective recruits, but it is finding workers with the right skills and experience for complex mining and engineering jobs that is proving to be the primary difficulty.
Like many traditional industries in the developed world, the Australian mining sector is struggling to build a new generation of skilled and semi-skilled workers to replace the post World War II baby boomer workforce that is now approaching or already past the retirement age.
According to a recent article by Australian mining engineer and industry blogger Jamie Ross, new engineering graduates are also experiencing a vicious cycle as they are unable to find work without relevant experience, which is impossible to garner without the opportunity to get a foot in the mining industry's door.
As Ross puts it: "So many advertisements for mining engineers, so few opportunities for those without experience."
Fostering skills: the state's key role
So if the industry is in desperate need of a new wave of qualified staff, whose job is it to foster the skills needed to fill the void? The regional and federal governments of Australia must play a leading role, according to the Australian Mines and Metals Association (AMMA).
"An extra 150,000 mining workers will be required by the Australian mining industry over the next five years."
In October 2011, the industry body issued an urgent call for state governments to introduce a raft of new training initiatives to make up the shortfall.
Indeed, many government-sponsored programmes are now underway. 2011 brought the announcement that the federal government would be channelling A$200 million into a Critical Skills Investment Fund created to fund training and employment initiatives in the resources industry, among other vital sectors.
The Queensland state government has invested heavily in training programmes and publicity for the mining sector, launching an advertising campaign imploring young Queenslanders to "grab a piece of the resources boom".
AMMA director Minna Knight has praised Queensland for spearheading new expos and training opportunities, but warned that in Queensland and Western Australia, state recruitment drives would only fill half the available mining positions in the coming years.
Fostering skills: the industry's equally important role
By lumping the burden of recruitment on to the government, however, there is a sense that the Australian mining industry is shirking its own responsibilities as a mass employer, leveraging its importance to regional and national economies to avoid its own job as a nurturer of industry-specific skills.
Australian Council of Trade Unions president Ged Kearney struck back at the industry in late 2011, telling ABC News 24 that it has not sufficiently invested in skills.
"They are not training apprentices, they are not training their workers," she said. "For years they have neglected this important part of their responsibility as an employer."
After all, there is little that can be accomplished by government programmes if mining companies fail to give new starters the chances they need.
This is exactly what happened in October 2011, when Xstrata refused to allocate six apprenticeships at its Mangoola coal mine, claiming that it had failed to find suitable, 'job ready' candidates.
Muswellbrook mayor Martin Rush, whose council had offered to permanently pay for two of the apprenticeships, described the company's apprenticeship efforts as "pitiful".
Queensland and Western Australia partner up on recruitment
"Finding workers with the right skills and experience for complex mining and engineering jobs is proving to be the primary difficulty."
Some non-government recruitment initiatives have provided a model of how the industry can collaborate to encourage a new skilled workforce to step into the Australia's labour breach.
Industry groups in Western Australia and Queensland announced in May 2011 that they would partner to work on strategies to meet their labour objectives.
Under the three-year Memorandum of Understanding signed by the Chamber of Minerals and Energy Western Australia (CME), the Queensland Resources Council (QRC) and SkillsDMC agreed to work together to create a more consistent, targeted recruitment effort.
"Industry must position itself to minimise the impact of a retiring workforce, and one that is not currently upskilled to levels that are crucial to industry productivity," said SkillsDMC chief executive Steve McDonald.
With Australia's mining skills crisis becoming more desperate with each passing year, policies to incentivise the immigration of skilled mine workers from countries like the US, Canada and Poland are picking up steam.
If Australian Prime Minister Julia Gillard's goal to reserve Australian mining jobs for Australian workers is to be met, it seems the industry must shed its sense of entitlement and join the government in investing the time and money required to foster the next generation of mining professionals.