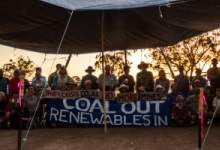 Mining firms are often accused of not keeping a close enough eye on their assets and operations. Investors blame them for taking their eye off the ball on costs when margins tighten and the authorities bring the hammer down as mines fall below expected levels of operation. In general, it is a lack of attention that lands miners in trouble.
Not so for Idemitsu Australia Resources, a wholly owned subsidiary of Japanese conglomerate Idemitsu Kosan, that is in the spotlight for keeping too close an eye on its operations at Maules Creek. At the heart of a scandal that ties together anti-coal environmental activists and corporate espionage, Idemitsu is learning just how important its corporate sentiment, "Respect for human beings", is.
The investigation centres on the accusation that the company's security contractor C5 Management Solutions placed two operatives undercover among a group of activists protesting the development of mining operations at Maules Creek. Despite the fact that it is not being directly accused of hiring Marnie Tisot and Tony Groves, the two alleged spies, Idemitsu could find itself in legal trouble as the act may be found to breach state licensing laws if it is proved that information gathered through the operation led to the "material detriment" of those under observation.
Long arm of the law looms
While its investigations into the matter are ongoing, New South Wales Police has confirmed that neither of the alleged spies holds the required licenses to carry out undercover operations in the state. In response to questions from Guardian Australia, Cameron Smith, who heads up the forces security licensing and enforcement division, said: "I can confirm that none of these entities or individuals hold either security licences or private inquiry licences in New South Wales. We have commenced inquiries into whether there have been any licensing breaches."
---
---
Mexico's organised crime epidemic has infiltrated the mining industry to an unprecedented extent.
---
C5 Management Solutions, which is contracted directly by Idemitsu and is believed to have hired the individuals through the Groves owned Centre for Intelligence and Risk Management, has refuted the allegations and claimed it operates within the confines of the law. Tyrone Clark, director of the company, said in a statement: "C5 Management Solutions is a law-abiding corporate citizen."
Contractual defence
So far, Idemitsu has refused to offer a specific comment on the allegations of espionage, but chief executive Rod Bridges reiterated that the company expects its contracts to comply with the law. He said: "[We] require that these firms will carry out their services pursuant to the law and all applicable regulations."
The company has previously explained that it took the decision to hire a private security firm in order to protect its operations against an escalation of protester activism. The Maules Creek project has been strongly criticised by the local population and environmental groups. Those most passionately against the development have, with the full permission of the owner, established a camp at a nearby farm to conduct their activities, which have so far taken the form of non-violent protests.
It is this camp that Groves and Tisot are alleged to have infiltrated on the orders of C5 Management Solutions, having claimed to be against the operation on environmental grounds. Having embedded themselves among the genuine members of the camp, they are believed to have passed intelligence back to the security firm, with the information then passed on to Idemitsu – though it has stated that it doesn't ask how information is gathered.
Ask, don't spy
The protest movement has unsurprisingly reacted angrily to the news that the movement was being spied on in secret. It has said that if the company wanted to be better informed about its activities, it only needed to ask. Phil Laird, a local farmer and a member of the group, said: "If the coal industry wants to know our plans, then perhaps they could engage with the protectors rather than send in undercover security agents to ingratiate themselves around the campfires and attempt to lull the knitting nanas, students, farmers and other honest, passionate and trusting people into letting so-called secrets out of the bag."
"We are Australian citizens yet are being spied upon by an industry which has so much money it thinks it can do what it likes."
He added: "We are Australian citizens yet are being spied upon by an industry which has so much money it thinks it can do what it likes with our system of government, our people, and our right to speak up against a wrong."
For the mining sector as a whole, the events at the activist camp raise an interesting issue. New and proposed mining developments more often than not are met with strong opposition from local residents and activist groups. Even those that are seemingly well organised and non-violent, have the potential to cause severe disruption to operations, if not more serious consequences.
Therefore, it is understandable that a firm might seek the services of a security company to keep a check on activist activities. Surveillance and monitoring are within the law, and licensed firms and individuals are afforded greater scope in carrying out their activities – even, in some cases, to go undercover. But the case in question would appear to have been conducted outside that realm of protection, with unlicensed subcontractors. That stretches an already contentious act beyond the confines of acceptability.
Done right, the firm could have come out with a reasonably robust case to justify its actions, but the way things actually panned out offered only one route to success – to not get caught. But they did and they will now no doubt feel the full consequences. The sector as a whole will have to take a long, hard look at the issue and weigh up whether risk of being found out is worth the potential reward of going undetected. If they fail to do so, this will not be the last instance of industrial espionage in the mining sector to hit the headlines.