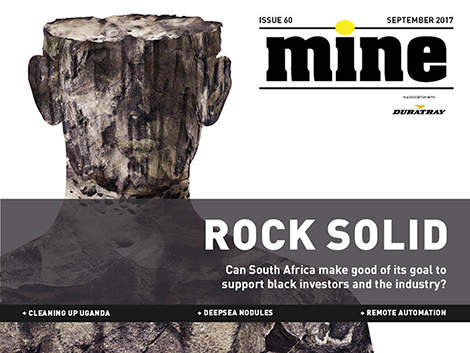 The South African Government has proposed new mining regulations with one of the biggest and most contested aspects being increasing tough targets on black ownership of and participation in the industry. Following previous efforts to improve representation, the industry is calling racial discrimination and is threatening legal action to protect the sector. We explore this sensitive social issue and its impact on South Africa's mining industry.
Additionally, we speak to Global Witness about its report on corruption in Uganda's mining sector, hear how Canadian company DeepGreen stands out from the crowded realm of seafloor mining, and learn how mine rescue challenges are helping hone emergency response plans.
Then in technology, we take a look at the success of automated drill rigs and the prospects for more widespread usage, as well as Australia's HyLogger hyperspectral imaging technology which enables almost real-time information about ore bodies to vastly reduce costs and delays.
Read MINE magazine free on iPad through our app and on desktop, and you can join the conversation on Twitter.
In this issue
Boosting Black Ownership in South Africa
South Africa's new mining charter, aimed at increasing black ownership, has come under fire due to its potential to damage the industry. Currently pending legal review, Molly Lempriere asks what's at stake.
Read the article.
Confronting Corruption
A Global Witness report alleges that Uganda's mining sector is built on endemic corruption at the expense of the Ugandan people, environment and economy. So, what needs to be done? Chris Lo investigates.
Read the article.
The Deep Green
Mining companies are increasingly looking to the sea for resources, but environmental concerns hang heavy over deepsea mining. Are there waste-free methods? Molly Lempriere talks to DeepGreen Resources about underwater exploration.
Read the article.
Deep Impact and Automated Drilling
Atlas Copco is to convert 18 more of BHP Billiton's blast hole drills to autonomous operation. Julian Turners talks to product line manager – automation, Tyler Berens, about successful trials and plans ahead.
Read the article.
Mineral Analysis Without Delay
Australian scientific research agency CSIRO has licensed its mineral analysis technology to METS group Corescan. Could this high-tech Hylogger make Australia's mining sector more competitive? Ross Davies reports.
Read the article.
Honing Skills in Mine Rescue
Responding to an emergency can make the difference between life and death, and rarely is there a chance to practice the essential skills for the job. Here Heidi Vella looks into mine rescue competitions.
Read the article.
In the next issue
The Australian and Canadian Governments have announced plans to state-finance new mines in order to bolster the industry. In Australia, especially, the decision to fund lithium mines has been seen as a bid to compete with China, while Canada has decided to restart Champion Iron's Québec Iron Ore mine using state funds. Are countries are viewing rare earths and elements as strategic minerals? We examine the evidence.
Nearby, we see what gold discoveries on tribal land tell us about mining in New Zealand, find out why Portland stone quarries are going underground excavation, and assess whether US President Trump's "amazing results" for miners are living up to their claims.
While in technology, we speak with Inmarsat about prospects for internet-enabled technologies in the mining sector and find out if the success of Sony Ericsson's remote 5G technology mine in Kankberg spells the beginning of the end for manual mining.
Digital Magazine FAQs
You can read MINE for free on the iPad. Download our app from the App Store to read the latest issue and browse the back issues in our archive.
You can also continue to read the desktop version for free on our web viewer. (Browser compatibility: The web viewer works in the latest two version of Chrome, Firefox and Safari, as well as in Internet Explorer 9 and 10. Some features may not be compatible with older browser versions).