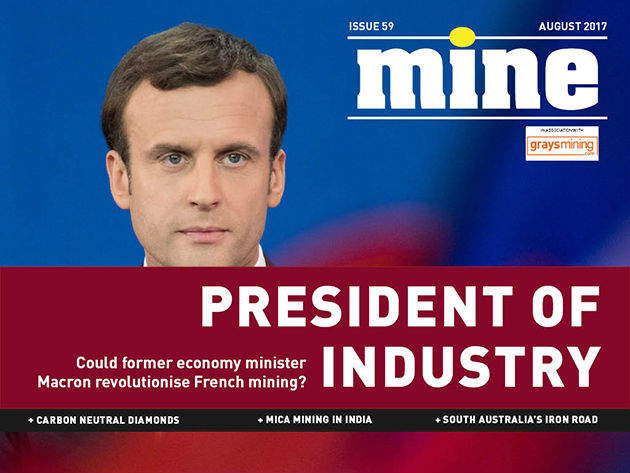 Before his appointment as the President of France, Emmanuel Macron served as the Minister of Industry and Economic Affairs where he signed off a number of mineral exploration projects. Macron has since said he plans to overhaul the country's mining industry, to focus on progress both at home and abroad. So what can we expect from this new presidency? We find out.
Around the regions, we take a look at South Australia's plans to meet the $4.5bn budget for the recently approved Iron Road magnetite mine, find out if India can formalise mica mining to stamp out the dangers of illegal operations, and hear the crucial points to address in the inevitable yet sensitive transition to an automated mining industry.
Also, we get insight into how De Beers plans to make diamond mining carbon neutral, and speak to the ICMM about current safety standards in the industry and the ongoing efforts to reach zero fatalities.
Read MINE magazine free on iPad through our app and on desktop, and you can join the conversation on Twitter.
In this issue
The iron road to magnetite   
A new multi-billion South Australian mine, port and rail project called Iron Road has gained approval and now has until the end of the year to find its $4.5bn budget. The magnetite mine is expected to produce 21.5 million tonnes of ore per year, over twenty five years. We take a look.
Read the article.
Legalising India's mica mines  
The Indian Government is trying to legalise mica mining in an effort to fight child labour and child deaths caused by dangerous mining practices. While mica is an important commodity for poor communities, how effective can the new legalisation be? We investigate.
Read the article.
Revolutionising French mining   
Before his appointment as President of France, Emmanuel Macron served as the Minister of Industry and Economic affairs where he signed off a number of mineral exploration projects. With plans to overhaul the country's mining code and re-focus on both domestic and foreign projects, what should we expect from Macron?
Read the article.  
Carbon neutral diamonds 
De Beers is leading a research project that aims to make some of its mines carbon neutral within five years. The process involves storing carbon through the mineralisation of kimberlite waste from the diamond extraction process. We explore the project and its potential sector-wide impact.
Read the article.
Fatalities on the rise 
ICMM has released its 2016 mining safety report and the results show a rise in fatalities despite an 11% fall in the number of hours worked. We speak to ICMM to find out why, and how to support countries suffering the most mining fatalities, such as South Africa.
Read the article.
Robots and recruitment
Deloitte global head of mining, Philip Hopwood, predicted that jobs will decline in the coming years, due to automation as 'smart mines' become a reality. He also highlighted the importance of managing the transition in a sensitive way, but how? We find out more.
Read the article.
In the next issue
The South African Government has proposed new mining regulations, with one of the most contested aspects being increasing tough targets for black ownership of and participation in the industry. However, the industry is calling racial discrimination and is threatening legal action to protect the sector. We explore this sensitive social issue and its impact on the country's mining industry.
Additionally, we speak to Global Witness about its report on corruption in Uganda's mining sector, hear how Canadian company DeepGreen is at the fore of seafloor mining, and learn how mine rescue challenges are helping hone emergency response plans.
And in technology, we take a look at the success of automated drill rigs and prospects for widespread usage, as well as Australia's HyLogger hyperspectral imaging technology which enables almost real-time ore analysis to vastly reduce costs and delays.
Digital Magazine FAQs
You can read MINE for free on the iPad. Download our app from the App Store to read the latest issue and browse the back issues in our archive.
You can also continue to read the desktop version for free on our web viewer. (Browser compatibility: The web viewer works in the latest two version of Chrome, Firefox and Safari, as well as in Internet Explorer 9 and 10. Some features may not be compatible with older browser versions).