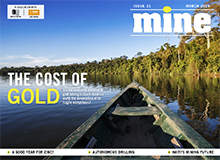 We're pleased to announce that MINE is now free for the iPad. Download our app from Newsstand to read the latest issue and browse our back issues for free.
Evidence is building that the economic benefits brought about by gold mining in South America are coming at considerable expense to the health of the continent's rainforests – some of the most important areas of biodiversity in the world and crucial natural mediators of climate change. We take a look at new research into the growing footprint of gold mining around the Amazon and find out what can be done to mitigate the impact of mining operations.
Haiti is trying to place itself on the mining map, but a responsible approach is needed to ensure the country can reap the economic benefits of its resources. We profile the efforts underway by the government and civil society groups, with support from the World Bank, to lay the groundwork for Haiti's mining future.
We also get a market outlook for zinc, speak to Sandvik Mining about the future of autonomous drilling and chart current trends in resource nationalism on an interactive map. Moreover, we find out whether Spain's plans to restart operations at the Los Frailes mine in Andalusia, where a major disaster 17 years ago caused widespread ecological destruction, can go ahead in the face of opposition from environmental groups and the tourism industry.
Read the issue for free on your iPad through our app, or if you're on a desktop computer you can also read it in our web viewer.
In this issue
Rising from the Dust
Haiti's gold deposits are said to be able to lift the country out of poverty, but as the government works to exploit these treasures civil society groups are keen to ensure it is done responsibly. Heidi Vella-Starr asks: is Haiti ready for the mining industry?
Click here to read more.
Bridging the gap
As mines close and demand from industry increases, zinc is expected to rise in price over the next two years. Abi Millar asks why the zinc market is on the upswing while the outlook for most other mineral commodities remains bleak
Click here to read more.
Protective Measures
Resource nationalisation has been listed as one of the major difficulties affecting the industry as more countries take a stronger hold of their resources. With laws, tariffs and taxes constantly changing, we cast our eyes across the globe to map recent trends.
Click here to read more.
A New Way of Working
Automation is changing the face of the extraction process and Sandvik Mining's AutoMine Drilling system is one of the technologies leading the way. Adam Leach speaks to Riku Pulli about the advantages of automated drilling and a new way of working.
Click here to read more.
South America's Dirty Gold
Gold mining is ravaging South America's rainforests, with impacts ranging from deforestation and mercury poisoning to territorial conflicts. Chris Lo investigates the extent of the problem and proposed solutions
Click here to read more.
Los Frailes: Testing Fate?
The recent announcement that operations will return to Los Frailes mine, the site of Spain's 'worst environmental disaster', has raised tensions in the country. Adam Leach finds out more
Click here to read more.
Next issue preview
With the industry under pressure to tackle air quality and other environmental issues, electric vehicles are finally being rolled out to improve conditions at underground operations. We explore the latest in electric vehicle technology and ask whether companies are ready to invest on a larger scale. We also take a look at an innovative energy solution at Sibanye's Beatrix gold mine in South Africa, where naturally occurring methane gas discovered during underground operations is being used as a power source.
Moreover, we find out what the dropping price of copper means for major copper producing nations, trace the recent evolution of attitudes towards resource nationalism in mineral-rich African countries, and ask why better government oversight is needed for Canadian junior mining companies to improve their CSR record in developing nations.
Digital Magazine FAQ
You can read MINE for free on the iPad. Download our app from Newsstand to read the latest issue and browse the back issues in our archive. Sign up for a free subscription in the app and never miss a new issue.
You can also continue to read the desktop version for free on our web viewer. (Browser compatibility: The web viewer works in the latest two version of Chrome, Firefox and Safari, as well as in Internet Explorer 9 and 10. Some features may not be compatible with older browser versions.)