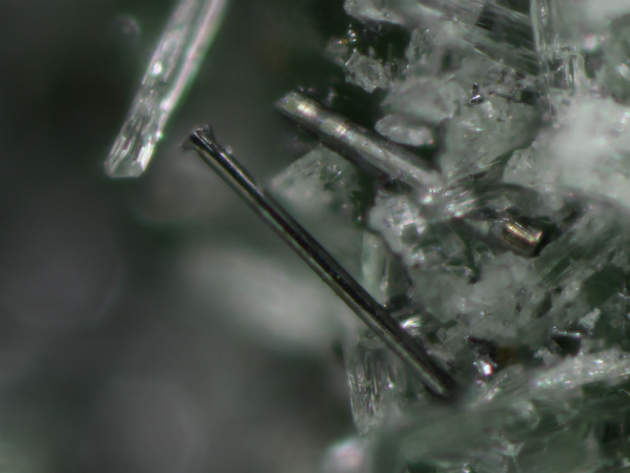 In 2012, John Jaszczak, a professor of physics at Michigan Tech University, was in the process of studying samples of molybdenite from a quarry in Italy using a Raman spectrometer – a light scattering technique, whereby a molecule scatters incident light from a high-intensity laser light source.
Around the same time he came across an article about unusual minerals from the Merelani mining district in Tanzania, written by a 14-year-old girl on an internship with a mineral expert named Mike Wise.
Since the 1960s, Merelani mining district has been well-known for its abundance of the beautiful purple-violet tanzanite rock, named after the country where it was first discovered and is endemic.
Jaszczak noticed the picture of the sample looked very similar to molybdenite, but with unusual cylindrical whiskers not present in the former.
After obtaining a sample of the mineral, further studies led to the discovery that it contained molybdenite and sulphur, as expected, but also lead – and that's when he knew it was potentially an undiscovered mineral.
Jaszczak ran the Raman spectrum results of the new mineral through the search on the RRUFF database of Raman spectra and it did not match any minerals listed, confirming this discovery.
Discovering the structure of merelaniite
There are 5,179 minerals listed by the International Mineralogical Association, and its Commission on New Minerals, Nomenclature and Classification (CNMNC) receives more than 80 proposals each year for new ones – but passing the requirements is tough.
Most suspected new minerals turnout to be a physical mixture or something that is in a series of compositional ranges that still fit into other ranges, says Professor Kip Jeffrey, head of Camborne School of Mines at the University of Exeter.
"Even at a microscopic scale you can get a physical mixture of two known minerals which if you do a chemical analysis are two minerals mixed together, which gives you a strange pattern but not because it is a new mineral just because it is a physical mix," he explains.
It would be four years, a series of rigorous mineral chemical and structure tests, utilising a global scientific effort, including Mike Rumsey and John Spratt at the Natural History Museum in London, before the discovery of merelaniite could be announced.
What happens to new minerals?
It's not known yet what the discovery of merelaniite will lead to, if anything. Like most newly discovered minerals merelaniite is found on a very minute scale, and although its cigar-like rolled layers are attractive under microscope, it is not a showcase gem such as tanzanite.
Jaszczak says some work on merelaniite will continue in order to learn more details about its structure and where all the atoms of the different elements are. But first, a perfect, non-curved sample needs to be found in order to do an X-ray crystallography – a technique used to determine the atomic and molecular structure of a crystal.
Tony Nikischer, a minerals dealer and president of Excalibur Mineral Corp in the US, says he doesn't see any economic capability for merelaniite yet. However, a better understanding of the crystal chemistry of exotic materials such as merelaniite may eventually find useful applications.
"Potentially, sometime in the future it could link to another discovery and may be useful for research purposes," he says.
"For example, someone might discover a magnetic property, or some other unique thing that will be tied to this particular structure and composition [merelaniite], and we would be the people they go to try and obtain a sample – that may or may not happen."
"Sometime in the future it could link to another discovery and may be useful for research purposes."
Excalibur Minerals is a mineral dealership that provides samples to researchers and museums, as well as rare gems and other minerals to collectors. It specialises in what Nikischer says the community calls 'rare ugly things'. Most new minerals, including merelaniite, are considered this way due to being generally less attractive than collectible gems.
Excalibur collects specimens of these types of minerals – currently around 2,000 specimens in its inventory – and holds them in storage, sometimes for decades, until they are required for research or chosen for a personal collection.
Jeffery explains that the bigger mineralogy knowledge becomes the better, as new minerals can sometimes be used for research which may benefit commercial mining operations if a commercial mineral is locked within an unusual one that wasn't known to exist.
Twenty years ago Nikischer says there were around 2,000 known minerals. Today there are over 5,000. "Most new minerals are found because of our better ability to analyse rock," says Jeffrey. "We are looking at things on a micron-scale which we couldn't do in the past."
Valuing non-precious stones
There isn't much economic value to new minerals beyond, as Jeffrey puts it, "strange people like myself who spend money to acquire them".
The mineral collecting community, however, reaches up to a million people, according to Nikischer, and prices can range from $50-$500 for samples of 'rare ugly things' and from $3-$250,000, and sometimes into the millions, for rare beautiful gems.
However, new minerals for commercial-scale mining are not often found, he adds, saying: "If it was bulky enough, widely available enough, or something that was going to be of major economic importance then we would probably have found it already.
Mining companies can be useful in helping dealers such as Nikischer collect and preserve specimens from mining deposits for future uses – though he admits that mining companies have never been terribly sympathetic to mineral collectors because "mineral collectors are an annoyance making them look for specimens instead of working".
But preserving specimens from mineral reserves of today still has importance, he says, even for large-scale commercial miners. "Once that reserve is depleted, it is gone forever, if we can save samples of it, it can be used for future scientific research and discoveries – who knows how it might be useful in the future?"