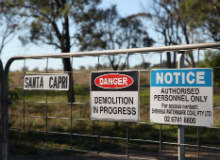 Public opposition for new coal mines in Australia has reached feverish heights. The public's perception of coal mining as dirty and polluting is now directly reflected in the legislative and legal approval process for coal mines, with the time frame it takes to secure approval for a new coal mine nearly more than double what it was ten years ago.
The controversial Watermark coal mine, located in NSW near the fertile Liverpool Plains, is a case in point. Chinese state-owned company Shenhua paid $300m to the former state Labour government for an exploration licence covering 20,000 hectares in the Gunnedah Basin coal field back in 2008.
Seven years later, Shenhua has only just been granted approval by federal government. According to some commentators, Watermark's approval, which is subject to Shenhua adhering to several strict environmental conditions, is likely to be a major election issue.
Environment Minister Greg Hunt has publically pledged to intervene in the mine's lease if certain conditions are not met, and Shenhua has also faced litigation from NSW Environmental Defenders Office and been the subject of political mudslinging by Agriculture Minister Barnaby Joyce who condemns the approval of the mine.
Bogged down in bureaucracy
Many of Australia's politicians have traditionally been very supportive of the coal mining industry because the country is heavily reliant on coal for electricity generation, jobs and revenue – three times as much thermal black coal is exported as is used in Australia.
Despite this, legislation and bureaucracy around coal mine approval has become increasingly complex in line with growing public concerns about the environment.
There are three initial issues mining companies now must consider when seeking approval for a mining lease in Australia. They are: securing state approval, because mineral wealth is owned by individual states, not the commonwealth; securing environmental approval, which is also individual states' responsibility; and planning laws, which are about what should happen in an area and where it should happen.
Beyond this mining companies may also need to consider Native Title Claim, whereby an indigenous group may hold rights and interests in an area of land and/or water according to traditional laws and customs – if the mine affects something that has national significance, for example endangered species and endangered ecosystems, then federal approval is required. Other considerations include water laws, cultural heritage laws and potential litigation from environmental groups or individuals.
---
---
Are the world's biggest iron ore miners intentionally driving down prices to push their rivals out?
---
"While still desirable in some form, the green and red tape in Australia is generally perceived to be over and above what it is in other countries, with duplication and a broader suite of stakeholders considered in decision-making than in many other jurisdictions," says Scott Grimley, EY Oceania Mining & Metals leader.
For example, honing in on NSW, David White, general counsel at Australian-based lawyers Sparke Helmore, says there are two problems with the state's planning approval process – lack of certainty and time period.
At an industry luncheon, White said NSW Minister for Planning, Rob Stokes, said the state government wants to reduce the assessment time for a coal mine from 1,000 days to 500 days. This period refers only from the period when the mining company lodges a development application to the period when the mine gets approval. It doesn't relate to the period it takes to go from applying or having an exploration licence to the mining, which can take longer.
White says another problem in NSW is the misalignment of the Planning Assessment Commission and the Department of Planning in NSW. He points out that there have been a number of cases where the Department of Planning, applying the principles of the Planning Assessment Act, has recommended the approval of a coal mine and the Planning Assessment Commissioned has rejected it.
In most other states if you get a mining approval you don't need additional planning approval because the mining approval overrides the planning approval.
Martin Klapper, partner, resources and energy, at HopgoodGanim says this lengthy mine approval process has resulted in some coal mines that were proposed when coal price was strong two and a half years ago before the downturn, not being in production now.
Public opposition
Once mine decision approvals are made – environmental or planning – public opposition or environmental activism can, and often does, significantly slow down mine lease approval.
This, says Klapper, is because most environmental activism involves the argument that a federal or state government decision that has been made was not made properly.
"Objective public interest groups, and sometimes individuals, argue that some part of the process has not been properly followed and that is part of the administrative law which allows the courts to step in and see if the decision was properly executed," explains Klapper.
If the court decides a decision wasn't properly made, that particular process – which may have taken two years – needs to start all over again.
"Governments are just as much to blame for that as the companies because the government made the wrong decision."
"Governments are just as much to blame for that as the companies because the government made the wrong decision," Klapper says.
"Mining companies, however, can always be proactive to ensure the correct decisions are made and that information made available to the public is clear and concise," says Klapper.
The Watermark mine is currently facing litigation by NSW Environmental Defenders Office on behalf of the Upper Mooki Landcare Group that argue the Planning Assessment Commission failed to assess whether the Shenhua Watermark mine would place a viable local population of koalas at risk of extinction.
Although this form of public opposition is a legitimate process to ensure decisions are made properly and thoroughly to benefit everyone, sometimes it can be used to deliberately stall a mine's approval, experts say.
"While the genuine concerns of host communities should not be underestimated, we are seeing cases where politically motivated activists with global agendas latch on to local concerns to attempt to stop or delay projects," says Grimley.
"Some NGOs are increasingly litigious in their anti-mining activities, which can result in lengthy and expensive legal battles and can cause reputational damage within the wider community.
"Wider stakeholders opposed to invasive mining operations are also starting to gain leverage by combining forces, increasing their visibility and the ability to influence public sentiment. Lock the Gate, a coalition of Australian farmers, traditional landowners, conservationists and local residents, is a good example.
"In such cases, discontent is often multifaceted and deeper than that which is vocalised by stakeholders at the picket line."
What more can miners do?
Grimley points out that social media is becoming an effective weapon by anti-mining and special interest groups and the mining sector has not traditionally taken an interest in what information is disseminated via social media or taken full advantage of using social media to combat misinformation.
In the case of the Watermark mine, for example, there has been much confusion over the proposed location of the mine, with many saying the mine is located on rich agricultural black soil, which the NSW Mining Council dispute, saying the mine is located in the ridge country adjacent to the plains where black soil can be found. The confusion has only exacerbated public and political wrangling over the mine's approval .
---
---
Economic turbulence in China has been laying bare the mining industry's reliance on the country's insatiable demand for resources.
---
"Social media can and should be seen as an effective tool to promote the real value of a project to its host community," Grimley adds.
"Time and time again, it has been proven that early and consistent community engagement and investment is far more valuable to a potential project than a massive increase in spending post-feasibility," he adds.
"I think the mining companies need to stand up and tell the community the things they are doing," adds White.
"The efforts that are being made, the money that is being spent to minimise the emission of carbon dioxide… I don't think they do that.
"They need to endeavour to get politicians to really understand the issue," he adds. "And they [mining companies] need to get the public to be aware of the context of the problem – you can't just turn off the electricity."
Ultimately, however, Klapper says the key to getting your approval through "is planning, adapting and if you find out there is something you have forgotten, deal with it".
For now, Australia's complex approval framework, which is unlikely to be reduced under new Prime Minister Malcolm Turnball, Klapper says will result in only the most cost effective and competitive coal mines getting approved, with more marginal projects coming through when the coal price goes up.