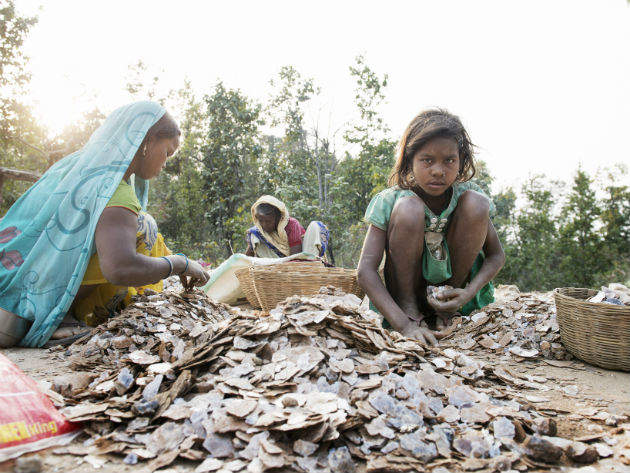 It makes cars sparkle and eyeshadow shimmer. Yet, despite the glamourous hue it produces, how mica is collected is far from seductive.
In 2015 and 2016, separate investigations by The Guardian and Thompson Reuters exposed terrible working conditions and child labour connected with the major mica producing states Bihar, Jharkhand and Rajasthan in North East India, where a quarter of the world's mica is produced.
The Reuters investigation alone found that seven children had been killed in these mines within two months; some of their deaths covered up by the illegal mine operators which paid families for their silence. Further deaths have been recorded by the India-based NGO Save Childhood Movement.
Ninety-percent of mining in this region is illegal and therefore unregulated. Investigations have revealed that, through complex supply chains, mica mined illegally in India, often ends up in the products of common household and luxury brands, including L'Oréal, Estée Lauder, Rimmel, Merck, BMW, Vauxhall and Audi.
The Delhi Mica Sourcing Summit in February 2016 resulted in the Responsible Mica Initiative being formed in January 2017. The initiative is supported by major brands, including Chanel, L'Oreal and Merck, to eradicate child labour in mica mining.
The aim of the initiative is to scale-up on-field solutions to reach a 100% sustainable Indian mica supply chain in five years.
Those involved in the initiative and other NGOs had been calling on the government to legalise the mines to ensure better regulation, standards and control. In May, authorities in Eastern India told Reuters it had begun this process.
Legalising mica: will it work?
According to Jharkhand's mines commissioner, Aboobacker Siddique, the process of legalising the industry will start with authorities selling off dumps of scrap mica, which people were taking illegally. Around 100 have been identified. The government will then focus on auctioning off old mica mines and other reserves for mining.
"It is a great step forward – an opportunity," says executive director of the Responsible Mica Initiative, Fanny Frémont. "Nevertheless, it really depends on how new leases will be granted," she adds.
"It could ensure, for example, that adults are earning fair wages and are able to work in safe and healthy conditions."
Legalising and organising the mines, along with strict lease conditions, could facilitate the implementation of good practices and control systems.
"It could ensure, for example, that adults are earning fair wages and are able to work in safe and healthy conditions; they would have the opportunity to improve their living conditions so the children could go to school instead of working in the mines," explains Frémont.
The government has been working to tackle child labour in the region since 2005, including conducting a public awareness campaign, and has rescued around 250 children. But it has failed to stamp out the problem in all communities.
A will from government
Frémont, however, does see a will from the government to tackle the issues, particularly as mica is an important economic activity for the country.
Although legalising the mines is a decisive step, the full extent of the positive impact it can have is dependent on how it is conducted and managed. Detailed information about the process has not yet been revealed.
Frémont and others will be working to make sure mica-dependent communities benefit from legalisation.
"Our main concern is to make sure communities are not left out of these new systems as they are fully dependent on mica mining," she says.
But alongside legalisation, the government needs to make sure there are schools and teachers, access to the necessary infrastructure, such as water, and that government developmental schemes are available for communities, which is currently not always the case.
"In a way, the root causes for child labour – extreme poverty and lack of education – need to be addressed as well," she adds.
Companies must act
It is always difficult – but by no means impossible – for companies and manufacturers to ensure their supply chain is 'clean' and that they are not indirectly fuelling child labour and other human rights abuses.
The mica supply chain can be long and complex. 70% of mica out of India comes from illegal mines in the north-east region. The commodity will pass through a succession of middle men who buy bags of mica at bargain prices. This is usually a maximum of INR25 (40 cents) per kilogram; however, top quality mica sells for up to $2,000 per kilogram, according to USGS data. It is then refined in India and exported.
99% of this mica goes directly to China where it is introduced into different industries and ends up in European, American and Asian products.
As well as make-up and paint, mica is also used for plastics and printing, for electrical insulation of cables, as a filler for fibre and cement and in tires and brake pads, among other things.
Getting on board
Cosmetics companies and ingredient manufacturers have been working alongside the government for the last decade to clean up their supply chain, with some success.
However, this industry is only responsible for a very small part of mica's use and the automotive and electronic industries make up the majority. Having these sectors on board would make a huge difference, says Frémont.
"Together, Kuncai and Merck import 25% of the mica exported from Jharkhand/Bihar."
The world's largest manufacturers of natural mica pearlescent pigments are the German company Merck and the Chinese company Kuncai. Together, Kuncai and Merck import 25% of the mica exported from Jharkhand/Bihar. Manufacturers of pearlescent pigments account for at least 60% of the mica imports from Jharkhand/Bihar.
Axalta, a leading car paint manufacturer and distributer, told The Guardian it sources mica from Kuncai but that its suppliers are prohibited from using forced labour.
In turn, Kuncai told the paper that its suppliers must sign a contract agreeing that no children work in factories or mines. But as investigations have revealed this is not always upheld.
Success stories
There has been some progress. Indian NGO, Save Childhood Movement, also known as Bachpan Bachao Andolan (BBA), has successfully implemented its 'child-friendly' initiative in around a third of the 300 villages where child labour has occurred.
Netherlands-based NGO, SOMO, states in its 2016 report that in cities that process the mica to export quality there is no evidence of child labour in part due to government inspections and efforts by companies, such as Merck, to build schools and health clinics. Merck also changed its practises to source from only legal, controlled mica mines.
Some corporations, such as British cosmetics company Lush, which prides itself on its handmade products and ethical trading, have stopped using natural mica altogether.
But Frémont says, categorically, this is the wrong approach.
"Corporations need to keep buying mica from India, but instead work to improve the supply chain; the government cannot change things alone," she says, adding, "Every institution is part of the solution to achieving long and lasting change together.
"They need to gather to share expertise and experiences, protection plans, to set common high standards for the supply chain and they will then have a positive impact on the communities and the environment."