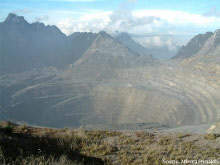 Ecuador's congress has approved a new mining law to boost investments in the sector, a move that comes just days after Canadian firm Kinross Gold abandoned its $1.2bn gold project over a 70% windfall tax issue.
The new law is also aimed at reducing the country's dependency on oil production.
The move has eased investment conditions, with royalties now set to the minimum levels and the 70% windfall tax on sales only implemented when mining companies completely recover their investments, reports Reuters.
Freeport-McMoRan Copper & Gold has resumed operations at its Grasberg mine complex in Indonesia, which was shutdown following a tunnel collapse that killed 28 people.
Operations were suspended at the complex on May 14 when a nearby underground training facility collapsed.
Open pit mining and concentrating activities have now resumed at the complex, following government approval and the completion of investigation by state officials.
Centerra Gold" height="70″ src="https://www.mining-technology.com/wp-content/uploads/static-progressive/June_Mining_top_3.jpg" style="padding: 8px" title="Centerra Gold" width="70″ />
Toronto-headquartered Centerra Gold has resumed operations at its Kumtor mine in Kyrgystan following days of blockades by protesting villagers who want a larger share of the profits.
On 28 May, more than 1,000 villagers blocked the road leading to the Kumtor mine and cut power supplies, which prompted the government to declare a state of emergency around the mine, located in the Dzhety Oguz district in the northern Issyk Kul region.
Clashes broke out between the protestors and police, leaving at least 50 injured and an estimated $4m in damages.
BHP Billiton has agreed to sell a 15% stake in Jimblebar iron ore mine in Western Australia to two Japanese trading firms for about $1.5bn.
Itochu will acquire an eight percent stake for $800m, while Mitsui will pay $700m for a seven percent interest.
The Jimblebar mining hub and resource, which is wholly owned by BHP, is located in Western Australia's Pilbara region, which is known for soil rich in iron.
Thousands of protestors have congregated at a lake in the Andes, demanding Minera Yanacocha, a subsidiary of Newmont Mining, shut the $5bn Minas Conga copper and gold mine in the Cajamarca area of northern Peru.
The farmers, who marched towards El Peral Lake, demanded that the work on the Conga project, including construction of water reservoirs, be halted immediately.
The locals fear that the project will ruin the El Petrol lake and other water sources, which are used for drinking and farming purposes, allegations which the company has denied.
Indian business conglomerate GVK has secured environmental approval from the Coordinator-General for its $4.2bn Kevin's Corner mine project at Galilee Basin in western Queensland, Australia.
The Kevin's Corner project, the company's second coal mine project in Australia, proposes a 30 million tonnes per annum (MTPA) underground and open-cut coal mine, plus other associated infrastructure 65km north-west of the Alpha township.
The mine would consist of two open-cut mine areas, three underground mine areas, coal handling and preparation facilities, mine waste and water facilities, along with mine infrastructure and industrial areas.
Rio Tinto" height="70″ src="https://www.mining-technology.com/wp-content/uploads/static-progressive/June_Mining_top_7.jpg" style="padding: 8px" title="Rio Tinto" width="70″ />
Mining major Rio Tinto has signed a binding agreement with Toronto-based Lundin Mining to sell its Eagle nickel and copper mine project in northern Michigan, US, for $325m.
According to the terms of the agreement, Lundin will pay $250m for the site and another $75m for construction before closing the deal.
The Eagle project, which was discovered by Rio in 2002, is located in Michigan's Upper Peninsula.
Mitsubishi has suspended its $5.9bn Oakagee Port and Rail iron ore project in Western Australia due to tough ongoing market conditions.
The project had been touted as vital for establishing Western Australia's remote Mid West region as the new global iron ore export destination.
In February 2012, Mitsubishi invested $312m to acquire full control of the venture, but by November, in an attempt to cut down costs following a slump in iron ore prices and demand from China, it had to scale down work and cut jobs.

Related content
---
Caterpillar is introducing Seeing Machines' Fatigue Monitoring System to mining vehicle operators, in an attempt to reduce accidents related to tiredness in the industry.
As China ordered all coal mines in Sichuan to halt production after a blast at Taozigou mine killed 28 people, Kenya's announcement that it will tax the transfer of assets in the mining sector was welcomed by the African Progress Panel.
---