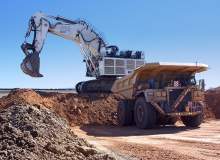 In May, Global commodities trader Glencore International announced the completion of its long-awaited multibillion dollar merger with Xstrata, to form one of the world's biggest mining companies.
The completion of the merger was originally proposed in February 2012, but has been delayed several times, primarily due to concerns about the combined entity's influence on global commodity markets.
The final hurdle was cleared last month upon receiving approval from China's antitrust authority.
In exchange, Glencore agreed to sell its $5.2bn stake in Xstrata's Peruvian copper mine Las Bambas, to a buyer approved by the Ministry of Commerce of the People's Republic of China (MOFCOM) before 30 September 2014.

Also this month, China ordered the suspension of production at all coal mines in the south-western province of Sichuan, following a blast at the Taozigou coal mine in Luzhou that left 28 dead and 18 others injured.
The State Administration of Work Safety said in a statement that production at all coal mines across the province should be halted with immediate effect for complete overhaul and checks.
Sichuan plans to close operations at 500 small coal mines by the end of 2013.
The gas explosion occurred on 11 May, with a total of 108 miners working underground at the time of the accident.
Initial investigations indicate illegal mining caused the blast, which the state-run Xinhua news agency reported.

Kenya's announcement that it will tax the transfer of assets in the mining sector has been welcomed by the Africa Progress Panel (APP), an influential international policy think tank.
In a report entitled "Equity in Extractives: Stewarding Africa's natural resources for all", the APP explains that international tax avoidance and evasion, corruption and weak governance in many African countries means that natural resource revenues are widening the gap between rich and poor.
The panel said in a statement: "The Africa Progress Panel is convinced that Africa can better manage its vast natural resource wealth to improve the lives of the region's people by setting out bold national agendas for strengthening transparency and accountability."
Under the new law, a withholding tax of ten percent will be imposed on gross value of shares or property transferred for the resident taxpayer, and 20% if the seller is a non-resident.

A recent decision by the New South Wales (NSW) Land and Environment Court to suspend Rio Tinto's plan to expand its Mount Thorley Warkworth coal mine will put 150 more projects at risk, the mining giant's energy chief has warned.
Overturning the approval for the project will have wider-ranging consequences affecting all major new investment projects and the existing mine projects that are awaiting approvals to continue operations in NSW, Harry Kenyon-Slaney wrote in The Australian.
The court overturned the state government's approval for the expansion of the project, owned by Rio's subsidiary Coal & Allied, in April, citing environmental and social concerns.

Quantum Pacific Investment, a private equity firm based in Hong Kong, has outlined plans to regain a controlling stake in a troubled $5bn copper and gold project in East Java, Indonesia, on behalf of former owner Intrepid Mines.
Intrepid Mines, in which Quantum holds a 5.4% interest, lost its 80% stake in Tujuh Bukit deposit in July 2012 after its shares collapsed.
In 2008, Intrepid entered into an agreement with Indonesia's PT Indo Multi Niaga for stake in the deposit. However, Indo Multi was sold to a new owner in 2012, which transferred the mining license of the project to a separate entity, dishonouring the deal with Intrepid, reports Bloomberg.
Quantum Pacific Investment managing director Greg Mazur said in a press conference that the company has held discussions with the deposit's new owner, Edwin Soeryadjaya, in order to resolve the dispute.
Just weeks after finalising a merger deal, GlencoreXstrata announced plans to downsize its workforce by almost 20% and cut production by five percent at its Mount Owen open-cast mine in Australia, due to tough trading conditions in the country.
Construction, Forestry, Mining and Energy Union district president Peter Jordan told The Herald that challenging market conditions and rising production costs have had a huge negative impact on the Mount Owen mine.
Around 55 mineworker positions, six tradespeople and 12 contractors had been earmarked to lose their jobs.
Freeport-McMoRan's Copper & Gold" height="70″ src="https://www.mining-technology.com/wp-content/uploads/static-progressive/May_Mining_top_7.jpg" style="padding: 8px" width="70″ />
Freeport-McMoRan's Copper & Gold (FMCG) is expected to resume open-pit mining at the Big Gossan copper mine in Indonesia after it was shut down following a tunnel collapse that killed 28 people.
Between 35% and 40% of workers returned to the mine on May 27 to carry out maintenance work, reported Reuters.
A union official said that the resumption of work was a possible sign that the firm was planning to restart mining operations at the world's second largest copper mine.
Work was halted at the Big Gossan mine, located close to Freeport's Grasberg mine, on May 15, one day after a training tunnel fell in on 38 workers.
The suspension has cost Freeport an estimated $15m a day in lost production.

Caterpillar Global Mining has signed an exclusive agreement with Seeing Machines, a technology company with a focus on vision-based human machine interfaces, to roll out a fatigue monitoring system in mining machines.
Under the deal, Caterpillar will deploy the systems in 40,000 mining trucks around the world.
Based on the patented eye tracking technology, the system uses sensors to detect if a driver is distracted or falling asleep while driving.
The sensors do not require re-calibration between different drivers and monitors head alignment for any potential distraction of the driver while also analysing eye behaviour.