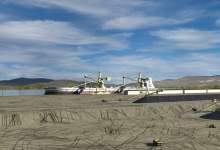 US-based software vendor Bentley Systems spent two years collaborating with major South African-based miners Anglo American Platinum Limited, AngloGold Ashanti Limited, Lonmin Plc and Royal Bafokeng Platinum to develop its new MineCycle applications – MineCycle Designer and MineCycle Survey. The collaboration represented a significant commitment from both Bentley and the miners to find solutions for a number of mine design challenges.
MineCycle Designer, which was also developed as part of a collaboration with Cyest Technology, and MineCycle Survey work together to greatly accelerate mine planning and mine survey iterations. According to Bentley, the software solution replaced traditional processes, which often took months, with limited scope to consider alternatives.
The syndicate companies are currently using the commercially available technology, launched in November 2014, for the first time. Senior Marketing Manager for Mining, Victor Alvarez, tells us more.
Heidi Vella-Starr (HVS): How did the collaboration come about?
Victor Alvarez(VA): The idea began with one of our operators in South Africa, Anglo Gold Platinum, who were working with Cyest Technology as well as Bentley.
They couldn't quite put their finger on it but they said 'You guys seem to have synergistic technology; you should really be talking to each other.' When Bentley and Cyest Technology sat down they both shared the same vision of where they wanted to take mine planning. So that collaboration began with that introduction.
The syndicate development approach happened because as a software developer we are very keen on making sure we bring products to the market that really solve key pains for industry, and really give them quantitative steps forward in productivity and efficiency. So it made sense to us that we bring in the owner operators and so forth. We invited them to go on this journey with us. We kind of explained to them what was possible and asked for their guidance so that when we got to the solution and delivered it, it would be immediately useful for them.
HVS: How does the syndicate work exactly?
---
---
Hudbay's $1.7bn Constancia Project, 4,100m above sea level in the Peruvian Andes, has faced many development challenges .
---
VA: The companies have a commitment to purchase and use the product when it is developed and realised. That is a modest commitment for them. Throughout the two-year development process there were periodic meetings from our syndicate members coming together sitting round a table and saying 'here is what we are thinking', exchanging ideas, and so forth.
We are committed to bring this product to market. So it's a win-win really because the industry syndicate members, for a modest commitment, have an opportunity to directly influence and help us define what the solution will be. From a Bentley perspective it mitigates the risk that we don't bring the right capabilities to market.
HVS: What challenges were faced when developing the technology?
VA: One of the challenges, if you want to call it that, was working with our syndicate members and helping them to understand there was a different way of doing things. The sequential and somewhat manual process of planning had been used for decades and this was something different. There was a bit of time where it took some effort to help them free themselves of that. Then at least start to be open to this idea so they could be open and excited about it. You see this in all types of industries.
As a software vendor we see it as our job to innovate. We try to understand what the industry is facing and what their challenges are and take a step back and really try and think differently about things to bring that solution and see if it works.
HVS: How does the software provide agility in relation to the commodities markets?
VA: As you design a mine there are lots of variables, so ultimately your profitability depends on where you are mining at a specific moment and what the market conditions are. There is no one specific way to design or operate your mine, there are an infinite amount of possibilities. What we can now do with this increased agility is to look at today's commodity price and what might be favourable.
You can optimise in several ways; one is to say, with today's conditions what would be the best mine design to do? You could work that out, but you know things aren't going to be the same today as they are tomorrow, things change. So you can look at a range of options and scenarios and say, if the commodity prices drops – is this design the best option, is it as robust to fluctuation in commodity price as this other design? Then you can start looking at a portfolio of options and pick the best for today's conditions, but if I look at all the future possible outcomes I am actually going to pick this design which might be less profitable than today's optimal, but it will be more robust and give me a greater chance of remaining profitable considering the range of uncertainties I am looking at. The commodity price is just one variable.
"A smaller mine is still going to need to plan and is still going to face business and economic pressures."
But now you have a plan to move forward with but you also have this agility, which, should anything change, you can go back to the planning process. You can do this continuously to change your operation plan to go in a different direction.
We really set out to design a solution that could go from taking measurements off an instrument and converting that to actionable survey intelligence to go directly in to the planning process, because if you don't have survey data coming in you are agile, but you don't have today's best available data.
HVS: Is the software based on a mining approach particular to South Africa?
VA: The first iteration of MineCyle is based on the Narrow Tabular mining approach. This is the mining approach that is very prevalent in South Africa and where our syndicate members are primarily located. The inception of the Cyest Technology was centred on a user in South Africa. Cyest Technology has a big presence in South Africa.
When we developed the syndicate it was useful because it was convenient for us to pull together users in Johannesburg, but really what we have done is consolidated planning with acceleration and Optioneering to provide planning agility – that framework and concept is independent of the mining method. So now we have the Narrow Tabular mining capability realised we are already engaging with other mining owner/ operators who run surface mines and different types of underground mines and we will be adding these capabilities through syndicates as well.
HVS: Is this type of software aimed at the major mining companies or is it also beneficial for the juniors?
VA: MineCycle Designer and Mine Cycle Survey are really focused on owner/operator companies. Mine Cycle Designer is focused on the mine planning and MineCycle Survey is about helping getting the status of the mine rapidly understood and disseminated into the enterprise.
MineCycle Designer can run seamlessly in one environment. It doesn't really require a particular size of operation; in any type of mine you are going to be planning, and can benefit from this approach due to the acceleration that consolidated environment provides you.
---
---
Could an international safety regime help bring automation into wider use in the industry?
---
A smaller mine is still going to need to plan and is still going to face business and economic pressures to run their businesses most profitably. Importantly, big or small, you are still under the same market dynamics – price fluctuations, unexpected events – so it is all about agility. Whether you are small or big you are still going to want agility to adjust those operations quickly to keep yourself at the optimal end of your operations possibilities.
HVS: What is the next step for the new software applications?
VA: We launched these products in November and that is our first step into commerciality. We have a lot of confidence because these owners and operators have not only been with us on the journey, they are saying 'Yes, this is what we wanted' and the next step for them is to implement them into their operations. We expect in four to six months they will have exercised it into their routine operations and we look forward to sharing what they find. Already they have been using it in a data development type of environment against their common workflows.