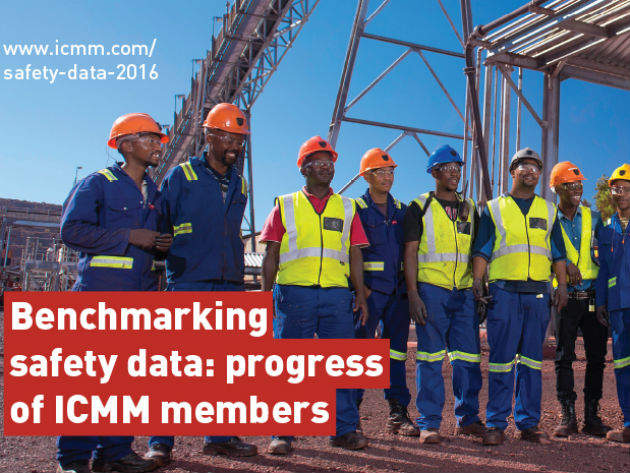 The International Council on Mining and Metals (ICMM) has released its fourth Mining Safety report, detailing the diminishing number of injuries within its 23 member companies made in 2016. The report collated information about 900,000 people worldwide, for the first time providing information specific to areas.
Despite there being 2,049 fewer injuries compared with 2015, fatalities increased last year by three. In particular, South Africa, Chile and the Democratic Republic of Congo experienced the most deaths, comprising almost half of last year's total. For an organisation aiming to achieve zero mining fatalities, this is seemingly a step backwards.
ICMM's health, safety and product stewardship manager Mark Holmes explains the key risks, and why some countries fare better than others on safety.
Molly Lempriere: Could you talk me through the key findings of the new report?
Mark Holmes: Collectively within ICMM membership, there has been an increase in the number of fatalities that have occurred across the companies from 60 in 2015 to 63 in 2016. This is amidst the background of the total number of hours worked dropping by 11%.
The total number of injuries recorded by companies has actually dropped over the last two years by around 19.5%; in 2015 we recorded 10,494 and in 2016 it was 8,445.
This report was different from our previous reports because we've provided a bit more granularity and a bit more information behind the numbers. What we've produced this year is a breakdown of what the hazards linked to the fatalities were, and the actual countries where they happened. As well as a breakdown of the hours worked per continent, and the fatalities for that continent. This allows the reader to see how we calculated the numbers behind the fatality rates in the different areas around the world.
What we continued to do this year, building on previous years, was provide a breakdown of all the ICMM companies that provided the information.
It all adds up and you can see that all the information is there. We're trying to be as transparent as possible in terms of the information that we're able to provide.
ML: What were the reasons for the increased fatalities last year?
MH: There were two large causes of fatalities, issues of fall-of-ground was one, which includes underground fall-of-ground events and slope failures. The second is a combination of incidents involving mobile equipment and issues around transportation.
"The total number of injuries recorded by companies has actually dropped over the last two years by around 19.5%; in 2015 we recorded 10,494 and in 2016 it was 8,445."
These are the sort of areas that we've identified and want to focus on further in our work and the way we interact with our members. This will be in terms of how much sharing we do and trying to enhance that sharing.
ML: Do you think the commodities downturn could have had any effect upon safety in the last year?
MH: Essentially safety continues to be the top priority of all of our member companies. A lot of resources and a lot of time go into how companies manage risks, health and safety.
As ICMM we've developed guidance around critical control management which we wouldn't have been able to do without our member companies' input and support. This is the sort of work that companies are now trying to implement, something that's relatively difficult, time-consuming and resource-intensive as well.
ML: Why do you think there was such a large proportion of fatalities in South Africa in particular?
MH: South Africa has a larger proportion of deep-underground mining than many of the others, and that has issues associated specifically with it.
A lot of companies in that area, especially in South Africa, are actively continuing to look at improvements, working together across the industry, and embracing ICMM's principles around continual improvement in safety.
The high fatality rate is something I think they are going to have to continue to look at and something that as ICMM we'll be looking to support as well.
ML: What will ICMM be doing over the coming year to tackle safety concerns?
MH: ICMM companies sign up to a set of ten principles, and number five is related to health and safety, focused around continual improvement and a drive to zero harm.
Over the last few years ICMM has been focusing on a continued to drive towards zero harm, through our focus on critical control management. We have produced a few guidance documents on it and it's something that we're seeing companies taking up and implementing, all with the view of driving down fatalities and injuries within the industry when linked to the issues of safety.
It can also be equally applied to areas to do with health as well.
ML: Do you think the industry has been more effective in terms of injuries than fatalities then?
MH: In terms of our data, it does show that there has been an increase in fatalities and a decrease in injuries.
There is some thinking that the link between driving down injuries may not necessarily be closely linked to the number of fatalities there have been within an operation. The conditions around which a fatality may occur may be different to those of slips, trips and falls and those lower level consequence injuries.
So, some of the thinking originally was if you drive down the number of injuries then you drive down the number of fatalities. But the numbers that we're seeing suggest that might not be so directly correlated. Instead there continues to be a more direct need to focus on fatality reduction, as well as injury reduction as part of a greater approach to operational risk management.
ML: Mines are becoming increasingly automated, and there is a lot of talk about how that will impact safety. Are you expecting increased safety to coincide with increased automation?
MH: It's possible, and I think that's definitely something that is on people's minds in terms of automation. You'd assume there would be an improvement in safety looking at the instances that typically happen on mine sites now, because you're essentially moving people away from that area of hazard by having automated vehicles for example.
But that doesn't mean that there aren't some other unknown events or situations that may actually be hazardous. Having automated vehicles may cause other issues that we're currently unaware of. You have to be careful in terms of risk management around those sorts of areas of intent and consequences.
Looking at the numbers now, considering that one of the areas with the highest numbers of fatalities in the mining industry is mobile equipment and transportation, automation could potentially provide an avenue for increased safety performance there.