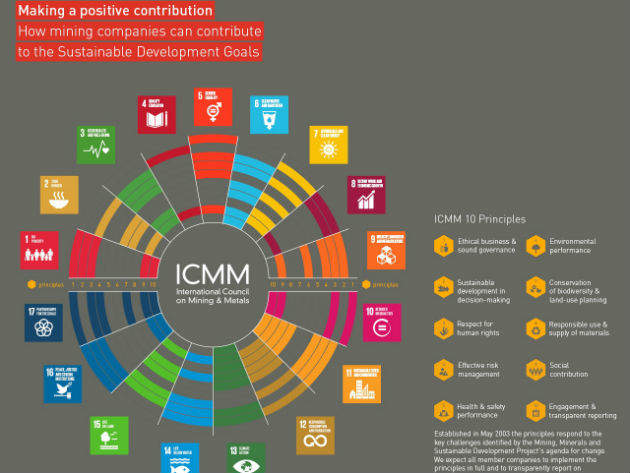 The International Council of Mining and Metals (ICMM) launched its ten principles for sustainable mining over ten years ago, to help encourage and inform its members about working towards greater sector sustainability. Sustainable development is that which meets both the needs of the present and that of future generations. As such, sustainable mining is paramount to the continued viability of the extractive and energy industries globally.
To provide similar instructions and promote sustainable development across industries, the United Nations (UN) has released its own Sustainable Development Goals (SDGs). Coming into force on 1 January 2016, this set of 17 aims applies to all nations and is designed to educate individuals and organisations so they can continue to develop without causing long-term damage to the environment, economic growth or people.
The end goal?
The 17 SDGs are a key aspect of the UN's 2030 Agenda for Sustainable Development to "end poverty, protect the planet, and ensure prosperity for all". Already ICMM's members have come a long way by following their own ten principles, moving them towards more sustainable practices.
"When [the ICMM principles] were created they were aspirational statements without any great sense of how you actually get to achieve these," says ICMM's chief operating officer Aidan Davy. "I think in the intervening period the ICMM members collectively have moved to build out the good practice guidance that helps deliver on the public promise of principles."
Bringing these established principles together with the UN's much newer SDGs will make them more relatable, Davy argues. "This is a really good example of where the industry has an extraordinary potential to contribute," he says. "But it is also quite important that there is some form of road map, to help the industry understand what quite a complex set of goals and targets is at face value."
Given the complexity of the 17 goals and 159 targets outlined by the UN, ICMM is keen to demonstrate how these relate to "what has been a more familiar sustainable development conversation". As such an infographic was created by ICMM and tested out on the United Nations Development Programme (UNDP) to create an easy reference for the mining industry.
However, ICMM is aware of the mining industry's necessary limitations in promoting change, as Davy explains. "I think one really important point of context is around where the locus of responsibility for delivery on the SDGs primarily lies," he says.
ICMM encourages sustainable mining but it has a specific role to play. "[There is] a very strong analogy here with the UN guiding principles on business and human rights, where the primary responsibility of the state is to protect and promote human rights whereas the primary responsibility of business is to respect human rights," Davy says.
The mining industry has the scope to influence sustainable developments around the world. But while companies should embrace this opportunity, ICMM recognises that for a mining company there are a host of focuses, from potential profit to the workforce, of which maintaining sustainable development is only one important part. Davy clarifies that it is companies' responsibility "in other words, not to cause harm to the lives of people that are potentially effected by business activity in any sector".
Challenges still to come
While there are many areas in which the mining industry can make a positive difference to sustainable development, there are challenges, too. Ensuring a mine is built, run and decommissioned in a sustainable manner is an expensive and complex task. Many aspects of taking a sustainable approach are optional for mining companies, and it is often easier not to pursue them.
Mining has had a particularly ugly reputation environmentally, not to mention historic entanglements with conflict and human rights. This is a reputation which undoubtedly will take time to reverse, especially as mines today still create environmental upheaval. From 1930 to 2000 coal mining in the US alone altered 2.4 million hectares (5.9 million acres) of land. An estimate in China in 2004 suggested that the 3.2 million hectares of land that had been degraded by coal mining was being restored at a rate of just 10-12%.
"From 1930 to 2000 coal mining in the US alone altered 2.4 million hectares (5.9 million acres) of land."
Environmental concerns play a key role in both ICMM's principles and the UN's SDGs. Companies are encouraged to "implement an environmental management system of continual improvement to review, prevent, mitigate or ameliorate adverse environmental impacts" according to the ICMM principles. This works alongside land rehabilitation and conservation of biodiversity around mines. This is particularly relevant to coal mining as the world moves away from thermal energy towards renewable sources such as wind and solar, prompting large-scale closures of mines and power plants.
In the UK the last deep coal mine shut in 2015 and the government has promised that the last coal power plant will shut by 2025. The consistent decline in the demand for coal may bring about a challenge to the sustainable development of an unsustainable fuel. With a short operating life, is it worth the economic investment of running a sustainable mine? Davy highlights that this problem will have its "base around how rapid the transition from coal will be, particularly in those countries that rely critically upon it as a domestic energy source as opposed to a source of export earnings".
A further challenge comes from ICMM's limitations as a small organisation with large goals. "We're a small organisation of 23 staff here in London and our members operate in 58 countries and have about 900 operations," Davy says.
Thus enforcing the council's principles can be difficult as it simply lacks the breadth. "We firstly acknowledge that we don't have the reach and the capacity to do it ourselves," Davy says. "But what we have put in place is an assurance approach whereby all our member companies are required to report in line with the global reporting initiatives and sustainability reporting guidelines."
Sustaining SDGs
Sustainable development fundamentally must have longevity; it must evolve and expand to maintain resources for generations to come. ICMM is continuing to promote SDGs both to its current members and to the mining industry at large, reflecting the spirit of the UN's 17th SDG to forge sustainable development partnerships.
This is at the core of both the UN's and ICMM's plan to move forward, promoting collaboration with governments, NGOs and companies within the industry. As Davy asserts, "companies, in concert with either host governments or civil society organisations, have a potentially powerful contribution to make."
Partnerships are something ICMM notes are already underway, and have been building since 2003. "We have seen really fine examples of companies collaborating both with government authorities and non-governmental organisations in a way that really helps deliver on either a self-need perhaps in terms of social-economic infrastructure, or provided an environmental or social good in terms of water or bio-diversity," Davy says.
"With 35 international commodity associations and national mining associations now members of the ICMM, their reach extends to more than 1500 companies."
Despite the size of the ICMM, it has a worldwide influence, and is continuing to promote SDGs actively. This has been one of the aims of ICMM from the very beginning, as Davy confirms.
"One of the things that has always been part of our reason for existing is not just to have a positive influence on the companies that we working intimately with, but also to have a broader influence on the industry as a whole." This is enabled by ICMM's far-reaching network; with 35 international commodity associations and national mining associations now members of the ICMM, its reach extends to more than 1500 companies.
ICMM has asserted that it will not rest on its laurels, and instead intends to become ever more vocal about sustainable development. "We also try and get out there and speak in public forums to try and promote the thinking that underpins what our members connect to," Davy explains. "But it's fair to say that our ability to influence is something that we do, and think quite a great deal about, and I think you will see more of a focus from us in this next year around engagement and outreach".
Sustainable development is essential for the mining industry to ensure resources are not exhausted. The search for finite resources has destroyed environments and abused communities in order to obtain the necessary building blocks for modern society. But as global pressure increases to pursue a sustainable approach, the work of the ICMM and the UN is building a clearer path towards making this achievable.