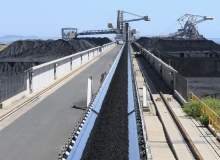 Conveyor systems are a vital and vulnerable element of many mining operations. The carrying of extracted materials from A to B on a conveyor belt might seem like the kind of simple job that wouldn't require much scrutiny, but with many conveyor systems spanning several kilometres through inaccessible and environmentally harsh conditions, keeping a close eye on the day-to-day operation of this vital cog in the mining machine is a more involved undertaking than many might expect.
And the stakes for failure are high – if an improperly maintained conveyor system has to be shut down for repairs, it can result in the suspension of an entire operation, potentially costing millions in lost earnings, especially if problems persist over time. In the past (and to a certain extent, to this day) miners have tended to overlook conveyor belts until a problem crops up, with other maintenance functions taking higher priority.
As video surveillance tech, analytic software and radio frequency identification (RFID) tracking continue to grow in sophistication and shrink in price, miners are getting the opportunity to monitor their conveyor systems in a more comprehensive way, helping to identify small faults before they turn into production-stalling problems.
One such monitoring system is Honeywell Process Solutions' Belt Asset Inspection System (BeltAIS), which, according to the company, offers miners a more holistic approach to conveyor belt maintenance using advanced imaging technology. Honeywell's principal consultant for mining, minerals and metals Neil Freeman gives the low-down on conveyor belt monitoring and the new system, which was introduced to the market in the summer of 2013.
Chris Lo: Could you start by giving some background on when the BeltAIS system was first developed, and how the product suite has expanded since then?
Neil Freeman: Honeywell began working on the Belt Asset Inspection System after consultation with customers and feedback we had received about the need for a complete view of an entire conveyor system. The overwhelming feedback was that there was no single solution to solve all problems they had experienced with conveyors. Hence we took a holistic view to provide a solution that enables coordination of multiple measurement systems and reporting. Honeywell had a number of existing technologies already in use, which were combined with further developments for unique measurements. The first of these is the Cover Defect Monitoring solution, which is being expanded to include Idler Monitoring and Belt Wear Monitoring solutions.
---
---
Deloitte's global mining leader Phil Hopwood on resource nationalism, the mines of the future and why collaboration is key. .
---
CL: What tend to be the most common problems involved with monitoring and maintaining conveyor systems in the mining industry?
NF: In a mining environment, conveyor systems are often spread across vast distances in some of the harshest environmental conditions. They can stretch for kilometres in remote locations that aren't easily accessible by foot. The real challenge is monitoring all of the components – such as the belt, idlers and pulleys – despite the geographic and harsh environments. This means that routine monitoring and maintenance can become low-priority, and that repairs are only conducted when a belt fails, potentially leading to significant production losses. The ability to monitor a conveyor system remotely and with accuracy becomes incredibly important, which is where BeltAIS fits in.
CL: Was BeltAIS developed as a direct response to these challenges?
NF: We certainly identified needs based on these challenges and discussions with our customers. The technology for our Cover Defect Monitoring solution, however, came from an existing product we have provided to customers in pulp and paper manufacturing. In this industry, the same camera-based solution monitors for defects in the paper-making process, where locations of tears and other defects can be narrowed down to a few centimetres. In mining, the system offers metre by metre analysis for monitoring defects along a conveyor belt, allowing operators to pinpoint the precise location of a fault for more effective maintenance and repairs.
CL: What are the financial and operational benefits of keeping a close watch on the day-to-day running of mine conveyor systems?
NF: Effective and better-planned maintenance can significantly improve the total cost of ownership of a conveyor belt system. Not only can a solution like BeltAIS flag any issues and need for repairs, it also allows an operator to automate monitoring and schedule maintenance on an as-needed basis. For example, after several months of monitoring using a tool like BeltAIS, it may be that monitoring schedules can be reduced from monthly to quarterly if the wear and tear on a belt is not significant.
"We've worked with organisations where conveyor outages have accounted for up to 50% of their unscheduled disruptions."
CL: What's the worst-case scenario for an operation that fails to properly maintain its conveyor system?
NF: We've worked with organisations where conveyor outages have accounted for up to 50% of their unscheduled disruptions, making it imperative that conveyors operate efficiently and at maximum availability. Without ongoing maintenance, belt failures can result in the shutdown of entire operations for a period of time, with downtime leading to significant production losses that can mount to hundreds of thousands of dollars.
For example, one company in Latin America runs a conveyor belt down a mountain and through tunnels. At one point, they lost a belt and the tunnel filled up, to the point where it took a week for them to clear it out again. This significantly impacted their production capabilities.
CL: How does BeltAIS encourage a 'holistic approach' to conveyor belt monitoring?
NF: For Honeywell, a holistic approach offers an operator the ability to get a complete picture of their conveyor belt operations. Previously, vendors have offered 'point' solutions that provide information about certain areas of the conveyor system. However, these systems rarely have offered the ability to assist in prioritisation or have integrated with other point solutions for more effective operations. BeltAIS offers operators the capability to detect, monitor and report on all elements of the conveyor belt, including information from other monitoring solutions. With better visibility into the health of conveyor equipment, maintenance predictability can be improved and even labour costs reduced, with staff able to address more critical maintenance issues.
CL: What are the recurrent faults that commonly lead to conveyor failure?
NF: Often small problems such as tears or splice problems can, if left unchecked, develop into large problems. The Cover Defect Solution enables these to be pinpointed and monitored in real-time, providing the basis for effective maintenance scheduling to prevent conveyor downtime.
---
---
What does the labour market in the global mining industry look like in 2014?
---
CL: What is BeltAIS's process for detecting, analysing and flagging up faults, and what technologies does it employ in this process?
NF: The Cover Defect Monitoring solution uses sophisticated video analytics to monitor the surface of the conveyor belt in real time. A number of different algorithms evaluate this for surface anomalies. The result of this is correlated against the distance along the belt from a start position using an embedded RFID tag. The result is a metre by metre heat map of the belt with problem areas being highlighted in red. The images of the defective areas are stored. Then for any particular revolution of the belt these sections of the belt can be reviewed to determine the maintenance requirements.
Successive belt revolutions can be compared and the comparative health of sections evaluated to determine the rate at which problems are getting worse. There are comprehensive reporting capabilities to review images or comparative health indices by date, belt revolution or by belt section among others. This is further enhanced with a pseudo 3D image capability that can be rotated to further evaluate the extent of the problem.
Alarms for defects can be viewed through the plant SCADA [supervisory control and data acquisition] or control system and of course this is fully integrated into the Honeywell Experion DCS [distributed control system].
CL: How has the system been designed to withstand the rigours of operating in a mine's hot, dusty environment?
NF: The camera of our Cover Defect Monitoring system is rated to IP65 and can withstand temperatures up to 100 degrees Celsius using an air-cooling system. It has an air window at the front so you can pulse air or water across it to keep it cool and clean, meaning minimum maintenance is required.
"In a mining environment, conveyor systems are often spread across vast distances in some of the harshest environmental conditions."
CL: How widespread is the use of BeltAIS in the mining industry?
NF: We launched this technology last year so while uptake since then has been quite strong, we're still working with a number of miners to assess how this solution might best meet their needs. There's a lot of interest from the industry in this product as a solution to minimise maintenance costs and improve a company's bottom line.
CL: How are you planning to improve Honeywell's mine maintenance systems in the future?
NF: Our vision for the future is to have a fully integrated maintenance system covering the mine and plant operations. All of the components are now in place to be able to achieve this vision with Mobile Equipment Monitor for mobile equipment, BeltAIS for conveyors and Asset Manager for the rest of the fixed plant equipment. A number of our customers are already implementing these to lower their maintenance costs and reduce process upsets.