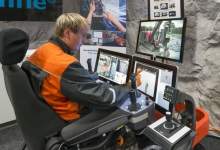 Sandvik" height="318″ src="https://www.mining-technology.com/wp-content/uploads/image-digitalinsightresearch/Archive/nri/3d%20drilling.jpg" width="430″ />
If the big mining suppliers were slow to grasp the disruptive potential of big data and automation to change the face of the extraction process, they're certainly catching up quickly. From trucks to trains, technology is now in the driving seat, steadily pushing more and more people into office-based observation roles.
Tooling specialists Sandvik Mining, founded in Sweden in 1862, is one of the major players leading this change. Through its AutoMine developments, the body and bones of people are being replaced with automated equipment and algorithms in the extraction process. As the company prepares to take its latest innovation to market, Riku Pulli, vice president of mine automation, explains what automated drilling offers the industry.
Adam Leach: How does the AutoMine autonomous drilling system work?
Riku Pulli: AutoMine Surface Drilling system allows drill rig operators to control one or several drill rigs from a distance. The operator station can, for instance, be located nearby the bench in a back of a regular van or alternatively several kilometres away in a control room type of environment.
Most of the drilling functions are performed automatically and the operator only supervises the rig (or a fleet) and if required can use operator station controls and operate rigs in tele-remote mode.
Drilling is controlled in 3D coordinates based on GPS technology, which provides operators with continuous and user-friendly view on actual drill rig location in relation to drilling patterns and bench geometry. The product also includes measurement-while-drilling functionality and autonomous hole drilling including boom/mast positioning.
It allows flexible fleet expansion with various types of Sandvik drill rigs ranging from smaller production drills up to large rotary drill rigs. As with all Sandvik automation products, AutoMine Surface Drilling is based on open system architecture and interfaces and provides seamless integration with other fleet and maintenance management systems at customer sites.
AL: How long, from conception to launch, did it take to develop the autonomous drilling system?
---
---
A new research project at the University of Adelaide, Australia, hopes to develop a better understanding of the failure of materials.
---
RP: Because AutoMine Surface Drilling is built on a proven technology platform that has previously been used for underground load and haul automation, the deployment time was quick. From conceptual design to the field trials it took less than eight months.
AL: What were the major challenges encountered during the development process?
RP: Since the base platform already existed, the implementation for surface drilling applications has been relatively straightforward without any bigger issues. One of the more difficult design challenges for the team was to ensure the system architecture stayed open and scalable and allows easy integration with the overall mine production process.
AL: What stage are you currently at with it?
RP: We are now just about launching the product and will deliver the first system to a customer in 2015.
AL: What are the major opportunities that an autonomous system opens up that are not possible with human operators?
RP: Automation increases the level of safety since the operator can stay away from potentially hazardous areas. It also significantly improves the working environment by reducing vibration, exposure to dust. Automated drilling allows customers to get access to such ore deposits previously unreachable, for instance, drilling on voids and other areas with high risk.
Automation brings significant improvements on the overall drilling accuracy and real time monitoring of not only drilling parameters but also rock quality and conditions. Furthermore, automation allows one operator to operate a large fleet of drill rigs.
"Since the base platform already existed, the implementation for surface drilling applications has been relatively straightforward."
AL: What most concerns potential customers about transitioning to autonomous drilling?
RP: Many customers see a lot value in new technologies but there is always a change process that is required due to a new way of working.
AL: What are the common teething problems that operators encounter in the early days of autonomous drilling?
RP: This is normally related to the 'new way of working' question, and in some occasions the new role for the operator where he or she becomes more of a supervisor, instead of a hands-on driller, may require extra training.
AL: Where do you think autonomous drilling will enable miners to go, in terms of areas that have previously been unreachable or too dangerous?
RP: Drilling on top of voids at old underground mines and close to high walls with a risk of falling rocks or land slides.
AL: Are there any conditions or environments where an autonomous system can not operate?
RP: There are no such areas known at the moment. The system is designed to tolerate large variations in temperature and other environment-related conditions. It also allows small-scale, single unit, line-of-sight remote control, just as well as large-scale fleet automation.
AL: When do you foresee autonomous drilling becoming the dominant force in the mining industry?
RP: This question is closely linked to the overall market conditions and development. But we have seen a clear trend over the past 18 months in favour for automation and we expect a significant increase in customer demand in the next one to three years.
AL: What further developments have you got planned for autonomous drilling?
RP: We are in a process of expanding AutoMine Surface Drilling across all Sandvik surface drilling products. In parallel to this we are going through a similar process with underground drilling applications as well.