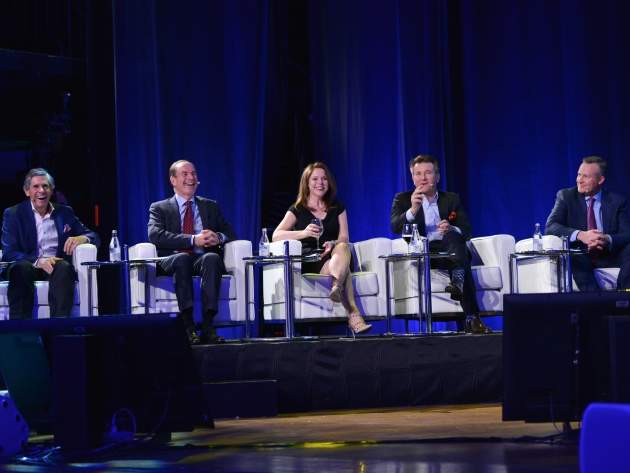 With only a few days to go until the annual Prospectors and Developers Association of Canada (PDAC) conference in Toronto, Integra Gold CEO Stephen de Jong and his colleagues were worried. Integra, a Vancouver-based junior gold exploration company, was in the midst of planning a high-profile innovation contest to take place at the conference in early March, seeking ideas from engineering and tech firms to revolutionise mining and mineral exploration.
The only problem? Submissions were thin on the ground, and time was running out.
"I'll be very honest with you – about four days before, I think we had 20 submissions," de Jong says now, looking back on a nerve-wracking time. "We were getting very stressed about the whole concept, because there were some really good ones in there and a few that didn't really make the cut. We only organised the event two and a half months prior [to PDAC] so it was a very tight timeline to put it all together."
In the end, a late surge of entrants came through to save the day, and the competition ended up with 153 submissions that Integra and Goldcorp had to assess at the last minute before coming up with a shortlist of finalists.
"It was just a firehose of submissions over the last 48 hours, and everyone was working right up until the end," de Jong says.
The #DisruptMining live finale
The finale of the competition, dubbed #DisruptMining, was held on the evening of 5 March at Toronto's Carlu event hall. At the event, five finalists presented their ideas to a panel of industry judges in a Shark Tank / Dragons' Den-style showdown in front of a 400-strong audience.
How well do you
really

know your competitors?

Access the most comprehensive Company Profiles on the market, powered by GlobalData. Save hours of research. Gain competitive edge.
Company Profile – free sample
Thank you!
Your download email will arrive shortly
Not ready to buy yet? Download a free sample
We are confident about the unique quality of our Company Profiles. However, we want you to make the most beneficial decision for your business, so we offer a free sample that you can download by submitting the below form
By GlobalData
As far as de Jong is concerned, despite his initial trepidation, the night was a great success. "There were about 400 executives and investors and bankers and analysts in the room, but at the reception afterward there were another 400 people," he says. "So we brought together 800 people from the industry, we created scholarships out of it, we're giving money back to charity from the proceeds of the night, and there's a real buzz to the whole disruptive new technology idea. And we've heard about all of the entrants having multiple offers and conversations with other groups following the event. That's a big part of it."
From the five finalists, Cementation Canada and Kore Geosystems were selected as the joint winners on the night, with the companies splitting the $1m grand prize, the attention of the industry players present and an enviable publicity bump.
"We've heard about all of the entrants having multiple offers and conversations with other groups following the event."
The technologies pitched by the two winners could hardly have been more different – Cementation presented its injection hoisting tech to potentially eliminate the need for mine shaft production hoisting, while Kore pitched drillhead instrumentation to provide real-time geological data – they both stood out to the judges, who included Franco-Nevada Corporation CEO David Harquail, 'Shark Tank' judge Robert Herjavec and Goldcorp founder Rob McEwen.
"What set Cementation apart was they were one of a few groups that actually put up numbers: 'Here's how much a shaft costs, here's the operating cost, here's how much a ramp costs, and here's how we compare,'" says de Jong. "So anyone who is operating a shaft is able to look at that and think of the immediate applications if this works.
"Kore was about doing things that we already do and making us more efficient. We drill a lot, but instead of just having a geologist log your core and sample it, what else can be gained from that? So things like pressure on the drillhead, what can that tell us about the hardness of the rock? Instead of coming back later on and surveying the hole and doing different tests within the hole, why don't we put some of that within the drillhead?"
Mining innovation: a challenging history
Such was the success of #DisruptMining, Integra and Goldcorp are now planning to make the competition a yearly event. "If in a two-and-a-half month period we could pull this one off, we can't imagine, now that there's a bit of buzz behind it, how much bigger and better it could be next year," de Jong says. "So we can't see any reason not to do it again."
The competition comes at an interesting junction for the mining industry when it comes to innovation. As the low-hanging fruit of extensive high-grade ore bodies become increasingly rare, new strategies and technologies will have to make up the productivity deficit.
At a PDAC panel in March, the World Economic Forum's (WEF) former head of mining metals Gillian Davidson said that digital and technological disruption – or the 'Uberisation of mining', as the current buzz-phrase would have it – represents $425bn in value that the industry (or new players) could capture over the next 10 years, while also citing WEF research that found the mining industry is one of the most resistant sectors to disruptive change.
Still, #DisruptMining is hardly the first example of an open innovation contest in the industry, or even among Integra and Goldcorp. Last year Integra ran the Gold Rush Challenge to crowdsource exploration data-crunching and help identify gold deposits at the company's Lamaque Gold Project.
This, in turn, was inspired by the Goldcorp Challenge way back in 2000, which sought similar data-crunching for its underperforming mine operation in Red Lake, Ontario. The winners of that challenge, Australian firms Fractal Graphics and Taylor Wall & Associates, used the 400MB of geological data that Goldcorp released to the public to create a 3D map of the mine, which facilitated the identification of 110 gold deposits in the area, half of which were unknown to Goldcorp.
The resulting productivity boost was worth more than $6bn to the company, reducing its exploration time by an estimated two to three years, and helped propel Goldcorp to its position as one of the world's largest and most profitable gold producers.
Collaborate to innovate
It's this kind of open collaboration that stimulates innovation, de Jong argues, and generally speaking, it's these types of partnerships that the mining industry has stubbornly resisted.
"For mining companies, you have your plot of ground, you stake your claim, you don't share information with your neighbours – everyone's viewed as competitors," de Jong says. "I think that's starting to change and we're starting to see a lot of the majors say, 'Hey, we need to work together to come up with new ideas and become more efficient.' That's not just in how we mine, but we explore, how we do everything, and essentially make ourselves a more credible, sustainable industry."
Certainly, the impression you might get from walking around industry events is that the innovation message is getting through; it's hard to move without coming across endless references to innovation, digital disruption, big data or artificial intelligence. But acknowledging a need isn't the same thing as the largest companies investing to meet that need, or embracing the challenge it represents.
"A lot of companies, right across the board, are just saying, 'Oh yeah, we need to become more advanced and embrace digital,' but I'm not sure how much you're actually seeing," de Jong notes.
De Jong mentions the 600-page binder that Integra and Goldcorp now have with a wide range of innovative mining ideas (some feasible, some less so), and notes that many of these ideas become exponentially more appealing when combined with other technologies in the binder. So what's the key to breaking down companies' data silos and encouraging the collaborative approaches that can yield true disruption?
"What we need is a few success stories of companies partnering where one plus one truly does equal three."
"I think what we need is a few success stories of companies partnering where one plus one truly does equal three," de Jong says. "If that becomes the trend and the industry hits a tipping point, what you're going to see is every company doing everything it can to partner up with others, because they're going to want to show their investors that they're also forward-thinking."
To be fair, it's hard to think of a more apt success story for collaborative innovation than the Goldcorp Challenge, and that didn't translate into a rush of crowd-sourcing initiatives and innovation contests from the mining majors. Clearly there is still a way to go before acknowledgement can truly be converted into investment. Goldcorp and Integra are committed to bringing their competition back next year, bigger than ever and hopefully with some extra planning time, as well as retaining the scholarships and charitable donations that de Jong says are important when "you're almost creating an emotional attachment to the idea of change and new technologies".
"A lot of it is going to be, not only Integra and GoldCorp, but our industry's ability to carry the torch and go forward with this, versus saying, 'That was a fun party,'" de Jong concludes. "We've got some good ideas, let's take those ideas and see if they change the industry. We're not so focused on those specific ideas as this catalyst we're trying to create."