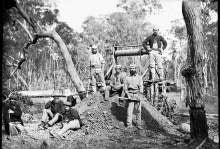 Australia is a nation that is largely built on the mining industry. After Europeans settled on the vast and arid land in the late 18th and early 19th centuries, many more flocked to the colony in 1850 to exploit its rich gold deposits. In simple terms, this migration turned convict colonies into more advanced cities and created a burgeoning economy that built the country we know today.
In present day Australia there is no longer the frenzied excitement of the 19th century gold rush but rather constant speculation of a decline in mining activities. Nevertheless, according to Sydney-based author and journalist Malcolm Knox, who last year released a history book on Australian mining entitled 'Boom: The Underground History of Australia from Gold Rush to GFC,' the industry remains ever popular among Australian people. So much so that in 2010 the public was largely behind the mining industry when it fought to oppose then Prime Minister Kevin Rudd's 2012 resource super profit tax which was designed to spread the wealth of the recent mining boom to the wider public.
In Knox's book, which he was inspired to write because there hadn't been a comprehensive history of Australian mining published for 50 years, he examines Australia's complex relationship with the mining industry by detailing its many eccentric characters and key historical events. He questions whether the industry is in fact a part of the country's cultural DNA and something Australian people can't imagine their country without because it is "integral to Australia's self and its past". Here, Knox shares some of the insights he learnt about Australia's intimate connection to mining while researching the book.
Heidi Vella: What was your experience and relationship with the mining industry prior to writing the book?
Malcolm Knox: I personally wouldn't have been in Australia if my forbears hadn't come out for the gold rush. One of them was a classic story of a Welshman who came out to Victoria for the gold rush and ended up following gold around the country. My paternal grandmother was born on the gold fields of Western Australia so there was that personal history there. In my childhood my father, who was an engineer, had an interest in mining. He worked for a company that supplied the machinery to, among others, mining companies. When we were on holidays he would love to go out to mining sites and just poke around and have a look. The whole family would be dragged along to look at big mines.
Then about six years ago I was commissioned to write a couple of pieces by an American magazine on the mining boom and that kind of renewed my interest in the story and that was when I discovered no books [on the mining industry] had been written since Geoffrey Blainey's 'The Rush that Never Ended'.
---
---
Australian miners are increasingly looking abroad to sell their expertise as the domestic market slows down.
---
HV: What was the most surprising thing you discovered while researching this book?
MK: It's hard to narrow that down because there were so many things that were surprising. I suppose the best way to answer the question is by what readers have said and how they have responded to the book. In a way, they have been surprised by [the book] because the story of gold mining in the 1850s is quite familiar, it is taught to all Australians; most of the rest of it is all new to the average Australian.
For example, the great stories of Mount Lyell or Mount Isa. These heroic stories, sometimes heroic with a dark edge, are the kind of stories that are really part of the nation's building but not really in the nation's common mythology. That was something I really wanted to look at and find a sort of speculative answer to why that was so.
HV: You talk about mining being part of Australia's cultural DNA, but would you say it is the older or younger generation this is most connected with mining?
MK: I think the younger generation today is very aware because great numbers of people are going off to work in the mining industry or they might be young families supported by people who are going off to work in the mining industry. For instance, if you're an electrician or a carpenter on the coasts of New South Wales or Queensland there is a pretty high chance you are going to work in the far northwest of Western Australia. Especially if you are a young person because the money is great, it is a bit of adventure, the conditions allow for a lot of time off – it is a very appealing life. I would say mining is in the consciousness of people under the age of 30 more so than in any age group in Australia at the moment.
HV: In your book you say it is the bust-and-boom nature of mining that is particularly appealing to Australians; can you elaborate on this?
"In terms of environmental protection I believe there is too much self-regulation, too much of the setting of standards is left to corporations themselves which are limited in their independence and guided by their own economic drivers.."
MK: Going back, when you are talking about using that metaphor of DNA you're talking about deep into our history and it is impossible to put a number on how many Australians are here because of the gold rush. It would be an extremely large proportion of our current 22 million people that are descendents of people who came out of that time. It was a moment of migration that has really no parallel anywhere in the world.
How a colony was kept alive by one pursuit and that pursuit was a gamble. The sense that the thing burns one minute then could be gone the next was the premise on which those people were sailing from England, Scotland and elsewhere back in the 1850s. That is, after the convict era, the sort of founding idea of Australia was that you would come here to take a risk. It is deep in our psyche.
The bust side of it is reinforced when we're school children; we are all taken to ghost towns. There are ghost towns in Melbourne and in Adelaide and Perth, which are mining ghost towns. You walk through places and see that these were great thriving areas of population one moment and then within three or fours years of that moment they would be totally deserted, never to be restored. We all learned about the transience of things.
HV: What is this picture like today?
MK: Today there is an interesting twist on that because in the old days when mineral resources were discovered people would go out there and if the mineral deposit had life in it they would build banks, community halls, roads and rails and the whole infrastructure of a town. Then they might find within a few years that the deposit had gone so it turned into a ghost town.
Nowadays, we're talking 150 years after, that doesn't happen. Mining companies are saying there is no point building a permanent civilisation here but what we can do is build a camp that is better than just a camp but has a kind of underlying obsolescence. That is what you see in Western Australia and Queensland at the moment. Workers are brought in just for their work – fly-in, fly-out workers – so there is no illusion they are setting up a permanent city. That impermanence results in a lot of national anxiety and debate about what kind of community this is creating and what the broader effects are.
HV: Is this change in the set-up of mining communities positive or negative?
---
---
Many mining companies in Australia are focused on cutting costs and reducing risk, but should they be exploring?
---
MK: I think it is hard to say it is either way. I think it is pretty hard to criticise this logic. You can't force companies to build permanent cities, you can't force people to go and live there [at a mining town] when you know this resource is going to run out.
The solution companies and governments have come up with is probably the rational solution but it does create quite serious repercussions. It is going to bring social problems and that is just something that is going to have to be accepted.
The Australian parliament ran an enquiry a couple of years ago where it went all round the country asking people for input on the effects of fly-in and fly-out. 90-95% of submissions were negative. Hospitals in small towns were overwhelmed because of the sudden influx in population, the towns themselves generally weren't doing very well economically because the mine workers were buying their stuff from the mining companies and not going into the town or they were only going to get drunk. There's a strain on infrastructure; roads were destroyed by heavy mining trucks by just the volume of traffic of heavy vehicles coming in.
Probably most affected was what has been called a hollowing out of communities. The mainly male workers of the mining industry, if they are going to a town and they are working three weeks on one week off, they are not really going to have any meaningful social input into that town. Also, back in their home town there is a scarcity of dads who are not there to coach football clubs and volunteer in community organisations or do all the things that men do in the suburbs or their towns because they are just not there for three weeks out of four.
HV: In the book you say there are "no heroes" in mining yet the Australian public are very endeared to mining – why do you think this is?
MK: These great figures of mining tend not to be heroes and nor in most cases do they deserve to be. It's hard to generalise or speculate on these things but I think in Australia there is a basic respect for the earthiness of the industry. And for the billionaires who never get any dirt under their nails themselves and who make a lot of money out of mining there is a fundamental respect just of the business in dirt, getting dirt out of the ground, refining it if necessary and processing it and selling it. Just the simplicity of the process probably appeals to Australians and seems like an honest kind of business.
"I think the younger generation today is very aware because great numbers of people are going off to work in the mining industry or they might be young families supported by people who are going off to work in the mining industry."
HV: You highlight the fact the Australian public said they didn't want Kevin Rudd's resource super-profit tax even though it would benefit them – do you think this shows how powerful the mining industry is in Australia?
MK: I think that is possible, but how else could it be? It has influence which is proportionate to its contribution. Nobody likes to see some corporate giant unduly influence politics but it's up to politics and government to maintain standards.
Environmental protection is probably a good way of answering the question. In terms of environmental protection I believe there is too much self-regulation, too much of the setting of standards is left to corporations themselves which are limited in their independence and guided by their own economic drivers. But the answer to that question isn't therefore they have too much influence over the government; the answer is the government is too easily influenced. I think the onus is entirely on government to maintain particularly environmental standards and workplace standards and all the other regulation the government does.
HV: Past racism in the mining industry and clashes between industry and aboriginal people are highlighted in the book – how has this situation changed?
MK: That historical story is just another incidence of the way those people were treated and you could say that for farming and similar industries. You could say that about everybody everywhere in Australia. I think probably the industry is more progressive now, certainly than it was, and it is probably more progressive than other comparable industries in this country. Great efforts are being made by the bigger companies to include indigenous employment, to give back to communities, to leave a positive legacy. In some parts of Northern Australia you can definitely say big mining companies are doing more for the indigenous people than their own government.
HV: Where do you think Australia would be today without its mining history?
MK: We would certainly be materially a lot poorer. You think of Canada, you think of South Africa, British colonies settled during that period, even New Zealand; mining was a big part in all those settlements. I guess my answer is: I just find it impossible to imagine, it is integral to Australia's self and its past and I can't imagine what Australia would look like.
HV: Is the mining boom over?
MK: If you look at the figures the investment side of the mining boom has gone past its peak but the production side has a long way to run, so no – it's a long way off.