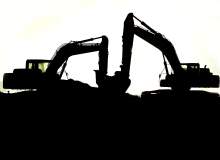 As an industry whose fate is tied to the materials it extracts from the earth, the mining business is vulnerable to fluctuations in commodity prices. Mining operations can often be shut down by sustained price dips, only to be resurrected a few years later when prospects pick up again.
Although mining companies can't entirely disentangle themselves from this cycle of boom and bust, increasing productivity and cutting unnecessary costs can provide some insulation against the cold whims of the market.
A host of technologies and logistical techniques can help mine operators get the most out both their deposits and their all-important workforce. But with the mining industry being notoriously conservative when it comes to new innovations, is there more that companies could be doing to improve performance, cut costs and protect themselves during the tough times? We talked to SRK Consulting principal mining engineer Michael Beare to find out.
Chris Lo: Are there any mining sectors that are in particular need of cost-cutting and efficiency practices?
"There's a trend of taking the operator out of the equation and letting the machine drive productivity."
Michael Beare: Really the people who are impacted most at the moment are the explorers and the developers. People who are producing are still benefiting from some high commodity prices, but the guys who are trying to get new projects off the ground are struggling to get financing.
It's that sector of the market, the project pipeline, that's struggling. There are players out there that do have money, but in general a lot of the players that rely on banks and the equity markets for finance are really struggling at the moment.
How well do you
really

know your competitors?

Access the most comprehensive Company Profiles on the market, powered by GlobalData. Save hours of research. Gain competitive edge.
Company Profile – free sample
Thank you!
Your download email will arrive shortly
Not ready to buy yet? Download a free sample
We are confident about the unique quality of our Company Profiles. However, we want you to make the most beneficial decision for your business, so we offer a free sample that you can download by submitting the below form
By GlobalData
That's really where it hits, because it stalls projects. The irony is that demand for commodities still seems to be fairly high, but new operations aren't coming in, so potentially the bubble is getting bigger.
CL: How can companies build efficiency into new projects and expansion works to prove their economic viability to potential financiers or reduce potential risk?
MB: A lot of mining companies have relied, in the past, on metal prices to get them out of a hole. For example, there's normally a five to seven year cycle on metal prices. If they're not doing very well and suddenly the price goes up, everything's rosy again. It does that for a few more years until a few more mines come on-stream and the price falls.
Generally, the mining industry is very poor at passing on productivity improvements compared to other industries, like building cars, where business improvement practices are really established. It's only relatively recently that we're starting to see that approach come in with mining.
So a lot of mines are very inefficient with working time, for example. At many mines, the amount of time it takes workers to get to and from the workplace is excessive.
The amount of time they take on breaks is excessive. There are many avoidable losses that can be saved in their production systems, but when they're bailed out by high metal prices they don't necessarily have to focus on those.
CL: So without efficiency, mines are much more at the mercy of fluctuating commodity prices?
MB: Yes. The mining industry is more dependent on commodity prices than other industries.
"The mining industry is more dependent on commodity prices than other industries."
But they've been very slow to innovate, particularly underground mines. Open-pit pines are generally better, because you can see what's going on: they have satellite tracking systems for the trucks, they can measure performance very accurately.
So the open-pit mines have tended to get more productive, but at the underground mines, where you have a bunch of workers, they all go underground in a cage, they all go off to their working places, it's very difficult to monitor what everyone is doing and your short interval control is harder. Open-pit offers a lot more opportunities, and that's one of the reasons it's so attractive. There are a lot more opportunities to employ technology, bigger trucks and monitor things more easily.
CL: Are there any cost-limiting and efficiency practices that aren't being carried out enough in the industry?
MB: I think a lot of mines are very poor at controlling and monitoring exactly what's going on in their operations – getting those key performance indicators and using them to drive improvements in performance.
For example, it's measuring things like engine hours on equipment and looking at the tons per hour off each piece of equipment from the bucket count. Simple things that the best mines do routinely, but the average mines don't do at all.
CL: To what extent do you think technology is key to improving productivity and maximising return on investment?
MB: There's a trend in Australia where Rio Tinto is driving its Pilbara operations from a big control centre in Perth, where they actually operate equipment remotely from that centre. There are mines in Sweden that do that. It might mean one operator can operate three different drill rigs at the same time without being on-site.
That's very efficient; you don't have the travel time and all those associated costs. But it might mean there's a shortage in skilled operators, and it merely gets over that skill shortage – the savings and costs after you've set up all these facilities might not be much different, but it enables you to do the job because you can't find the people.
It's the same with mine planning – software that's more user-friendly can save the time required to plan and design mines. Mining engineers are at a premium. There was a period between 1990 and 2005 when the number of worldwide mining graduates dropped by about 80%.
So that skill shortage is a big thing, that's a reason in itself to go after new technologies. But the kind of people you'll need to run these automated mines will be different. In the past, you could run a mine with a lot of low-skilled people, but these days you'll need a lot more skilled technicians to maintain the automated equipment.
These machines are going to be complicated electrical and mechanical systems.
CL: Do you think integration software is being used a lot in the industry to tie multiple operations into a single hub?
"One operator could operate three different drill rigs at the same time without being on-site."
MB: I'd say that's unusual, to have that kind of control. You generally see parts of it.
For example at open-pit mines, you'll see dispatch systems showing where all the trucks are. In the control rooms at process plants you'll see screens with what's going on in the process circuit.
But integrating it all is probably a holy grail. Maybe people like Rio Tinto are beginning to do that – to have this mine control where everything that goes on can be monitored from that one place. But that's probably the mine of the future, including more of that integration.
But really it's about collecting the information and using it to make decisions, whether it's a dispatch system or counting the number of buckets or monitoring the quality of air going through the mine. A lot of the technology is there and it's proven, but mines are very conservative and they're very slow to adopt new working practices.
CL: Is on-site processing always the best choice for increasing efficiency?
MB: The vertical integration when you have all the processing next to the mine is the most efficient way, and often it can generate the most revenue. Generally you make more money if you haven't got that extra transport cost. It's a big trend. Look at the Chinese, it's the big story at the moment.
China is not exporting ores and concentrates, like tungsten – it won't support tungsten concentrates. It'll export higher-end finished products. That's what their strategy is for everything. You see it in gemstones as well, countries insisting that all the gemstones are cut in that country.
CL: In the future, do you think a higher level of automation could be a key to increasing margins?
MB: Oh, without a doubt. Just recently Rio Tinto have been buying more of those driverless trucks. We're going to see more and more of that, where mines have part of their production system automated, where possible.
There's this trend, particularly in Scandinavia – Sandvik and Atlas Copco will preach this – of taking the operator out of the equation and letting the machine drive productivity.
So that's a trend where you'll have a machine that's so efficient that as long as the machine is operating, you'll be doing good work. That unlocks non-stop production and mines with fewer people.